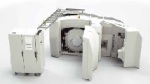 August New Product Showcase
August 22, 2015
Next-generation small cyclotron and PET tracer production solution
GE Healthcare has created a solution to make PET tracers for diagnostic imaging more readily available. The GENtrace is a small cyclotron, with a smaller footprint, that is optimized for ease-of-use. The GENtrace cyclotron is simple to use due to more automated steps, takes up less space, and can be operated by a nuclear medicine technician. With these benefits, facilities in emerging markets and those outside the distribution radius for PET tracers can become autonomous in their F-18 manufacturing.




New "touch" ultrasound systems
Two new Ultrasound Systems have received FDA 510(k) clearance. The CARESTREAM Touch Prime Ultrasound System and the CARESTREAM Touch Prime XE Ultrasound System are designed for general diagnostic imaging use in radiology. The Touch Prime XE is capable of frame rates in excess of 100Hz while maintaining improved imaging detail, and includes optional features such as DICOM, wireless connectivity, barcode and badge readers and elastography as part of the system.

Both the Touch Prime and Touch Prime XE offer a sealed, all-touch control panel that combines the speed and flexibility of a soft user interface with the tactile feedback of traditional keys. Etched marking for primary controls assists the user with easily locating key functions without looking away from the image display monitor


New TAVR system introduces first and only recapturable heart valve in U.S.
Medtronic recently announced FDA approval and U.S. launch of the CoreValve® Evolut R System. The first-and-only recapturable and repositionable device available in the U.S., the Evolut R System is approved for transcatheter aortic valve replacement (TAVR) in severe aortic stenosis patients who are a high or extreme risk for surgery. The new system consists of the CoreValve Evolut R transcatheter valve and the EnVeo R Delivery System, which features an InLine Sheath that significantly reduces the profile to the lowest on the market (14 Fr equivalent, less than 1/5 inch).


Full fidelity mobile diagnostic viewer
Agfa HealthCare announced that it has received FDA 510(k) clearance for diagnostic viewing with the XERO Viewer. The full fidelity view functionality of the viewer uses lossless compression to provide diagnostic quality when images are displayed, by retrieving original-quality renditions of stored DX, CT, MRI, CR and US images. The XERO Viewer provides secure access to DICOM and non-DICOM imaging data from different departments and multiple sources, in one view, to anyone inside and outside of the hospital who needs it.

The XERO Viewer interface is easy to navigate and offers extensive search, filter and discovery functions. Clinicians and radiologists alike can easily make annotations and markups, adapt brightness and contrast, or pinpoint an area of interest and compare it across different studies. In addition, users can view ECGs in various layouts, change waveform size and amplitude, and compare image data with previous ECGs.


DoseWatch Explore provides dose data
GE Healthcare announced the launch of its new introductory dose management solution, DoseWatch Explore, which is now available on select GE Computed Tomography (CT) systems in the U.S. DoseWatch Explore is a Web-based, cloud-deployed, dose management software that tracks, analyzes and reports practice-level radiation dose data for GE CT systems. Using Microsoft's cloud technology, Microsoft Azure, and GE's InSite connection, DoseWatch Explore collects radiation data directly from a GE CT scanner.

The dose management solution helps clinicians quantify GE CT systems' practice-level radiation dose using protocol parameters per exam per device, and enables clinicians to develop dose management practices while improving patient radiation dose levels during diagnostic imaging procedures, like CT scans.