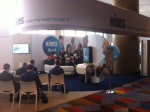 Addressing EHR resistance, gender bias, and the pursuit of free data at HIMSS 2016
March 02, 2016
by
John W. Mitchell
, Senior Correspondent
Survey results on the pay inequality between senior male and female IT executives elicited several candid insights on a range of health care IT issues from a panel of senior IT executives who have all received the 2015 Davies Award for excellent IT contributions to improve patient outcomes. These issues ranged from last week's CMS announcement that access to patient health records data should be free, to physician resistance in adopting electronic health records.

"You can drive a nail with a rock or hammer," said Dr. Thomas Selva, Chief Executive Information Officer at MU Healthcare (University of Missouri). He made the statement responding to a reporter's question about physician complaints that Meaningful Use and interoperability requirements under the ACA and other legislation have made doctors less efficient.

"You have to take the time to learn how to use the hammer," he said referring to the growing wide spread use of electronic medical records. He acknowledged that the drive to roll out electronic health records has not been driven by doctors, but rather by government.

"I know it's been like trying to change the tires on a car while it's moving," he said of EHR adoption among actively practicing doctors. He cited his work as a pediatric specialist taking care of chronically ill children. Selva attested that his willingness to learn and adopt electronic medical records is improving care.

Sharon Kirby, VP and Chief Nursing Information Officer at Centura Health in Colorado and Kansas, told HCB News that successfully meeting requirements like those in the ACA has helped Centura meet its population management strategic goals.

"We now have more than 200 employed physician practices and successful adoption of electronic medical records is helping us to compete in Medicare shared savings plans and evidenced-based medicine metrics," said Kirby.

During the briefing, HIMSS also released the results of a study indicating gender inequality in both compensation and presence of female senior executives in senior C-Suite leadership positions. According to Carla Smith, Executive Vice President for HIMSS North America, there is a 20 percent pay difference between women and men in the health care IT field. Male IT professionals make on average $126,000 compared to $101,000 for females in comparable positions. Females are also underrepresented in senior leadership IT positions by a two-to-one margin.

While the study did not specifically measure the reasons for this inequality, Lorren Pettit, Vice President of Research at HIMSS told HCB News that he had a theory.

"There wasn't as much pay difference between genders in frontline IT positions," said Pettit. "It was more at the senior executive level." He theorized that in the nonprofit sector there is more of a trend for female executives to have worked their way up through the ranks over time from non-executive positions.

"I also think that maybe there is more altruism among this female group, which is not untypical for the nonprofit sector," said Pettit. In some cases, he speculated, this may prompt female executives to accept lower salaries.

The group also touched on the position of CMS that health systems should share data among one another, rather than attempt to charge other health care providers to access their data.

"I understand that the health systems have spent money to build these patient electronic health record platforms," said Selva. "But the data has to be set free because that's what's best for patients."

Smith also presented the top five organization priorities for HIMSS members in the coming year. At the top of the list was financial viability. Don Reichert, Vice President and Chief Information Officer at MetroHealth System in Ohio noted that by working with vendor partners and replacing legacy IT systems as quickly as possible, they have been able to keep their IT costs flat for the past three years.

"We've been able to improve our IT return-on-investment to 3.2 percent of operating revenue, which is below the national average of 4.7 percent," he reported.