A question on most hospital executives' minds is how to best manage the growing inventory of medical devices.
A relatively new approach called managed equipment services (MES) may be the answer.
As part of MES deals, hospitals and health systems sign a long-term contract with an equipment manufacturer for a set amount. The manufacturer takes responsibility for the procurement, installation, maintenance and repair of the medical technology as well as consulting, asset management and training.
"The idea is that it shifts operational responsibility to people who have subject matter expertise," says Matt Bierbaum, vice president of managed service and enterprise partnerships at Philips Healthcare. "They can do a better job at managing risk, but can also bring a one-stop shop to the hospital."
One of the major motivations for entering these contracts is hospitals and health systems are motivated by the bottom line. Over the course of two years, Philips helped one health system save $7 million.
Another motivation is to be on the cutting edge of technology on a continuous basis. Siemens Healthineers offers "technology evergreening," in which they refresh the hospital's technology on a pre-agreed timeline.
"This is a very attractive value proposition for a lot of health systems, especially in a competitive environment where they have to attract physicians and patients by the fact that they have the latest medical technology to offer," says Sourabh Pagaria, senior vice president and global head of enterprise services at Siemens.
In addition to looking at aging medical equipment, hospitals are also realizing that the capital strategy in the past has been a bit ad hoc, says Bierbaum. The hospitals made bundle purchases on an annual basis, and many times ended up with many different vendors and models.
"They needed to work with their vendors and suppliers in very different ways in order to address a number of these challenges," says Bierbaum.
Mackenzie Health partners with Philips
In November 2015, Philips announced a $300 million, 18-year MES contract with Mackenzie Health in Ontario, Canada. The health system's goal was to bring the concept of a "smart hospital" to life.
"We were less worried about the specific MR displayed at RSNA and more concerned about the longer-term partnership with a vendor that could help us equip the brand-new hospital, but also make sure that we can maintain our existing, older hospital at a current state," says Altaf Stationwala, president and CEO of Mackenzie Health.
Philips is working to advance medical technology procurement and maintenance programs at the health system's Mackenzie Richmond Hill Hospital and the Mackenzie Vaughan Hospital, which will be open in 2019.
Previously, Mackenzie looked at its technology as separate systems, instead of seeing it as components that can be integrated. Now that Mackenzie wants to be a "smart" hospital, it's working with Philips to integrate all of its technology.
If there is a code blue in the current hospital environment, a page is sent out through overhead speakers, and then the code team assembles to grab a cart and rush the patient into the operating room.
In the new hospital environment, the team will be paged independently and they will have identification tags that track their location. In addition, the infusion pump will know that a code was called and stop administering drugs to the patient.
"You are integrating all of the disparate systems around the workflow that exists in the hospital today," says Bierbaum. "You couldn't do that with a one-off buy of equipment, but you can do that when you have a long-term relationship with a vendor like Philips."
GE Healthcare also has a presence in the U.S. market. In May, it signed its first MES contract in the U.S. with Heritage Valley Health System in Pennsylvania, which is a 14-year strategic relationship that covers diagnostic imaging.
GE is working with the health system to optimize its current install base and make sure the level of technology is consistent and stays at a predictable price over the 14-year period. The company anticipates signing many MES contracts nationwide.
"As the industry is going through tremendous change, not only in where care will be delivered, but also in efficiency of care required to get rising health care costs under control, GE has expertise, products, services and capabilities that, when brought together and aligned around the value a customer is trying to create, can help position our customers to achieve the goals they are working toward more efficiently and faster than is possible on their own," says Helen Stewart, managing principal of GE Healthcare Partners.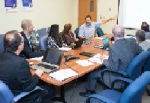 Bump in the road
Even though MES contracts bring many benefits to hospitals and health systems, they don't come without challenges. Mackenzie Health had a number of challenges to address in order to get the deal done.
In Canada there is a single-payer system and signing long-term contracts requires the funders to understand the logic behind the deal. In the case of Mackenzie Health, the $300 million contract was the biggest the funders have ever signed.
"It was a large thing to understand, and to understand the benefit of what a longer-term relationship meant," says Stationwala.
But ultimately, the value proposition was presented to the funders and the deal was signed.
"I think the biggest selling point [for our board and the government] was that there was going to be less coordination for us as a hospital because we would have a single point of accountability for all of our big pieces of equipment," says Stationwala.
Georgia Regents two years later
Philips announced in July 2013 that it signed a $300 million, 15-year contract with Georgia Regents Medical Center. Almost two years later, the health system experienced $7 million in savings and a 35 percent reduction in technology spending.
As part of the contract, Philips is responsible for selecting, installing, providing training for, managing, maintaining and replacing all of the Philips and non-Philips imaging equipment, patient monitors, and respiratory therapy technology, as well as a large PACS platform.
As of April 2015, 525 monitoring devices, 800 imaging and care devices and other technologies have been replaced and upgraded at Georgia Regents.
"The same scope of scale we can get from one technology provider, they can see a range of benefits over a life cycle of each piece of medical equipment, to really look at reducing costs throughout the 7- to 10-year life cycle," says Bierbaum.
Philips sits on the hospital's quality boards and management teams, and is involved in its technology planning, broader capital asset planning and budgeting process.
Philips also helped Georgia Regents redesign its clinical workflows and the way the clinicians interface with patients. The physicians are now able to make real-time evaluations at the patient's bedside with new digital technology.
Hospitals can save money on medical equipment by bundling, but these MES contracts focus on reducing the total cost of ownership.
"There you start moving from saving a few percentage points from negotiating a contract to really being able to move the dial by optimizing medical equipment," says Bierbaum. "We are really looking at how to reduce the total cost of ownership through these types of arrangements."
European market
Philips is dominating the U.S. market, but Siemens has a strong presence in Europe with approximately 30 contracts. GE also has deals on the continent.
In May, Siemens announced a contract with Sandwell and West Birmingham Hospitals (SWBH) NHS Trust in the U.K., which includes the Midland Metropolitan Hospital that will be open in October 2018.
The Trust decided to partner with Siemens because of the various challenges it's facing, including an increased workload, budgetary pressures and a 10 percent to 15 percent year-on-year rise in demand for CT and MR imaging.
GE signed a 39-year contract with the University Hospital Coventry, as part of a public private partnership/private finance initiative project. The contract covers radiology, cardiac, neonatal, critical care and more.
GE ensures that all of the risks related to medical equipment supply, services and refreshes are appropriately structured and that the price remains predictable over the contract period.
GE also signed a 10-year contract with Beacon Hospital in Ireland that covers diagnostic imaging. The hospital and GE are working together to achieve its goal of keeping the radiology department's capabilities state of the art.
Health systems in the U.K. receive a tax advantage when they sign MES contracts. Tax laws favor technology provided as a service.
Another financial benefit is that Siemens provides the funds in advance to purchase the full fleet of equipment and the Trust pays it back on an annualized or monthly basis.
"Most of the health systems globally today face capital caps," says Siemens' Pagaria. "Their capital budgets are coming down from the government, which means they have aging fleets. They have a desperate need to upgrade the technology, but there is no capital investment to do it."
Siemens recently launched MES contracts in the U.S. and is already in talks with several potential customers.
"We're bringing it to the U.S. because we see significant changes in the market with consolidation, price pressures and regulatory changes," says Lisa Collins, vice president of enterprise services at Siemens. "The customers desire this kind of relationship through long-term partnerships to be able to gain benefits, especially when it comes to optimization and rationalization of all of their equipment as they bring together other facilities."
When health systems consolidate, they inherit a huge fleet of medical technology that needs to be optimized as one system, according to Pagaria.
"Both in the U.S. and with our customers worldwide, we are looking at defining moments that the customers are experiencing, whether it's financial pressure, consolidation, regulatory issues, aged install base or new facilities," says Collins. "For us, it's understanding that defining moment and how we can help them in getting through that challenge to achieve their goals and objectives."
MES contracts are the right approach for some hospitals, but it's not a viable option for every facility. Many organizations don't need predictable capital flow or are looking at moving their business forward in a different way.
"The successful transformation of health care requires that strategic partners like GEHC align our portfolio of capabilities to support the goals of the organization we work with, and those goals vary depending on where each organization is positioned financially, with their services, and as a health system and system of care," says GE's Stewart.