Hospitals and ambulatory surgery centers are filled with lifesaving machinery. Some of that equipment — particularly heavy imaging systems, such as X-ray tubes and MRs that are mounted on the ceiling in radiography rooms and hybrid ORs — requires more than operational expertise. Facilities must ensure that the equipment is installed properly.
"The structural support is extremely important," says Edward Thieman, senior director of field support for Virtual Imaging Inc., a subsidiary of Canon U.S.A. Inc. "A lot of people make mistakes when it comes to not ensuring that their site is ready to accept the overhead tube crane."
A facility needs a ceiling with enough structural support to hold a 1,000-pound piece of equipment without swaying. The overhead tube crane may be fully manual, or it could have a tracking function that always maintains the correct distance between the table and the detector. There are also fully automated systems that will drive the tube crane to exactly the right place for specific exams.
Overhead systems are popular in Western countries, says Stefan Mintert, senior portfolio manager for diagnostic X-Ray at Philips, which introduced its DigitalDiagnost ceiling mounted radiography system in 1999. "People want as little material on the floor as possible," Mintert says. Most OEMs provide drawings that can be given to an architect that have all the considerations for the equipment taken into account. The contractor is given plans to complete the work. The metal support frame is provided by companies like Unistrut.
When the rails that the overhead tube crane will ride in get bolted in place, it's important that they're perfectly parallel to each other and level, Thieman notes. "We try our best to recommend that the customer insist that the contractor uses a company that is familiar with installing a strut to support the overhead tube cranes," Thieman says. Imaging manufacturers work closely with the hospital and the facility manager, or with the dealer doing the installation, to make sure the building can handle the weight.
The room setup is also important, says Steve Romocki, worldwide product line manager for digital radiography solutions at Carestream, which has four ceiling-mounted radiography and fluoroscopy systems. "If you've got cabinets in the wrong way and you don't have the proper stops in place, you can run this big tube into a cabinet," Romocki says. "We have project managers that work with whoever is laying out the hospital room. In those cases, we'll be working years ahead of time with the architects. We can put stops in the rail to restrict movement so the tube won't crash into a beam or cabinet."
The company does a great deal of planning with hospitals. "We're looking at room drawings," Romocki says. "Hospitals give us drawings of new wings." Some facilities, such as urgent care centers, which are housed in standard office buildings, might not have a ceiling that can handle the load, so floor systems are better for those spaces, says Mintert of Philips.
Ready for resale
Like other imaging machines, used ceiling mounted equipment can be refurbished and resold. "I was in remanufacturing of X-ray equipment for 25 years," Thieman says. "We would go to a facility and remove the equipment, but the strut would stay. It's part of the building. The strut that's there is usually sufficient to support any manufacturer's overhead tube crane."
Virtual Imaging does not provide refurbished systems. When switching equipment, hospitals have to make sure that the integrity of structural supports hasn't been compromised, and that bolts haven't come loose and the integrity of anchoring is sufficient. "That's where a structural engineer would come in," Thieman says.
If a hospital sells a GE system and replaces it with another system from the company, the GE team will de-install it from the ceiling, says GE spokeswoman Amanda Gintoft "Systems are removed by our trained engineers or our installation team," Gintoft says. "The planning cycle restarts through the architect to recertify ceiling structure and review or comply with any new code or health regulatory change." Circumstances have become easier in recent years. In the past, manufactures had different structural specs, which would require a rework of the ceiling if they moved from one brand to another. Eventually, installation planners and strut companies came up with a universal grid system to support any manufacturer's installation.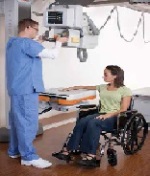 Getting shaky
In areas of the country where earthquakes are common, such as California, there are even more things to consider. Romocki, of Carestream, notes that the company works with the proper government agencies to make sure its equipment and installations can stand up to the necessary requirements. It also sends its engineers and equipment to a facility in Texas with rooms that simulate seismic activity.
"In the ER, you don't want anything sitting there to shake loose and cause a problem," Romocki says. While ceiling-mounted equipment comes with a risk, there generally is no difference in liability or insurance from ceiling-mounted versus floor-mounted systems, says Gintoft of GE. "There should be no difference. However, owners should review appropriate insurance for their facility," Gintoft says.
Testing the load
Making sure ceiling tracks and lifts can handle their maximum weight is important. In Canada, the Lifts Act requires any device "below the hook" to be designed and certified by a professional engineer. Seeing a need, Health Association Nova Scotia, a non-profit, membership-based service association for a variety of health and health-related organizations, developed a system for testing overhead tracks and lifts that help staff move patients, primarily in long-term weights and up to six 150-pound weights, dubbed pumpkin weights for their shape, can test a load of up to 1,250 pounds. The design of the system ensures that the person doing the testing isn't lifting more than 30 pounds at a time.
"The original test was for patient-lifting devices," says Phil Bradfield, Health Association Nova Scotia's technical support and development officer. "It could be used in any scenario where you need to load-test something — an OR boom, an X-ray boom." Bradfield has about 10 of the systems in use within the facilities they service, and the organization has been testing more than 4,000 ceiling tracks, lifts and floor lifts annually. It has recently begun to see a demand from other clinical engineering and facility departments, and is marketing and selling the system — carts with 1,000 pounds cost in the $7,500 range — with the funds used to reduce the cost of the organization's membership fees.
"When the demand surfaced, we thought it was a good opportunity to offset the costs to our members," Bradfield says. "Initially, it was not intended to be a product that we sold. Knowing what was not out there, we realized other people could see the benefits as well."