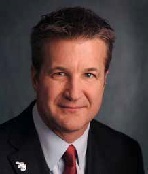 Q&A with Ernie Sadau, President and CEO of CHRISTUS Health
October 28, 2016
by
Sean Ruck
, Contributing Editor
For this month's spotlight, HealthCare Business News spoke with Ernie Sadau to learn more about his background and that of the system he leads.

HCB News: How did you start your career in health care?
ES: I made that decision back when I was a teenager in high school. I was toying with being a physician, but also wanted to do something from a leadership standpoint. I was in the hospital as a patient for a couple of days and as I was lying there, I thought, "this is a great combo of the medical field and someone has to be in charge."

They had note cards that came around each evening and I wrote, "I'd like to meet the administrator and talk to him about his job." After I was back home, his assistant called and maybe a week or two later I drove up to meet him and I never looked back. I've been in health care for 32 years and the lesson I took away from that is to always make time when people want to talk about their careers or their goals. If he hadn't made time for me, I'm not saying I wouldn't have ended up here, but it sure solidified my thought process and my interest. As a result, I always make time for others with similar requests.

HCB News: What drew you to CHRISTUS Health?
ES: Quite honestly, understanding their mission statement [To extend the healing ministry of Jesus Christ] was something I could align with, and I wanted to be a part of an association that had such a strong mission statement. As I did more research, I learned about their rich legacy and how, in 1866, three sisters from Lyon, France, answered a bishop's call to help the sick, poor and vulnerable with health care and it was intriguing to me. Even back 10 years ago when I came on board, CHRISTUS was getting into international health care in Mexico and I found that very intriguing as well.

HCB News: What attracts staff to CHRISTUS?
ES: As people come in and interview and I go into orientation there are some common themes. Most common is our mission. The international presence we have is also very intriguing for someone who wants to have that type of opportunity to grow in a health care environment and maybe live in different countries. Also, our vision statement attracts people to CHRISTUS. And once they get here, they tell their friends and others to join. Part of that is our cultural attributes which include a rich heritage, deep trust, a sense of urgency, engagement, accountability and fun. We like to have a lot of fun.

HCB News: What are the biggest challenges facing your organization?
ES: Some of the challenges would be related to the whole transition of health care today, including the Affordable Care Act, the value versus volume transition and the movement to bundled payments. All those things are what a lot of people are calling population health. It's a challenge, but also one of our biggest opportunities. Another challenge is staffing key positions, as there are shortages in some fields. We also look for individuals who are bilingual and that can be challenging. The shift to ambulatory is a challenge, but also another big opportunity. Overall, government regulations and the ever-changing payment model from state and government standpoints can also be challenging. Finally, making sure we have the technology we need and are investing in it properly for the future.

HCB News: Does your international presence provide insight into how things might be done differently from a delivery standpoint?
ES: Seeing how things run in Mexico, Chile and Colombia does give us a great view. It's delivered in a less regulated, but very efficient process. We learn a lot and that's what enriches our culture. Not only do we have people from the states who we send abroad, but we have people from Latin America who also come here, so the crosspollination is extremely effective.

HCB News: Are there any developments you'd like to discuss?
ES: We have a lot of celebrations planned in the fall throughout the system, and with our sponsoring congregation for our 150th birthday. We'll have celebrations and fun, and remember the history and tough times. The challenges we face today are nothing like the challenges facing the original three sisters, and look what they've built! I would also say worthy of noting is the significant growth we've had as an organization over the last 18 months. Looking back 18 months ago, we were at $3.7 billion owned or managed assets. This year, we're at $6.2 billion. We've grown in the U.S. and internationally. We've also grown in that time from just under 30,000 associates to 42,000.

HCB News: In what ways do you predict health care will have changed a decade from now?
ES: I believe technology will continue to drive a big portion of health care and our ability to develop better treatments. I also believe with people living longer, we'll need to explore ways to meet the increased patient load. I think you're going to see more and more nurse practitioners and physician assistants getting the opportunity to treat and take care of people.