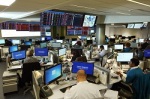 GE and Johns Hopkins build NASA-style hospital command center
October 31, 2016
by
Lauren Dubinsky
, Senior Reporter
GE Healthcare and Johns Hopkins Hospital partnered to construct a NASA-style command center to better manage patient safety, experience and volume. The Judy Reitz Capacity Command Center leverages systems engineering principles that are commonly used in the aerospace, aviation and power industries.

About 24 staff members from different departments work together in the command center. They leverage real-time and predictive information to avoid or fix bottlenecks, reduce wait times, coordinate services and reduce risk.

A sophisticated system with a wall of computer monitors alerts the command center team when immediate action is needed. On a given afternoon, the system will receive about 500 messages per minute from 14 different IT systems in the hospital.

Before, the hospital relied on conventional technology like phones, email and IT systems to manage the hospital and assign beds. The command center informs the staff when there's an influx of patients, which units need more staff members, the need for and availability of beds and top priority admission and discharges.



Since it opened earlier this year, Johns Hopkins has seen a 60 percent improvement in its ability to admit patients with complex medical conditions from other hospitals. The critical care team is now dispatched 63 minutes sooner to retrieve patients.

When the clinicians decide to admit patients from the emergency department, they are assigned a bed 30 percent faster and they're transferred 26 percent faster after that. In addition, transfer delays from the operating room after a procedure have been reduced by 70 percent.

Compared to last year, 21 percent more patients are now discharged from the hospital before noon.

Other health systems have shown interest in this new approach to hospital management. Representatives from 50 health systems in the U.S. and four other countries have visited the command center since it opened.