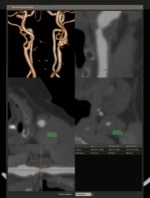 Philips dives into machine learning with several RSNA unveilings
November 29, 2016
by
John W. Mitchell
, Senior Correspondent
Royal Philips solidified its expansion beyond hardware and workflow into the realm of artificial intelligence with the announcement of several products and services at RSNA 2016, underway this week in Chicago. These included its IntelliSpace Portal 9.0, Illumeo, PerformanceBridge and DoseWise Portal platforms.

"Health information technology is taking center stage," Kevin Lev, Senior Product Manager for IntelliSpace Portal 9.0 told HCB News. "This is a new way to connect information in acute cases."

IntelliSpace Portal 9.0 is the latest in Philips' line of visual analysis and quantification platforms designed for MR diagnosis and treatment of neurological diseases. The program performs such functions as extrapolating against norms, patient history, and can even anticipate a physician's workflow based on historical use.

According to Lev, neuro and spinal scans account for about 50 percent of all MR scans. He said this solution improves the tools radiologists need to care for patients with brain injuries and neurological disorders such as dementia, stroke, Lou Gehrig's Disease and multiple scleroses. The platform also facilitates the printing of a 3-D model to allow surgeons a tactile examination of a patient's treatment site, such as the brain or spine.

Much of the same qualities are evident in Philips Illumeo, an adaptive intelligence imaging and health informatics technology. This new product offers a medical record compilation of the most relevant patient data – such as history, prior views and labs - between colleagues and referring physicians. It is especially designed to aid with comparisons, such as tumor growth.

"It's like having an assistant gather all the pertinent medical record data for the radiologist," Eran Rubens, Chief Technology Officer told HCB News.

When Sham Sokka, Ph.D., general manager, Radiology Solutions at Philips makes the case for PerformanceBridge he cites a compelling client case study.

"This multi-hospital system has $24 million in imaging technology and IT acquisition costs; and estimated wastes due to repeats and inefficiency, based on public reporting, in the $30-$40 million a year range," explained Sokka. "For example, some 15-30 percent of images can be poor quality due to movement or artifacts."

PerformanceBridge is a new suite of performance management software to root out such inefficiencies. It assists radiology departments in enhancing productivity, improving the patient experience and delivering better value-based health care.

"PerformanceBridge pulls information directly from the machines," said Sokka. This, he noted, bypasses inaccurate human record keeping that can result in "dirty", or inaccurate, information needed for process improvement.

"Most radiology departments have these kinds of problems," Sokka added. "PerformanceBridge identifies the most common eight to ten areas where we can get process improvement to provide better patient care and control costs."

DoseWise Portal 2.2 is Philip's subscription software solution for protecting patients and clinical staff from unnecessary radiation exposure. The tracking and alert systems compile regulatory data and serves as an education tool for better and best practices. The PACS-integrated platform is vendor-agnostic, meaning it will interface with all imaging equipment, regardless of manufacturer.

"We've gone through XR-29, JCR, MACRA rules and recent European Directives to come up with 12 radiation dose metrics that must be collected and observed," said Dominic Siewko, Clinical Marketing Leader and former radiation safety officer for Philips. "We collect and present this data in real time, not once a month or quarter when a nuclear physicist makes a report."

This feedback also offers wide-ranging medical insights. Examples include how dose might need to change in a year if a patient has gained significant weight between scans,or DoseWise Portal finds out how many total CT scans and corresponding radiation exposure a cancer patient has received. Knowing the dose gives better insight into safer diagnostic and treatment strategy.