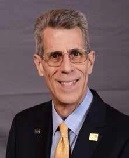 Q&A with Dr. Michael Zaroukian, Chair, HIMSS North America Board of Directors
February 21, 2017
HealthCare Business News caught up with Dr. Michael Zaroukian, chair, HIMSS North America Board of Directors, in advance of this year's annual event. Zaroukian shared information about his background and offered insights about the role HIMSS plays in today's healthcare arena.

HCB News: What was your inspiration for getting into medicine?
Dr. Michael Zaroukian: My journey was initially inspired by my curiosity for how the human body functions in health and disease. I also wanted to translate laboratory discoveries into bedside therapies. But the deciding factor was discovering that the more I interacted with patients, families and health professionals, the greater my desire [was] to connect with, serve, comfort and advocate for them, which helped me become a better person, as well as driving my interest in using information technology to improve health.

HCB News: How did you get involved with HIMSS?
MZ: After many years of advocating for an EMR at Michigan State University, in 2002 MSU's president assigned me to lead its EMR implementation. I saw HIMSS as important to our success, so I immediately became a member. I attended my first HIMSS annual conference in 2003, where I learned how to perform an EMR return-on-investment (ROI) analysis, used these lessons to achieve a strong ROI in my own clinic and published the results along with critical success factors and failure paths. I became a HIMSS volunteer to try to "pay it back," but each time I received much more than I gave. But I keep trying!

HCB News: What do you think are the most important roles HIMSS plays?
MZ: First, I see HIMSS as a globally trusted and respected thought leader in improving health through IT. This informs many stakeholders, from patients and communities, to provider practices and health systems, to governments and policymakers, to the health IT developer and vendor communities, and beyond.

Second, HIMSS is unparalleled in its ability to convene communities to collaborate to solve challenges and recognize the value of health IT. With 65,000 individuals, 22,000 volunteers, more than 640 corporations and 450 not-for-profit partner organizations, HIMSS brings together the brightest minds in health IT to solve some of its thorniest problems we face today.

Third, HIMSS provides a robust and ever-expanding collection of resources (books, podcasts, white papers, webinars), tools (Health IT Value Score) and models (EMR Adoption Model [EMRAM]; Continuity of Care Maturity Model [CCMM]) to assist stakeholders in transforming health through IT. Consistent with HIMSS' cause-based mission, many of these resources are publicly available on HIMSS' website.

HCB News: What things are you championing in your role as chair?
MZ: My primary goal as HIMSS North America (HNA) board chair is to gather, harmonize and share the incredible collective wisdom, insights and strategic direction of the HNA board of directors with the dedicated and talented HIMSS management team. The team translates this direction into actionable goals and tactics to improve health through IT, accomplished through the yeoman's work of our amazing volunteers. We are focused on helping our stakeholders achieve value from their health IT, particularly to: support care transformation; expand access to high-quality care; increase economic opportunity; and make communities healthier. Issues underscoring these areas include cybersecurity, interoperability, population health analytics (predictive and prescriptive), patient engagement, public policy and health IT workforce vitality.

HCB News: What are the biggest challenges facing health care IT professionals today?
MZ: I see the biggest challenges in meeting the needs of a rapidly changing delivery and payment system. We need advanced, interoperable IT systems with robust analytics, population management, care coordination and patient engagement capabilities to deliver, measure, report and continuously improve patient care effectiveness, efficiency, safety, security and satisfaction.

HCB News: What are the main opportunities?
MZ: The challenges illuminate many of the opportunities. I anticipate significant demand for IT professionals with advanced skills in cybersecurity, analytics, data science, user-centered design, interoperability, APIs, device integration, telehealth, IT infrastructure, consumer engagement, patient experience, workflow process improvement and health IT safety.

HCB News: Are there any challenges unique to HIMSS as an association?
MZ: With its global reach and activities, HIMSS is challenged to bring thought leadership, convening capability and useful resources in the face of distinct and evolving geographic, political, social, cultural and technical environments. This demands alignment of governance and management to effectively operate around the globe, providing effective and realistic IT solutions.

HCB News: Are there any specialties under the health IT umbrella that are critically understaffed?
MZ: The 2016 HIMSS Leadership/Workforce study suggests the demand for health care IT workers is broad and deep. The need appears greatest among vendors, consultants and hospital organizations, particularly for support staff roles (clinical application support, help desk, IT project management). Several sources also suggest that there is a major shortage of talent necessary for organizations to take advantage of big data. In addition, HIMSS cited the current shortage of qualified cybersecurity professionals in its Cybersecurity Call to Action.

HCB News: How do you predict health IT will change in the next 10 years?
MZ: I see the Medicare and CHIP Reauthorization Act (MACRA) and the CMS Quality Payment Program (QPP) as major drivers. Effective use of health IT will be needed to achieve the QPP goals for improved quality, lower costs, advancing clinical information and practice improvement activities.