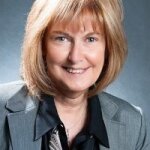 Q&A with Ruth E. Hennessey, EVP and CAO of St. Francis Hospital, The Heart Center
March 28, 2017
by
Sean Ruck
, Contributing Editor
HealthCare Business News interviewed Ruth E. Hennessey to learn about her background and what makes her hospital unique.

HCB News: How long have you been with St. Francis?
RH: It has been 13 years. Prior to that, I was at Beth Israel for 10 years and at Columbia Presbyterian Medical Center for 10 years as well.

HCB News: What attracted you to St. Francis?
RH: I was attracted to the culture of caring and excellence that could be felt at every level of the organization.

HCB News: What inspired you to get into health care overall?
RH: Through my sister, who was a nurse, I became a nurse's aide after graduating from college. I went on to get my master's degree in public administration after that. I realized that I really liked health care and found it personally rewarding to work with a team of health care professionals.

HCB News: In the 13 years you've been with St. Francis, has there been any shift in specialties with greater or lesser emphasis on any?
RH: We are the only specialty designated heart center in New York state and we have evolved over the last five to seven years. We conducted a strategic planning review to address changes in patient care. We had a strong market share in our specialty — averaging 1,800 open heart procedures per year. But we realized technology was evolving and minimally invasive procedures were becoming more prevalent, in part due to improving technology such as drug-eluting stents. Changes were occurring. Long hospital stays were becoming less common. We also realized that with an older population of patients we were diagnosing more cancer cases and our cardiac patients wanted to continue their care at St. Francis. This led us to the development of our Cancer Institute.

With the cancer center came a need to target physician recruitment – especially oncologists. We did this while maintaining our high ranking with CMS regarding patient experience. Four years ago we introduced an ambulatory infusion unit, followed by the development of a radiation oncology program. Both will be housed under one roof. We also have developed a robust orthopedics program and it became a separate subspecialty department this year. In 2016, we performed more than 1,300 joint replacement surgeries, making it one of the busiest programs of its kind on Long Island.

HCB News: What attracts staff?
RH: It's our focus on team collaboration and our reputation for providing excellence in patient care. St. Francis has an incredible culture. Staff contributes to our ongoing commitment to care and compassion. We pay a lot of attention to integrating new members of our staff into that existing culture.

HCB News: How has your facility done with transitioning from fee-for-service to outcome-based models of reimbursement?
RH: We are following the CMS Comprehensive Care for Joint Replacement Model and our outcomes are excellent and our length of stay is good as well. We are focused on cardiology in the same way. It's become more complex, requiring more staff to be involved with data analysis.

HCB News: What challenges does St. Francis face?
RH: One of the big challenges is staff recruitment. We have had an increasing volume of patients, so it's a constant challenge to recruit staff to make sure they're the right fit. Other challenges include providing additional space to facilitate program growth.

HCB News: Do you have any other developments you'd like to discuss?
RH: We opened our Heart Valve Center two years ago. It offers a streamlined approach to treating valvular disease by providing a one-stop destination for screening and evaluation. Its team of leading interventional cardiologists and topnotch cardiothoracic surgeons determine if Transcatheter Aortic Valve Replacement, or TAVR, a state-of-the-art minimally invasive procedure, or open heart surgery, is the right course of action. It is also the center of several major nationwide research studies that could change the face of treating heart disease.

HCB News: What are your concerns, if any, over the change in government leadership and how it may impact your facility?
RH: I don't think it's necessarily significant for St. Francis, but I do think it is significant for our market and industry as a whole.

HCB News: Do you have any predictions about how your facility will be different in 10 years?
RH: We have 80 critical care beds, which is unusual for a facility like ours. But 10 years from now, with drug therapy advancement, the patients who do need hospitalization will be sicker. As therapy gets more specialized, we'll see more challenging cases. Joint replacement surgery will become more ambulatory. Minimally invasive heart procedures such as TAVR will become more prevalent, offering patients new, exciting options that provide fewer days in the hospital, quicker recovery times and a better quality of life.