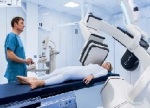 OEMs roll out new offerings for special procedures
March 27, 2017
by
Lisa Chamoff
, Contributing Reporter
The trend toward more minimally invasive structural heart procedures, such as aortic valve replacements and left atrial appendage closures, is continuing to push new releases and software upgrades in the cath/angio space. At the same time, older and sicker patients are making it even more important for all cardiac procedures to be performed quickly and precisely, with less contrast and a lower radiation dose. From the debut of new angiography systems to upgraded software features designed to guide these imaging-heavy procedures, here is a look at the new products released in the last year by the major OEMs in the cardiovascular imaging space.

GE Healthcare
GE Healthcare's newest products include a version of its Discovery IGS 730 angiography system that integrates with MAQUET's MAGNUS OR table system. Released last year, it provides the ability to image patients when they are laying on a conventional operating table. "The integration of advanced image-guided systems and conventional operating tables enables hospitals to optimize the use of their hybrid OR," says Sergio Calvo, GE Healthcare's product marketing director for interventional imaging in the U.S. and Canada. "In open procedures, the conventional OR table brings additional clinical flexibility to the hybrid operating rooms, enabling hospitals to expand the range of surgical procedures and interventions."

The company also updated the ASSIST software, which helps physicians plan, guide and assess interventional procedures. Valve ASSIST, for example, helps plan the deployment of aortic valves during transcatheter aortic valve replacement (TAVR) procedures. Starting with a CT, the software maps the trajectory of the replacement valve and helps guide it to where it is going to be deployed. After deployment, the software assesses if the valve was properly deployed.

Calvo says GE Healthcare surveyed the benefits of the ASSIST package, which is adopted in more than 60 percent of eligible procedures, based on 15 months of data from 10 clinical sites. "A lot of the time, when customers buy advanced applications, they don't use them on a regular basis," Calvo says. "Ease of use is critical." The ASSIST packages provide up to a 78 percent reduction in contrast, up to 70 percent dose reduction and a 28 percent time reduction, Calvo says.

Dr. Tanvir Bajwa, a cardiologist at Aurora St. Luke's Medical Center in Milwaukee, says the VALVE ASSIST software has helped decrease the amount of contrast they use — from 70 to 100 cubic centimeters (cc) of contrast to an average of 35 cc — which is good for patients with kidney problems. Bajwa says the feature has made the procedure faster and more efficient. Five or six years ago, every patient was intubated and they stayed in the hospital for up to six days. Now, only 10 percent of patients are intubated and the usual hospital stay is two to three days. "This particular software allows me to use less dye and gives me the clarity where my valve has to be," Bajwa says.

Shimadzu
In 2015, Shimadzu released the Minimally invasive eXperience (MiX) package for its Trinias series of floor and ceiling angiography systems, with software applications designed to support minimally invasive procedures. Part of a 2016 upgrade for the package is SCORE PRO Advance, a radiation dose-reduction technology that still allows for high-quality radiographic and fluoroscopic images. The company also released a new function called TraceMAP, which traces the contours of blood vessels from the digital subtraction angiography (DSA) image, which can be used as a road map image overlaid on live fluoroscopy.

The upgrade also includes Navi+Plus, which allows the ability to integrate pre-procedure CT images into fluoroscopy, though users need to have the optional 3-D application for the Trinias series, says Frank Serrao, marketing manager for Shimadzu. For the SCORE StentView+Plus application, which displays stent placement in real time, Shimadzu introduced the ability to view two regions of interest at a time. "[This] is useful for cases in which you're placing two stents that are not close to each other and in different regions of interest," Serrao says.

Siemens Healthineers
In November, just in time for the annual meeting of the Radiological Society of North America in Chicago, Siemens Healthineers received FDA clearance for two new features as part of its PURE platform — syngo CTO Guidance and syngo EVAR Guidance — for use on the Artis zee, Artis Q and Artis Q.zen angiography systems. Anthony Medigo, vice president of cardiovascular solutions at Siemens Healthineers, says syngo CTO Guidance advances the treatment of challenging chronic total occlusions (CTOs), a complete blockage of a coronary artery. The syngo CTO Guidance feature utilizes CT angiography (CTA) and can visualize the entire artery, even the blocked-off section, which can't be visualized with contrast. This CTA can be fused with the angio system to overlay the exact line of the vessel.

"Patients are coming in older, sicker, and the disease progression is much worse," Medigo says. "Something like this gives physicians additional tools to treat this complex patient." For endovascular aneurysm repair (EVAR), syngo EVAR Guidance automatically detects vessel walls on a CT scan and places landmarks, also directing the angle of the C-arm to make the procedures more precise, according to the company.

Also at RSNA, Siemens unveiled its Artis pheno robotic angiography system, which allows for faster 3-D image acquisition than its predecessor, the Artis zeego. To accommodate larger patients, the Artis pheno possesses a C-arm with a free inner diameter of 95.5 centimeters — 13 centimeters wider than its predecessor. The system also has a table that can accommodate patients weighing up to 617 pounds. The Artis pheno is pending 510(k) clearance from the FDA.

Toshiba
At last year's RSNA, Toshiba launched a new ceiling mounted C-arm. Called the Infinix-i Sky +, the angiography system is a unique double sliding C-arm and 12-inch-by-16- inch flat panel, which allows for 3-D imaging around the patient, says Kristin Jones, senior manager of strategic marketing development for X-ray and interventional X-ray at Toshiba.

"The Sky system rotates like [a] typical Carm, plus has two areas where it slides," Jones says. "If they want to work on the left side and the right side, they have the flexibility because of the positioning of the C-arm itself." The system provides image acquisition of up to 80 degrees per second and 210 degrees of anatomical coverage on the left and right sides of the patient, Jones says. The company's previous product could only do 3-D imaging of the head. "You reposition the C-arm, not you or your patient," Jones says.

Jones says the Infinix-i Sky + provides 10 more degrees of coverage than competitors' products, allowing for a 3-D angio spin at either side of the table. And because of the unique double sliding C-arm, the ability to position the C-arm at a 90-degree lateral view under the table is particularly useful for endovascular work, or procedures, such as TAVR, where a sterile field of view is necessary. The company's first Infinix-i Sky + system was installed at Terrebonne General Medical Center in Houma, Louisiana. "That 10 degrees really makes a difference when you're acquiring images," Jones says. "It can really help with the workflow."

Peter Fail, a cardiologist at Cardiovascular Institute of the South, which is affiliated with Terrebonne General Medical Center, says the facility's new Infinix-i Sky + has improved views of the anatomy during structural heart procedures. With the older Toshiba equipment, they would have to either move the patient or get a substandard view. "The double C-arm allows you to get there and look at a 90-degree view, whereas with the older technology, sometimes you couldn't get there," Fail says. "I don't think you realize how it changes until you use that view."

Philips
Philips recently released Azurion, its newest angiography system, marking one of the biggest product launches for the company in the last several years. Philips, which two years ago acquired medical device manufacturer Volcano Corp., is promoting the system as a next-generation, image-guided therapy platform that will help hospitals increase productivity, shortening the time for procedures and lowering costs. "It's really a whole new generation of angiography systems," says Bert van Meurs, business leader for image-guided therapy at Philips. "We see it as a change from a normal mobile phone to a smartphone."

The platform, which can be used for a range of procedures, including minimally-invasive cardiac interventions, has its own operating system and can integrate other exams, such as preoperative CT images, as well as patient data, in real time. "It's an open platform where we can integrate all the necessary information," van Meurs says.

The user interface allows clinicians to preprogram their own personalized settings to help reduce procedure time. They can also control the system next to the table, meaning they spend less time moving between the exam and control rooms. The Azurion received FDA clearance last year. The only market requiring regulatory approval is China. The company already has more than 20 systems installed around the world. "We've gotten already a lot of positive feedback," van Meurs says.