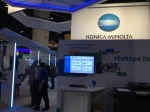 Konica Minolta jumps into secure enterprise imaging at HIMSS with Exa
February 23, 2017
by
John W. Mitchell
, Senior Correspondent
Konica unveiled its new Exa Enterprise Imaging Platform at HIMSS 2017.

It is the only server-side rendering diagnostic zero footprint universal viewer for DICOM and non-DICOM images — which Andrew Horning, Konica Minolta Cardiology Product Manager, told HCB News offers myriad benefits.

"Exa does not push large files — data is not in motion, no pre-fetching is required," Horning said. "The server does all the work and it's instantaneous — similar to how Gmail operates."

With a minimum five-pixel monitor, Exa will view any angle and make measurements with speed. The platform also has an app for mobile viewing, although it does not provide measurement capability.

Physicians will appreciate the view customization. Horning said that doctors would see only what they want to see when they log in.

"We have respected physician workflow on the platform," he said. "We've figured out how to make complicated stuff, including cardiology echo and stress studies, simpler on the Exa platform."

Exa also allows managers to assign parameters to the workflow. If, for example, a physician cannot read a study or a result in a pre-set time limit, the manager can set up rules to send the test to another physician to interpret. The system also allows for tie-in billing, syncing with EHRs and scheduling platforms.

According to Konica Minolta, the new collaborative workflow platform provides hospitals and imaging centers the ability to view images across departments and facilities. This, regardless of image source for DICOM and non- DICOM images. It also functions as a Vendor-Neutral Archive (VNA) for central storage of images.

The widespread adoption of EHRs and an industry shift to value-based care and reimbursement models will likely make the interoperability offered by Exa desirable to providers, particularly with regard to image sharing.