Royal Philips and PathAI, a developer of artificial intelligence technology for pathology, are collaborating to improve the accuracy and speed of routine clinical diagnosis in the lab.
Together, the companies are setting out to build practical deep learning applications that can be applied to massive pathology data sets to better inform interpretations and treatment decisions. The initial focus will be on breast cancer, and automatically detecting and quantifying cancerous lesions.
"Computational pathology can help pathologists mine richer information from the tissue sample than possible with the naked eye alone," Russ Granzow, general manager of Philips Digital Pathology Solutions, told HCB News. "Improved scanning, storing and processing have made it possible to pursue the big mission of applying computational techniques such as advanced image analytics tools to pathology."
PathAI is a natural fit for this undertaking, having won the Camelyon Grand Challenge in Biomedical Image Analysis last year by showing their software could detect metastatic lesions in lymph nodes with a success rate that consistently rivaled human error.
"Our goal is to help patients receive fast, accurate diagnosis and support treating physicians to deliver optimal care by empowering pathologists with decision support tools powered by artificial intelligence," said Dr. Andy Beck, company CEO, in a statement. "For example, identifying the presence or absence of cancer in lymph nodes is a routine and critically important task for a pathologist."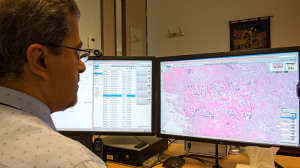 Historically, pathologists have manually reviewed and analyzed tumor tissue slides using a microscope, but the rising shortage of pathologists and the increase in cancer caseloads make digital pathology a logical alternative for improving diagnostic accuracy and speed.
Philips has already implemented deep learning in its clinical informatics solutions for radiology such as Illumeo and IntelliSpace Portal 9.0.
Last year the company
announced the acquisition
of PathXL, a successful Belfast-based startup, to help propel providers toward making the switch to digital image-based pathology workflows.
According to Granzow, Philips' approach to computational pathology will be that of an "open ecosystem" in which it will seek to collaborate with multiple partners, with complementary strengths.
He cites the company's
collaboration with Mount Sinai Health System
— intended to create a digital image repository comprising patient tissue samples and data analytics — as an example of this. The repository, which was announced in 2015, will be used to uncover new tissue-based tests and advance clinical research.
In a partnership announced earlier this month,
Philips and LabPON
, a pathology lab in the Netherlands, will utilize the IntelliSite Pathology Solution to aggregate sets of annotated pathology images and big data to develop image analytics algorithms for computational pathology and pathology education.
Per the arrangement, LabPON will contribute its repository of approximately 300,000 whole-slide images that it generates each year to the database. These images comprise a broad range of tissue and disease types as well as other diagnostic information that's needed for deep learning.
In June 2016, Philips CEO Frans van Houten
told Reuters
the company's digital pathology business has been "doubling every year."
"We're acquiring a company that has deep clinical knowledge and technology to analyze cancerous cells," said Van Houten, adding that the partnership "will widen the capabilities of our pathology business and make it even more attractive for pathologists to adopt."
It's costly to ship conventional glass slides for a second opinion and the time that's required accounts for 41 percent of delays in cancer diagnosis, according to the National Patient Safety Agency. With a digital pathology workflow, it only takes 60 seconds for a glass slide to be scanned and ready for viewing at 40x magnification.