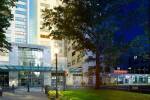 GE Healthcare and Hartford HealthCare enter seven-year collaboration
April 12, 2017
by
Lauren Dubinsky
, Senior Reporter
GE Healthcare and Hartford HealthCare announced a collaboration on Tuesday to launch a series of projects over the next seven years. This is the first of its kind in New England.

The projects that the organizations are planning to roll out will aim to help patients avoid unnecessary wait times and other factors that can delay care.

"We are redesigning the way we organize and deliver care," Elliot Joseph, CEO of Hartford HealthCare, said in a statement. "We are focused on ensuring patients get the care they need, where they need it, and to coordinate that care so it is faster, safer and, ultimately, more affordable."

Hartford HealthCare is a comprehensive health care network located in Connecticut. It comprises two teaching hospitals, two community hospitals, an acute-care hospital and trauma center, a primary care physician practice group, five cancer centers, etc.

As part of the collaboration, GE will help implement and activate Hartford HealthCare's new Care Logistics Center. The center's goal is to improve communication between health care providers and facilities, and reduce wait times.

GE and Hartford HealthCare will also work to create more efficient access to diagnosis, testing and treatment, enhance operational and clinical performance with advanced analytics, and improve digital imaging services with better staffing models and technology.

The organizations hope to generate more than $14 million in savings over the course of the seven-year collaboration.

John Flannery, president and CEO of GE Healthcare, explained that to truly transform the patient experience at this level, they will need to rethink how and where they can improve efficiencies.

"We believe that this strategic, outcomes-based agreement will focus on the shared priorities to enhance clinical quality, patient experience and operational efficiency," he said in a statement.