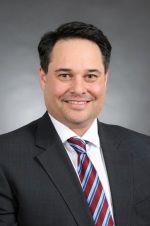 Q&A with Matthew Schreiber, chief clinical officer at Newark Beth Israel Medical Center and Children's Hospital of New Jersey
August 11, 2017
by
Sean Ruck
, Contributing Editor
Dr. Matthew Schreiber recently accepted the position of chief clinical officer at Newark Beth Israel Medical Center and Children's Hospital of New Jersey. With Dr. Schreiber's addition, the new C-suite team has been completed. He took some time to speak with HealthCare Business News about his background and goals in the new position.

HCB News: What inspired you to follow a path in health care?
Matthew Schreiber: My father was a pediatrician. When I went off to college I had one thought in my head: I will do anything other than be a doctor. My bedroom was above the garage door and I had the only phone on the upper level of our house. At 2 a.m. I'd hear the phone ring. I'd hear the garage door go up and the garage door go down. An hour later, the garage door would go up and then go down, back to bed. Thirty minutes after that, the phone rings and the entire thing plays out all over again. I studied international relations at Stanford which was half political science, half economics. Around the beginning of junior year, I realized that there are real disparities when it comes to access to high quality clinical care. I'm a lifetime learner. I love going to school. It was challenging and fulfilled my sense of social justice. I realized I could hit all those marks with this profession.



HCB News: You pursued your degree at the New York State Sackler School of Medicine in Tel Aviv. What notable differences are there in health care in Israel and health care in the U.S.?
MS: Anything we have in the U.S., they have and do in Israel. But with the proximity to Europe, it's very much a European style. My program, for American students, was U.S. modeled. The Israeli program, however, was exactly like going to medical school in Europe. I got to see the best of both worlds. Although Israel has all the technology of the U.S., it wasn't nearly as available. In order to use the technology, you had to use really good selection since technology was scarce. That meant you relied on your physical exam skills and knowing how to diagnose. It is definitely true that the act of laying on hands and getting a good history from patients, which does take time, is an amazing relationship builder. An added benefit [is that] the more precise you can be with what you need and why you need it, the better the cost management is.

HCB News: What attracted you to the position at Beth Israel Medical Center and away from your high-level role at Spectrum Health in West Michigan?
MS: First and foremost, it's a great job. Newark Beth Israel Medical Center and Children's Hospital of New Jersey is part of the largest health care system in New Jersey, the RWJBarnabas Health system. Although we are part of a larger system, the entire senior leadership team at Newark Beth Israel is focused on providing high quality, safe care and an excellent patient experience to our patients and they have very high expectations of me and my scope of practice. It's appealing in that regard. I'm very mission-motivated and everyone who works here is motivated as well. We engage with the community in unique and meaningful ways and are embedded and while every health system says that, you can really feel it here.



HCB News: Your appointment completes the C-suite team which has undergone many changes. What are the top challenges you have on your list?
MS: I've developed a focus on narrowing clinical variation. It doesn't matter if you have a different protocol than another health care organization, but it matters that you've taken a structured approach and develop that protocol. There's necessary complexity which you manage through software, training and other support. There's unnecessary complexity that accrues as time goes on. You start building a house in the 1980s and you keep building rooms until 2020 and take a step back and your house makes no sense. What you were doing at a given time made sense, but when you didn't have that master plan figured out, nothing makes sense in the end. So part of my goal is to limit that unnecessary complexity.

HCB News: What opportunities do you hope to pursue for the hospital?
MS: I want to manage the public trust. This medical center has made incredible strides in improving safety and quality in recent years. The hospital attained the JCAHO Gold Seal of Approval last year, emergency room wait times have been cut in half and our patient satisfaction numbers have reached as high as the 82nd percentile.

However, we have to increase our transparency about these accomplishments and about what we are doing every day to ensure that we are providing high quality, safe care.

We need to help people understand clinical quality. We need to be much more upfront and make information about clinical quality safety performance and process improvement much more transparent so that our patients and their families can see that this is a hospital that learns their lesson when bad things happen and that we have mechanisms in place to keep them safe and deliver high quality care.

The second focus is making sure the health system is providing value to the community. While the truth is that health systems need to make a margin to keep their doors open, sometimes we invest in things that improve margins as opposed to those things that actually challenge the community. So, instead of investing in a proton beam therapy to treat the five people that might benefit from it in the New York metro area, we look at the community and see that people have a lot of diabetes and hypertension and we need to be really awesome at treating those issues. We need to provide services in an expert way, and in a way that makes it easy to access. Having them arrive in our ER is not the best way to handle it. We should be able to leverage technology to bridge the gap.

Last year, Newark Beth Israel did just that, when the hospital saw a disproportionately high rate of women presenting with stage 3 and 4 breast cancer. They moved forward with opening the Healthcare Foundation of New Jersey Breast Health Center to address the need for early diagnosis.

The third thing I want to do is restore a sense of heroism to those that work in health care. In the past, being at your kid's ballgame, you'd here, "that's my doctor." Now, people don't even feel connected to their provider. At the end of the day, the tie that binds all health care workers is that they came to do good for someone else, even if that work might be hard for them. When we lose that sense of pride, of honor, people lose the passion. It's meaningful and people should be able to enjoy their job and be proud of what they do because it's important.