HealthCare Business News interviewed Dr. Steven N. Kalkanis, medical director, and Spencer C. Hoover, system vice president and executive director, of the Henry Ford Cancer Institute for this month's Hospital Spotlight.
HCB News: What inspired you to get into health care?
Spencer Hoover:
I joined the Army as an airborne infantry soldier after 9/11. During basic training, I received a Red Cross notice in the middle of the night that my wife had an emergency C-section. My son was born at 27 weeks gestation and 1 pound, 11 ounces. He was in the NICU for four months at University of Florida Health Shands Hospital. Later in my enlistment, my daughter was born at 24 weeks gestation and 14.5 ounces. She was also in the NICU for four months, at UNC Chapel Hill, UNC Medical Center. Both of these experiences allowed me to see the significant value and contributions to society that medical practitioners provide.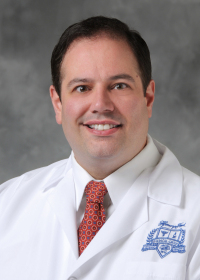 Steven Kalkanis:
My dad passed away from cancer when I was about 14, so I've always been motivated to do something along the lines of medicine. Later, in medical school, I saw a case of a young girl who had a tumor that was causing blindness. I was able to shadow a surgeon and be there after the operation where she woke up and was able to count her fingers and she was legally blind before that. It made quite an impression.
HCB News: How long has the planning process been for the Brigitte Harris Cancer Pavilion?
SH:
Initial discussions started over a decade ago. In 2015, our board of trustees voted to fund a significant system investment in cancer care. In 2016, Dr. Kalkanis and I were able to review the plans to ensure we were building a best-in-class cancer center in partnership with system leadership with a goal of creating a destination cancer center for the health system. After determining that several adjustments to the capital allocation were required to deliver on that vision, we worked with the board to ensure the capital allocation was appropriate. A catalyst that allowed us to reevaluate the nature and vision of the building was the $40 million gift package from Mort Harris in honor of his late wife Brigitte. The approved funding of $156 million for the project includes $23 million in infrastructure-related work, things like a skywalk and a parking deck that will be shared resources across the campus.
HCB News: With a scheduled opening in early 2020, when will you start to recruit staff?
SH:
We are well underway, and we've been recruiting since the day we started. We want to deliver a very high-touch patient experience. In addition to our medical professionals, we're hiring social workers, nutritionists, financial counselors, disease-specific nurse navigators and many other key resources for our cancer patients and their families.
SK:
We currently have a national search for two key positions related to our Precision Medicine Program initiative. This program is designed to allow us to elevate the standard of care for our region so patients have access to the next evolutions in therapeutic advancements for cancer patients. In addition to this clinical and research program establishment, we were also selected as one of seven sites across the country for the NIH "All of Us" Precision Medicine Initiative (PMI) research grant. In addition to staffing for key clinical aspects of the new facility, we are also recruiting for key positions in our precision medicine efforts.
HCB News: What are the biggest challenges facing HFCI?
SH:
Science and technology are advancing very quickly and ways of treating patients are also changing quickly. We want to make sure we're on the forefront of that. We have to be aggressive to make sure we're on the cutting edge. To support this endeavor, we're outfitted with an innovation institute to keep us there – new treatments and new modalities. We have all the pieces necessary to be an efficient machine.
SK:
I would also add that in any large health system, one of the challenges is to break down operating silos. For Henry Ford Health System, this is the first foray into operationalizing a horizontally integrated health care delivery concept that is wholly focused on the patient at the center of care. Through this process we are learning quickly that this approach demonstrates that the sum can quickly become greater than all its parts. Achieving this approach is not without its challenges. We've learned it takes a very methodical approach to evolve people's thinking and approach to care.
HCB News: A short time before former President Barack Obama left office, he announced the cancer moonshot. Did any pieces start falling into place regarding that?
SK:
We were part of it and had the honor of being with [former Vice President Joe] Biden when the announcement of the moonshot was made, and HFCI and HFHS were recognized as a major partner in the initiative. The announcement absolutely made a difference because it created the catalyst for institutions to work together to an extent and level that has never been seen before. The next frontier will be won by everyone collaborating and by sharing information, which will allow for expeditious identification of novel ways to treat patients with current and future therapies for cancer and diseases beyond cancer. Because of that, there's never been a more hopeful time in our fight against cancer.
HCB News: It looks unlikely at the moment, but if the ACA was repealed or effectively allowed to fail, what impact, if any, would it have on HFCI and would it impact the new pavilion?
SK:
There are aspects of the ACA that are beneficial and some that are problematic. I think both sides would agree that there's room for improvement.
SH:
Prior to the ACA coming out, there were different mechanisms for support [of] uninsured and underinsured patient populations and the hospitals where those patients sought care. For Henry Ford Health System, and given our significant presence in Detroit, we are challenged to manage different levels in the care for patients of all types. We've sought to develop a framework of operational and financial evaluation that allows the cancer institute and all future system service lines/institutes to be nimble enough to react to changing market and federal reimbursement regulatory conditions.
For us, the evolution of health care payment reform is part of a broader horizon of change in health care we have to deal with.
HCB News: What sets the new center apart from others?
SH:
The patient experience will be elevated. In addition to all the highly specialized services being co-located in one convenient location for patients, we are seeking to take advantage of advancement in modern technology. There will be Bluetooth-enabled wayfinding, concierges will be waiting upon a patient's arrival, scheduling will be simplified and communication back to the patient and their caregivers will be enhanced in clinically appropriate ways. Additionally, educational videos will be provided at key points in time for support and reinforcement that the treatment journey they are on is based upon internationally derived, best-in-class standards of care. With this, patients can walk in and breathe a sigh of relief that HFCI staff and volunteers are there to make their experience seamless and with an aim on reducing stress so patients can focus on healing and fighting their battle with cancer.
HCB News: Can you give us any details on what a successful first few years of the new cancer pavilion would be?
SK:
We've built into the design of the building the capability to build vertically another three stories. If we have done our job as an institute correctly, spreading the word across the country that our cancer care offering is a preeminent enterprise, then even before we open the doors in early 2020, we will have invested in building the additional three floors or 75,000 square feet. One of our objectives will have [been] accomplished before the ribbon is cut. This will prove we are making a huge impact on cancer care for cancer patients of Michigan and the U.S.