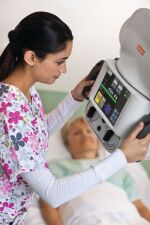 With X-ray reimbursement on the line, four health systems move toward portable DR
November 20, 2017
by
Lauren Dubinsky
, Senior Reporter
When the Consolidated Appropriations Act of 2016 was signed into law on Dec. 18, 2015, the adoption of digital radiography (DR) X-ray systems became less of an "if" than a "when" for many providers that previously may have considered the technology a luxury beyond their budget.

That's because provisions contained in Section 502 of the legislation promised a 20 percent cut to Medicare reimbursement starting in 2017 for facilities using film X-ray, and a 7 percent cut for facilities using computed radiography (CR) starting in 2018. Five years later, in 2023, the CR reduction jumps to 10 percent.

Health systems, hospitals and radiology clinics across the country have been forced to crunch the numbers and make their own decisions about whether to upgrade their portable X-ray fleets to DR or brace for diminished returns on the scans they do without it.

If a facility chooses to go the DR route, there are a number of ways to go about it. HealthCare Business News checked in with a few major health systems in the country to see what worked for them.


Vidant Health
Located in North Carolina, Vidant Health operates a 909-bed academic medical center and six regional community hospitals. It owns a total of 36 portable DR systems and, once it receives its last shipment from GE Healthcare, it will have a fully digital portable X-ray fleet.

Aside from the looming reimbursement cuts, Vidant Health decided to go fully digital to avoid billing confusion. If a facility has a mix of DR and CR portables, they will have to use separate billing codes starting next year.

"It's such a hassle when you do one patient on DR and another on CR," says Sandra Sackrison, radiology system service line administrator at Vidant Health. "That was a good buy-in with the finance folks because they thought the billing situation would be a nightmare."

Instead of making an enormous initial investment, Vidant Health decided to purchase the systems in phases that spanned three years. They started with buying new DR portables for the main medical center and then took a more thrifty approach with the regional hospitals.

"We kind of made ourselves the broker of the used portables," says Sackrison. "We took our first-generation portable DRs and partnered with GE to have them refurbished and then sent them out to the regional hospitals."

The health system was also able to sell its CR readers to a used equipment vendor. That saved a significant amount of money since the service contracts for CR readers are very expensive, explains Sackrison.

Vidant Health also cut costs by opting for an insurance pool rather than purchasing coverage for each of its DR detectors. Instead of paying $5,000 annually for each detector, it paid $2,000 for an insurance pool that covers five breaks per year.

"People get concerned about how expensive the coverage is on these detectors, so this helps to offset that," says Sackrison.


UnityPoint Health – Meriter
UnityPoint Health – Meriter in Madison, Wisc., was formerly a stand-alone community hospital, but became affiliated with Iowa-based UnityPoint Health in 2014. As a result, the hospital had access to more funding for capital equipment.

In October 2016, Meriter purchased five Carestream DRX-Revolution portable X-ray systems for its emergency department, operating room, intensive care unit, newborn intensive care unit and other nursing units.

"I was looking forward to being a part of a larger hospital buying group because they always have more funds for capital equipment," says Rose Knoll, manager for general diagnostic, fluoroscopy and mammography imaging at Meriter.

Over the past two years, the UnityPoint Health affiliation has allowed Meriter to purchase three new GE OEC C-arms and a new Luminos Agile Max fluoroscopy room from Siemens Healthineers.

Knoll reports that she's impressed with the speed of DR compared to CR. When Meriter used CR cassettes, the technologists had to go to a reader and process the image, but with DR the images can be sent directly to the PACS.

"Most of the time, the surgeons are reviewing the images as soon as we take them to the operating room," she says. "In the emergency room, the physicians can check the images immediately for tube or line placements instead of waiting for results from the radiologist."

DR technology offers advantages for the radiologic technologists as well. For example, the Carestream DRX-Revolution systems have a tower that can go back inside of the unit so it doesn't block the user's view.

With CR cassettes, it would take technologists a while to complete their imaging rounds because they had to take them to the CR reader to review the images before continuing to image more patients. But that step is eliminated with portable DR since they can see the image immediately.

Also unlike CR cassettes, the technologist can adjust the DR detector if it isn't positioned correctly without having to remove it. That's also more convenient for the patient because a CR cassette is not constantly being placed behind their back or underneath their abdomen.

But when a hospital implements any new technology, it's usually met with a set of challenges. In the case of Meriter, the physicians didn't want to wait for the radiologists to call them with results because they could see the images immediately on the portable screens.

"It was a learning curve," says Knoll. "They still have to follow protocols whether the physician or surgeon doesn't want a phone call back from the radiologist."

In addition, the technologists didn't realize that the portable DRs are wireless, so they thought the equipment had to be plugged in to send images. Knoll says it was amazing to them that they could press a button and send the images wirelessly to the PACS.

"With DR, the technologist takes the image and sends it right to PACS," she says. "The radiologist looks at it and already the surgeons and physicians are looking at it within five minutes. You shave off at least five to 10 minutes, if not more."


Mount Sinai
New York City's Mount Sinai Health System also realizes the benefits of DR, but isn't yet ready to make the leap to a fully digital portable X-ray fleet. The health system has DR rooms in the emergency department, but many of its portable machines are still CR-based.

That's largely due to financial constraints, according to Dr. Corey Eber, assistant professor of radiology at the Icahn School of Medicine at Mount Sinai.

"[The technology] is less expensive than it used to be, but a portable DR machine is still a couple hundred thousand dollars," he says.

The health system has implemented portable DRs in the departments that have the highest demand for stat X-rays. That includes its intensive care units, especially the one that's dedicated to cardiac surgery.

The technologists are able to conduct more exams on the portable DRs in a shorter amount of time. The average turnaround time has also drastically improved, which the referring physicians and nurses appreciate.

"We don't have that many machines right now," says Eber. "There might be a time when we see there are greatly improved efficiencies from having all DR and we may need fewer [technologists], but I don't think we're at that point. It's just not a critical mass."


Loma Linda University Medical Center
In 2014, Loma Linda University Medical Center, which operates six hospitals in California, joined a program offered by Agfa HealthCare to help them transition to DR. The "Fast Forward to DR Program" was designed to meet the needs of facilities lacking the immediate capital to upgrade and involves a unique cost structure in which the facility pays fixed monthly payments over a 60-month period.

Although it chose to only retrofit its CR rooms, facilities can also retrofit portable CR systems as part of the Fast Forward program. Taking into account all of the variables and options, the price of a DR retrofit is about 30 percent to 40 percent of the cost of a new system, according to an Agfa spokesperson.

Through the program, in addition to installing 11 DX-D retrofit systems to convert its existing CR-based rooms to DR technology, Loma Linda also acquired five new wireless DX-D 100 portable DR systems.

Like other health systems, Loma Linda quickly discovered the advantages of the simplified DR workflow. In addition to saving an average of eight minutes and 10 seconds per image, the facilities were also able to reduce the number of technologists needed to conduct certain exams from two with CR to only one with DR.

What made the decision to upgrade a "no-brainer," according to Roland Rhynus, executive director of radiology at Loma Linda, was the fact that the monthly payments were only marginally higher than what the health system paid to maintain its CR technology.

The transition essentially paid for itself because Loma Linda was able to reallocate the workflow savings from utilizing DR to cover the expense of the program.

Although retrofitting a CR system is the more affordable option, it doesn't offer the same level of productivity as a new DR system.

Agfa offers 20, 32, 40 and 50 kilowatt DR systems, but the average portable CR is only 12.5 kilowatts. According to the Agfa spokesperson, the portable DRs are close to an X-ray room on wheels, especially for spine and trauma imaging, and even a retrofitted system can't compare with that.