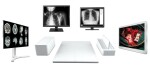 LG expands imaging portfolio with new monitors
December 26, 2017
by
Lisa Chamoff
, Contributing Reporter
A year after entering the medical imaging market, electronics manufacturer LG has expanded its portfolio of clinical review monitors.

The company recently debuted its 3MP Diagnostic Monitor and its 1.3MP Clinical Review Monitor at the 2017 RSNA annual meeting. The displays are designed to be used in a variety of hospital settings, including consultation rooms, operating tables and radiography rooms, providing a complete display package for facilities.

The monitors feature in-plane switching (IPS) technology, allowing the screens to be viewed from varied angles and without significantly distorting color, according to the company.

The 3MP Diagnostic Monitor, or model 21HK512D, is the first diagnostic product for LG Electronics USA Business Solutions. It comes with a with a 21.3-inch display and a built-in calibrator that checks whether certain colors need to be adjusted, in addition to fixing inaccurate colors, to ensure that X-ray images are clear.

The 1.3MP Clinical Review Monitor, or model 19HK312C, has a 19-inch screen with a 5:4 aspect ratio. The company says it can seamlessly connect to existing hospital equipment to maximize space.

"LG's medical imaging displays provide health professionals enhanced user experience with superior picture quality and seamless connectivity," Garry Wicka, head of marketing at LG Electronics USA Business Solutions, told HCB News. "All of LG's medical imaging devices are compliant with Digital Imaging and Communications in Medicine (DICOM) Part 14, meaning grayscale tones are corrected to maintain image accuracy and consistency over time. LG's medical monitors also come equipped with backlight stabilization technology to guarantee stable luminance levels, and are finely calibrated to ensure consistency when multiple devices are employed. In addition, the displays are also built with health care providers in mind, as LG's Dynamic Sync, Flicker Safe and Reader Mode settings reduce input lag and minimize eye strain experienced by professionals working long shifts."

LG is also planning to release new mobile digital X-ray detectors in the U.S. in 2018.