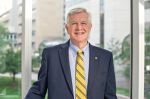 Q&A with Marschall S. Runge, CEO of Michigan Medicine
June 30, 2018
HealthCare Business News recently spoke with Marschall S. Runge, M.D., Ph.D., dean of the U-M Medical School, CEO of Michigan Medicine, and executive vice president of Medical Affairs for the University of Michigan, to learn more about his background, the organization's goals and his take on a number of healthcare topics.

HCB News: What inspired you to follow a career in healthcare?
MR: I started out with an interest in science. At the time, molecular biology was just starting. This was the late '70s. As I did more research, I came to the conclusion that I was most interested in research that had the potential to improve health through the treatment of human diseases. At that point, I decided to go to medical school. Turns out I really enjoyed clinical medicine as well, and I ended up spending most of my career as a physician-scientist where I combined clinical work in cardiology with research on vascular diseases.

HCB News: How long have you been with Michigan Medicine?
MR: I've been here a little more than three years, I came here in March of 2015.

HCB News: With a good portion of your career as a physician-scientist, was that something that was attractive to Michigan Medicine?
MR: I think so. And Michigan was an ideal institution for me. The traditions of clinical care and research, embodied by physician-scientists, are strong at Michigan Medicine. This is an academic center that, over many years, has managed to combine the three missions of an academic medical center: education, research, and clinical care, very synergistically. As time has gone on there are fewer and fewer academic medical centers able to focus on all three missions to the degree we can at Michigan Medicine.

HCB News: What attracts people – both patients and employees – to U-M Health?
MR: Multiple factors are important. We're known for our excellent and compassionate patient care and our major focus on patient and family care. We also concentrate on health in general, not just treatment of acute illnesses but also prevention. For staff, there's a great breadth of patients – everything from primary care to highly subspecialized care for our patients, no matter the nature of their disease. We have the competencies to provide this breadth of care at a very high level. One of our major goals is to bring innovation to the treatment and prevention of disease, bridging our research and clinical programs. This, too, is very attractive to many of our faculty and staff.

HCB News: What advantages does a health system as a medical training institute have over a strictly clinical hospital?
MR: Our broad expertise, really all the things I previously mentioned. Plus, this is a rich training environment. We have 170 medical students per year, Ph.D. students and postdoctoral fellows, and about 1,200 trainees that are residents or fellows. With what we've discussed, you can see how we can offer an enviable range of patient care experiences.

HCB News: What are the biggest challenges facing healthcare today?
MR: There's increasing pressure on the clinical mission to provide support for research. NIH funding, with occasional increases, has been on a gradual decline for a number of years. And no matter how efficient you are at research, it still requires additional financial support to have top-tier research programs, and we, like most institutions, help fund our research with money from clinical care. You can calculate how much additional support is required, on top of a research grant. Generally, that number adds up to more than 50 cents per dollar of funded research. We are in that range. This has always been a challenge, but never more than today because of changes in healthcare finances. The costs of clinical care increase each year with inflation. Additionally, we are seeing many new technological advances that can produce dramatically improved patient outcomes. A very recent example is the use of CAR-T cells, a novel immunotherapy for certain leukemias and lymphomas. Michigan Medicine is one of fewer than 50 centers in the U.S. that have approved CAR-T therapy. CAR-T therapy can be highly effective but is also very expensive therapy, up to about $1.0 million per patient. How we will efficiently use these and other expensive technologies at a time when the world is also migrating to value-based health and reduced reimbursement is a question for all involved in healthcare.

HCB News: Can you detail some of the challenges that may be unique for a research and clinical institute?
MR: Our commitment, and funding of research and education, means we may have less funds for competition in a constantly changing healthcare landscape. We may decide to support potentially transformative research while centers focused mainly on their clinical mission may use funds from their margin to develop new relationships, construct new buildings, and promote themselves. For research-intensive institutions, we must continue to innovate in value-based healthcare. That is how we will compete, although it is a constant challenge as the growth of healthcare systems continues at a rapid pace.

Physicians in an academic medical center often also have more competing interests and more administrative requirements. They do teaching, and the best are often called to serve on very important committees and other administrative roles. But they're partly here for those opportunities of course.

HCB News: The public's active involvement in being responsible for its care seems to be evolving quickly today, especially with access through personal devices. Has that impacted the education opportunities you offer?
MR: Definitely. Technological advances are here to stay. So is the immediacy with which everyone expects answers. This can create a time-crunch for all involved in healthcare. And there is a generational component. I'm a senior physician and I'm simply not as facile with all these devices as younger health care providers who have lived with them their whole lives. We are working to blend the new technological advances with the very human part of medicine – the patient interaction. There are many studies on human interactions as an important part of the healing process. It's an interesting challenge for us to make sure our trainees can make the best use of the technology while maintaining that level of human touch.

About five years ago, we were one of eleven medical schools to receive a grant from the American Medical Association to do major curriculum reform. Part of our major reform was redoing our curriculum to ensure that med students get engaged with patients early in training, really from their first day. Traditionally in medical school, you take two years' worth of classroom basic sciences and then start seeing patients. Now they're seeing patients in their first week. Of course, their background in diagnosis and treatment of human disease is quite limited at this point in their training. Ironically, this allows them to maximally benefit from observing the human component of high-tech medicine. They meet with families, and they listen to families telling them about their experiences with healthcare. And they do go to the clinic where they observe how some of our best clinicians interact with patients. What they're learning isn't how to diagnose and treat disease but rather how physicians interact with patients, in a setting where they do not have to worry about having the right answer to a clinical question. I think it's an interesting and excellent way to get them introduced.

Another important issue is how we all can best use technology to accelerate learning. When I went to medical school, you could learn pretty much everything about medicine if you studied really hard. But today, with the explosion of knowledge every year, you can't possibly learn everything about medicine, there's just too much. So we want to help our students build the tools that will allow them to continue lifelong learning. This has resulted in a move from traditional lectures to small group formats for learning. Medicine is very team-based today and our patients benefit from all of their health care providers working together. We also just opened a new simulation center within the last six months. It allows students and nurses, residents, trainees in other areas, to have practically a real-life experience with medical procedures, giving them the opportunity to practice a procedure over and over.

HCB News: What are you most excited about in healthcare today?
MR: I'm really excited to see how we will leverage current and emerging technology and research to improve health. To give you one example, precision medicine offers the potential for directing care based on individual characteristics. This is truly a "big data" problem and has led to new collaborations between non-medical and scientists in other areas to try to pull together the full picture of the patient to treat the individual.

I'm also excited about the idea of using machine learning and Artificial Intelligence (AI) to help physicians. For now, we're not close to having AI make a diagnosis. An example of where AI may be useful in the relatively near future is in radiology. A physician evaluating a CT or MRI scan must review a large number of complicated images. If AI could identify those images that contain abnormalities and those that do not, that would allow radiologists to focus on the most critical parts of the exam. I am less convinced that AI will be able to replace clinical judgment. This is complex, with all the variables and the nuances of interpretation of clinical presentations, where the possible diagnoses are many. Maybe it'll get there someday, maybe it won't.

HCB News: Can you offer a prediction as to where you think our healthcare system will be in 10 years?
MR: If you think back about advances in medicine, each has come along with bits of technology. The stethoscope was developed 200 years ago, electrocardiograms in the 1930s. The speed of innovation has continually increased since the 1980s and 1990s. I think what we can expect today is that the rate of discovery is accelerating incredibly in the next decade. A major challenge for all of us in healthcare will be understanding which technologies are truly transformative and those which are either incremental or mainly hype. All said, though, the next decade promises exciting advancement in medical care and health.