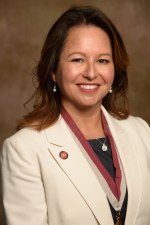 Q&A with AHRA president Angelic Bush
July 17, 2018
by
Sean Ruck
, Contributing Editor
HealthCare Business News had the opportunity to speak with AHRA president Angelic Bush, CRA, FAHRA to learn about the latest happenings in a very busy and active association year. She provided some background on her own experience and insight into association activities.

HCB News: What inspired you to get into the healthcare field?
Angelic Bush: I've always been drawn to healthcare and helping others. When I was a young lady, I wanted to be in healthcare. Honestly, I feared the emotional strain of being a doctor or a nurse, but I wanted to help. When I was a young adult, I got sick and had an IVP performed at a small hospital in Houston. During the course of the procedure I was intrigued. I asked a series of questions of the person taking the pictures of my kidneys. I'm appreciative that the technologist was so open with me and answered all of my questions. After, I continued to ask about this field called "radiology" and was hooked. It is the perfect combination for me – science, technology, patient care and compassion. I've been in the field ever since.

HCB News: What drew you to AHRA and how long have you been a member?
AB: I can tell you exactly who drew me to AHRA. It was Sherry Worsham. She's the director of radiology at Cypress Fairbanks Medical Center in Houston. She was my mentor. When I took my first leadership position, I came to her frustrated. I was a good radiologic technologist, but felt I was failing my team as a leader. She introduced me to the AHRA. She told me it is an association filled with other managers, leaders, and people like me. She encouraged me to get involved. So I googled it, found the association and jumped in with both feet. I have never regretted one moment since becoming a member in 2007.

HCB News: What initiatives are you championing as president?
AB: There are two I'm particularly passionate about. One centers on determining what the current needs of our association's membership are. It had been perceived, prior to my time as president, that the roles of imaging leaders were expanding. We recently conducted a survey and it reinforced what we felt. Our members are now venturing into several other imaging areas with the most relevant being cardiovascular imaging & cardiology. The problem is that while AHRA has the leadership and operational content, we need relevant clinical content in order to bring increased value to our members.

We have recognized this new need, quantified it, and our curriculum development team is pulling those resources together to meet it. You will start seeing courses specific to these topics, in various forms.

The second initiative is building appropriate resources within the AHRA for our military-trained imaging leaders and members. As a military-trained X-ray technologist and leader myself, recognizing the transitional challenges of a military-trained imaging leader to civilian operations is important to me. Remember, the mission of the AHRA is to provide tools and resources for imaging leaders. Knowing the unique ways our membership come to their positions is important to building the right tools.

AHRA recently launched the "AHRA Military Community" in our online forum, Connect. This gives military members, both retired and on active duty, the venue to share insight and ask questions in relation to the military and transitioning into the civilian sector. The reception to this forum community has been amazing! We had over 100 discussion posts created within 24 hours of the launch! As a result from some of those discussions, we will be hosting a military gathering at the AHRA 2018 Annual Meeting, and we're inviting all local area military imaging leaders to join, as well as offering those who show up in their military uniform on Monday, July 23 free one-day passes to attend the conference. That's what AHRA does, we build relationships and provide the tools to help people become more effective imaging leaders.

Finally, while this wasn't something I knew I'd be championing, Ed's retirement announcement has created the need to champion our CEO search. We want to make sure we do that in a very professional and forward-thinking manner. We have formalized a search committee, they're going to identify and work with a search firm to find the best individual to lead our association for the challenges of tomorrow.

HCB News: What are the biggest challenges facing your members today?
AB: It seems like almost every survey our members answer, the same challenges tend to come up. The top one isn't unique to our association of course. That's the increased need to be cost-effective in a declining reimbursement environment.

Right now, two of the big things that will change our environment completely are analytic informatics and artificial intelligence. I'm personally very interested in data and I believe analytics informatics is going to be a game-changer in how we come up with innovative operational ideas. My feeling is that analytic informatics will probably become its own modality, now that we have EMRs that can pull out and aggregate multiple fields outside of the traditional start time/end time/final report time, and we can start correlating our imaging studies to overall hospital financials, reimbursements, patient diagnosis. I think once we start slicing and dicing and looking at data that way, we might find some pearls of wisdom from an operation side that if we tweak a bit, we can make an overall difference not just at an operational level, but at an organizational footprint level.

Do we have the skillset to do it? Yes, we do. As long as I've been a member of AHRA, one common thread always manifests in some way. Good, reliable, validated data is important. In the past, we never really had the systems to provide that type of data or worse yet, we had to merge data from 2 and 3 locations in order to get it. Tools are already being developed by our vendors to do this. So I don't think it's going to require new leaders, it's more that we're going to work to get the right tools in those leaders' hands.

For artificial intelligence, I think it's too new at the moment to determine how it's going to impact us. Still, it's not something to fear, it's something to embrace. It's going to help us be more efficient, improve our quality and patient care. We need to start looking at our IT infrastructure because it's probably going to be here tomorrow and we want to put in an infrastructure that can support that.

HCB News: Do you anticipate any big changes coming in the role AHRA plays in the national discussion of healthcare?
AB: We've already made a huge change, in that we're at the table. We're bringing multidisciplinary key stakeholders together to discuss problems. These key stakeholders look at the same problems from completely different viewpoints. Some from a billing and compliance standpoint, some from a data and infrastructure standpoint. We, as AHRA, represent the operational imaging leaders. The fact that we're helping spearhead an open dialogue, where people can talk to each other, is a game-changer. I'm excited, because that's our future. "We're all in this together" has been AHRA's slogan this past year and when national discussions on healthcare are happening, there is not a better motto to have.

HCB News: How is your field doing with keeping up with demand to fill job openings?
AB: As I touched on before, medical imaging managers are acquiring departments outside of imaging. The demand to fill job openings is a demand to expand our skill sets and continually develop the next generation of leaders. AHRA has always been about providing the tools and resources to be an effective leader. That's what we're here for. It's through AHRA programs like the Leadership Institute Basic Management Program that offers the next generation the fundamental skills and principles of good leadership, or the Partners in Learning program, which offers members at any stage of professional development to spend a few days at another healthcare facility, that we can help shape our future leaders and keep our bench full.

HCB News: Have the skills and experience needed to successfully manage an imaging department changed significantly in the past decade? Do you expect them to change in the next decade?
AB: I think our key performance indicators change. We're no longer looking at just a mean, but instead we're looking at the bell curve. We'll be looking more often at how well we hit the target. The more data we can get, the deeper we can drill into where we're going to find waste. We have to drive down the expenses. We have to get to a Medicare break-even rate. Having the data, we can ask ourselves, for instance, do we need another piece of equipment? Or do we need to extend our hours?

HCB News: Other than the experience and skills that may change, how do you feel the imaging management field will change in the next 10 years?
AB: I predict there will be many more 24-hour services and that will become the norm. I think we'll see lots of things bleed into the noninvasive cardiology world. I also see the reemergence of mobile services and going out to communities, as we look at trying to keep people out of the hospital.

HCB News: Any other developments in the imaging management field that you'd like to share?
AB: The imaging landscape is ever-changing and developing at a rapid pace. It's important to realize we, as imaging managers, don't just manage, we lead. Leaders inspire! We desperately need to be innovative. Just having tools is worthless without a vision and environment of inspiration. I think it's important that all leaders recognize what inspires them and constantly tap into that source. One great place to be inspired this year is at the 2018 Annual Meeting in July!

HCB News: What should attendees be excited about at this year's conference?
AB: First of all, it's in Orlando and that's always a great, cost-effective location. It enables attendees to bring more members of their team and their families, emphasizing the "we're all in it together" feeling and close-knit community AHRA prides itself on.

You'll see leaders from across the country, and yes, world, come together to find their inspirational fuel. It is not just a way to recharge but to truly jump-start your year (and for those up-and-coming leaders, your career). Attendees should be excited to be blown away by our three world-class keynotes and to take a deep dive into industry trends ranging from AI to cardiovascular imaging, to quality and safety during the 70+ breakout sessions. Each session was hand-picked by imaging leaders for imaging leaders to walk away with the resources and best practices to tackle the professional challenges they're currently facing.

I know I'm most looking forward to our "superhero" theme that will appear throughout the conference, including the "AHRA Super Bash" party on Wednesday night. We believe imaging leaders are superheroes, not only of their own departments, but of hospital operations.