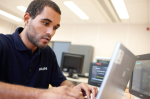 Forecasting issues before they arise with MR remote monitoring
September 19, 2018
by
John W. Mitchell
, Senior Correspondent
Extreme weather can wreak havoc on the environmental systems needed to keep an MR unit up and running, so when thunderstorms and summer monsoons begin to rage, that's when the phone starts ringing at Southwest Medical Resources (SWMR). As technology advances and concerns about extreme weather increase, the company is one of many striving to meet the growing demand for around-the-clock MR systems monitoring.

The company had just picked up two new MR remote monitoring contracts in Arizona due to recent violent weather, according to Don McCormack III, technical sales/field services engineer in the company's Southern California office. He said SWMR currently monitors nearly 300 MR units for a host of environmental conditions, with another 200 MRs likely to come online for remote monitoring coverage by the end of the year.

"It was 119 degrees here last week," McCormack told HCB News. "With our Remote Diagnostic Unit monitoring, we're seeing how [a client's] air conditioning unit is running a little bit weak on a hot day. We're telling them ahead of time that they need their air conditioning serviced before it breaks, because we're seeing a variance off a steady line that didn't used to be there."



Describing the scanner OEM's approach to remote monitoring as "holistic", Satrajit Misra, vice president of marketing at Canon Medical Systems, told HCB News that the environmental monitoring of eWatch has proven to be a valuable service to their customers. "It allows us to proactively go in and top off the helium, or if we detect humidity building up or there is a problem in the chiller lines – it's always a good story if you can prevent a failure."

With a customer-facing web-based portal, Canon's remote tracking also provides an array of data and information back to the user so they know the health of their MR scanners and other imaging systems.

For Canon, scanner vital signs are really just one piece of the puzzle. "It's not just remote monitoring of certain parameters, but everything else," said Misra. "You have to monitor if [end users] are using the correct sequences, that the version of the software is secure and that there are no vulnerabilities."

When it comes to the MR environment specifically, there are few, if any, systematic problems more catastrophic and costly than a quench, in which the core temperature of the scanner rises and superconductivity is lost as the liquid helium turns to gas and escapes the machine. Dale McGuire, vice president of research, development, and training at BC Technical, says the company's ColdTRAC system has helped flag these disasters before they strike.

"There have been several cases where helium loss was prevented or minimized because we received alerts to address parameters affecting power, temperatures and pressure," he said. "With Helium costs at all-time highs, even 250 liters of helium can mean several thousand dollars."

ColdTRAC automatically notifies users (as well as BC Technical engineers), when a given parameter exceeds specifications. The company is now deploying predictive learning capabilities in its monitoring for power, environmental conditions, system errors, vibrations and other MR factors.

If an MR scanner is subject to unexpected downtime, it can set off a whole domino effect of problems for a provider, not to mention the patients who may need urgent diagnostics. Even mundane tasks such as rescheduling exams can cause overtime that increases staffing costs, as well as staff dissatisfaction, fatigue, and attrition.



"Any unplanned downtime eats into exam schedules and impacts the ability to generate reimbursement," said Bellinger. "Patient volumes are rising faster than expected, demanding that health providers maximize throughput."

The company offers OnWatch for continuous monitoring of critical MR components, such as magnets, surface coils, console and environmental factors including temperature using data-predictive tools. GE also offers more advanced metrics, ranging from image quality to patient comfort and monitoring such parameters as coil signal-to-noise ratio, biasing and room noise.

When Hurricane Harvey hit the U.S. in 2017, GE was able to remotely set 49 at risk MR magnets to very low, one pound force per square inch before the storm hit, according to Bellinger. Doing so helped providers cut problems off at the curve and avoid unnecessary downtime.

Currently, more than 85 percent of Philips MR units are connected to its analytics platform, according to Martijn Hartjes, head of global MR marketing at Philips, and roughly one in ten service events across their MR, CT and interventional X-ray portfolio are resolved without disturbing the customer's clinical workflow – a ratio that he noted is increasing every year.

"We're seeing a shift from reactive to proactive maintenance, leading to a reduction of unscheduled downtime, maximizing system uptime, and availability," Hartjes said. "Remote capabilities lead to a faster response to problems when they do arise, due to advanced remote diagnostics, remote resolution, and 'first-time fix' support."



By monitoring the voltages on the different digital coils connected to the different table connectors, Hartjes said e-Alert can distinguish between a defective coil and a faulty power-supply or table-connector. That means knowing when you can replace a specific failing component, rather than an entire part or system.

For Cool Pair Plus (CPP), predictive analytics have become a crucial component in equipment life cycle management. "The ability to store data for extended periods of time allows customers to predict failures more accurately and schedule preventative maintenance," said Richard Branca, director of sales at the company.

It has been five years since CPP started offering the daVinci Cryogen Management System for remote MR monitoring, according to Branca. The platform – which taps data on operating parameters like chill water flow, compressor operation, coldhead performance, chilled water temperature, magnet vessel pressure, and more – works with all OEM scanners and is compatible with all mobile devices.

"In the coming years, systems will become less likely to lose helium. However, other key failure modes will always need to be monitored to maintain consistent uptime," added Branca.

For Siemens Healthineers, one of the most common problems detected by its Guardian Program for remote MR-monitoring is an increase in water temperature. Catching that change early can mean a less costly fix and a maximum amount of scanner uptime.



"We see that the percentage (of covered MRs) is increasing within our installed base. Many of our customers see that need ... they're under pressure to drive throughput. There's a lot of value that they can derive from it," said Weems.

Through its browser-based Z-Pulse monitor, Zetta Medical provides fully-automated alerts to in-house biomed staff to warn of out of sync metrics that indicate an impending problem. Bill Murray, the company's vice president of technical services, said that because the system is fully automated, human error is factored out of the notification process. It sends email or text alerts to in-house staff, who can also view the performance check on the unit's monitor.

"It is not a computer-based system, like our competitors offer," said Murray. "With a computer, you will require all the software patching and anti-virus solution maintenance to protect your network. Z-Pulse has its own display screen to review values on-site, but it also … pushes the data to our server for tracking and notifications."

The Z-Pulse system, which tracks an array of MR vital signs, is compatible with iOS and Android.

Another MR monitoring system, tripwire, was first developed in early 2014 as a joint project of Simplexable and The JDIS Group. While the remote device reports more than 30 parameters, it concentrates on four key magnet metrics: helium level, shield temperature, compressor status, and magnet pressure for zero boil-off systems.

"Magnet failures tend to escalate very rapidly in cost and consequence," Clark Wilkins, managing partner at JDIS and principal at Simplexable, told HCB News. "We have easily saved our users more than $1.5 million in the last four years."

As an example, he cited a case of a water chiller failing on a zero boil-off unit on a Friday evening, just after a clinic closed for business. Normally, he said, a technician would not discover the problem until Monday morning – when it would have necessitated a costly helium refill.

"In this case, we got a text message within 30 minutes of the failure and the repair was initiated immediately," said Wilkins.

Hitachi Healthcare Americas has offered remote MR-monitoring for the past 12 years and continues today with its Oasis and Echelon platforms. Andrew McMayon, director of service, said their system monitors 100 data points. A national tech support department oversees that data and can immediately run remote diagnostics on the MR. If necessary, a service tech and parts can be dispatched immediately.

"All major manufacturers' remote monitoring software provides similar system data," he said. "We efficiently and effectively use the data to maintain our 99 percent uptime guarantee … on operating hours."

Even though McMayon said that robust onsite manual monitoring is still necessary, they offer a vigorous performance standard.