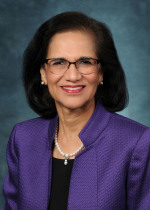 Q&A with RSNA president Dr. Vijay Rao
November 27, 2018
by
Sean Ruck
, Contributing Editor
With RSNA 2018 just around the corner (November 25 - 30), it's time for our annual interview with the current RSNA president. Dr. Vijay Rao took time to fill us in on her background, her goals as president and some of the pressing matters for members today.

HCB News: What inspired you to get involved in health care?
Dr. Vijay Rao: I grew up admiring my physician father who was devoted to excellence in patient care. He came from a very poor family, studied under street lamps in India, and put himself through medical school. He was determined to provide the highest level of education to his children. I was the youngest of six siblings. Three of us became physicians and the other three became engineers. I am grateful to my parents, who gave me opportunities to pursue my dreams.

HCB News: How has radiology changed since you started your career?
VR: Where to begin? Imaging technology has advanced by leaps and bounds through the years and transformed the practice of medicine, allowing for noninvasive or minimally-invasive diagnostics and, in many cases, eliminating the need for exploratory surgery. Recently, the transition toward a patient-centered model of care has reshaped the specialty in a positive way. In patient-centered practice, we can position ourselves as visible, integral members of the healthcare team and provide a wider spectrum of care to our patients.

HCB News: How long have you been a member of the RSNA and why did you decide to join?
VR: I became a proud RSNA member in 1981. RSNA is the premier society supporting research and education in radiology, and I am honored to be a part of it. As a young faculty member, it was incredibly rewarding to present my research at the RSNA. This is the meeting I looked forward to each year to learn new developments in the field. I have always been a strong supporter of collaboration and mentoring. Through my RSNA membership I was introduced to radiology leaders and innovators from around the world. These mentors and colleagues have inspired me both personally and professionally. Through all my years serving on RSNA committees and, ultimately, the board of directors, I have forged lasting friendships through shared commitment to the RSNA mission of promoting excellence in patient care.

HCB News: What initiatives are you championing as president?
VR: It is important to me to emphasize the crucial role of radiology in transforming health care delivery in the digital age. RSNA is in a prime position to foster innovative ideas that capitalize on the power of emerging technologies to improve all aspects of health care. These innovations truly embody the theme of RSNA 2018: "Tomorrow's Radiology Today." In my President's Address, "How Emerging Technology Will Empower Tomorrow's Radiologists to Provide Better Patient Care", I'll discuss how AI and other advances will allow radiologists not only to improve the quality of care they provide to patients, but also the personal and professional satisfaction they derive from their work. I also care deeply about the global opportunities to improve education and patient care by leveraging new technology.

HCB News: What has been your most memorable experience with the society?
VR: I have been impressed with the dedication and passion of the volunteers who make invaluable contributions to advancing the mission of the society. The most memorable experience has been an opportunity to work with radiology leaders worldwide, understand global challenges, and to explore areas for collaboration to improve patient care.

HCB News: What items top RSNA members' wish list of things they want from their society?
VR: RSNA has over 54,000 members throughout the world, so their needs are diverse. However, a consistent need is education. RSNA continuously strives to expand and enhance its educational offerings to address the evolving needs of our members. Also, members want access to the latest research, which we provide through our annual meeting, through our journal Radiology, and through three new online journals we are introducing next year. Members also appreciate the grant opportunities offered by RSNA, and, of course, the networking experiences. Our members are interested in anything we can offer them to help make them leaders in their specialty.

HCB News: AI and big data are both hot topics over the last few years – how much have they impacted radiology, and can you talk about some of the challenges and opportunities to both of them?
VR: The biggest challenge presented by AI is getting past the perception of some that it will replace us. I feel the opposite is true. Not only can these new technologies benefit education and research in radiology, they also demonstrate the potential to ease manpower shortages and make radiologists more quantitative in diagnosis and therapy. I believe that, employed effectively, AI applications will allow radiologists to make a more meaningful contribution to the world of personalized and precision medicine.

The same could be said for big data. The challenge is to find new ways to harness all of this information efficiently. Machine learning advances have given us the ability to analyze increasingly complex data sets. As we enter the era of precision medicine, this ability has the potential to introduce new and improved diagnostic capabilities and transform the way we practice.

HCB News: Are there any new skills that you believe radiologists will need to develop to be successful in their careers in the future?
VR: We continue to see a transition to a value-based practice model, so radiologists will need to embrace that approach to remain relevant in the coming years. I also believe that health services research will play a big role. Radiologists need to follow trends in imaging utilization, costs, patterns of use, and quality improvement efforts and their relationship to outcomes. To be successful, radiologists should investigate ways to add value and reduce waste in healthcare. These topics will continue to be critically important to our field into the future.

HCB News: Have there been any recent research studies or technological advances in radiology that you're excited about?
VR: We have an outstanding program planned for RSNA 2018, with exciting new research in numerous subspecialties. The amount of high-quality research being conducted and presented is a reminder that radiology leads the way in healthcare innovation. There are new discoveries in AI and ML research every day. This field excites me because these technologies have the potential to expand our diagnostic and therapeutic capabilities in ways that were not possible a decade ago.

HCB News: Are there any presentations or events you're particularly excited about at this year's show and conference?
VR: The High-Impact Clinical Trials session provides a forum for practice-changing clinical research across radiology, presenting some of the most significant work in the field.

AI and ML will be omnipresent at RSNA 2018. We have a wide variety of presentations, courses and exhibits for attendees. I'm looking forward to the return of the National Cancer Institute's Crowds Cure Cancer exhibit, which was very popular last year. The project invites radiologists to annotate images for ML research. The Machine Learning Showcase on the exhibit floor will be doubled in size for 2018.

Also, we have the RSNA Deep Learning Classroom, presented by NVIDIA Deep Learning Institute (DLI). Certified instructors will be on hand to help attendees improve their understanding of AI technology.
Our "Country Presents" sessions this year feature presentations from the Nordic countries and Australia and New Zealand.

The Virtual Meeting has expanded, allowing attendees and virtual attendees to experience even more RSNA 2018 content, including more than 200 learning opportunities, both live-streamed and on-demand.
The Discovery Theater will be back, offering informative presentations and entertainment. The Discovery Theater will also host the Diagnosis Live Resident Competition, where residency programs compete for ultimate bragging rights. The resident competition last year was very popular and a lot of fun. I'm looking forward to it.

HCB News: Are there any new events or updates to the conference that people should be aware of?
VR: On the exhibit floor, we're introducing the 3D Printing & Advanced Visualization Showcase, featuring the latest research and innovations in 3D printing for medical applications. Also, we'll have a special area for product advancements in image-guided interventional radiology, called the IR Zone.
Attendees should also be aware that in an effort to be "green", we will no longer offer the printed "Program in Brief". Program information will be available online and in the RSNA 2018 app.

HCB News: What's the number one piece of advice you can offer to first-time attendees?
VR: The RSNA meeting is huge – with so many things to see and do and not enough hours in the day – so my advice for first-time attendees is to plan ahead by downloading the meeting app and spending some time at Meeting Central on the RSNA.org website before your arrival. You'll be able to plan the sessions you want to attend each day and view a host of useful information to help you navigate the meeting. Once you get on site, we offer an orientation session for first-time attendees, and there are information desks to offer assistance as well.

HCB News: Can you offer some predictions on how you think radiology will have evolved in a decade?
VR: It's difficult to predict the future of a specialty that advances at such a rapid pace, but my hope is that over the next decade we will harness the potential of today's burgeoning AI technology to make radiologists more efficient and quantitative in their practices. By embracing these new developments in our field, we can truly become patient-centered and thrive as the value-based healthcare model evolves.