Siemens Healthineers focused on bringing premium technology to the more price-conscious market with the unveiling of new MR and radiography systems at the 2018 RSNA annual meeting in Chicago.
The company debuted the MAGNETOM Altea, a new wide-bore 1.5T MRI scanner featuring both the company's BioMatrix Technology, which responds to patients' anatomical differences, and new Turbo Suite applications that can cut scan time by up to 50 percent. The scanner also has the option of a new infotainment system that virtually enlarges the bore.
The Altea was officially unveiled Sunday morning, the opening day of the six-day show. It's the latest scanner to feature the company's BioMatrix Technology, which considers patients' physiological and anatomical differences, providing a more personalized approach to MR scanning and avoiding exam variations.
"This technology we had in our premium MRI portfolio is now really accessible," Daniel Fischer, head of clinical marketing for MRI at Siemens Healthineers told HCB News after a reveal of the system on the show floor at McCormick Place.
The BioMatrix technology includes what Siemens Healthineers calls the Select&GO Interface, which uses artificial intelligence (AI) to increase productivity by removing the need for anatomical landmarking and allowing for patients to be positioned more quickly. The company's Tim 4G and Dot (Day Optimizing Throughput) automation also allows for certain scans to be more easily reproduced.
The 70-centimeter scanner also features the company's new Turbo Suite acceleration packages, which can speed up routine examinations by up to 50 percent without sacrificing image quality, Fischer said.
Also highlighted during the reveal Sunday was a new, optional in-bore infotainment system called Innovision, which allows patients to watch movies or informational videos – including their own Netflix queue, according to Fischer – with sound projected into the skull bone from a memory foam pillow that has noise cancellation properties.
Innovision also improves patient comfort by creating the illusion of an enlarged bore.
Siemens Healthineers also debuted its Multix Impact floor-mounted digital radiography system, which brings high-end technology to the value market.
"It's a highly price-sensitive market, but it's also a very competitive market," Lars Hofmann, vice president of marketing and product management for X-ray products at Siemens Healthineers, told HCB News. "You have to strengthen your image as a healthcare provider as well."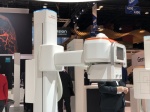 Along with high-quality imaging technology, the system also provides a high-level patient experience, Hofmann said. An elevating table, unique for this price segment, allows patients to access it more easily, and a touch screen on the tube allows the technologist to stay at the patient's side. There is also a camera that the technologist can utilize to optimize a patient's positioning.
The system also has a large light that shows the status of the system. For example, blue means it's in standby mode and green means it's ready to image.
You can let patients know, if they're a little anxious, when the light turns blue you can breathe again, so they're a little more comfortable with the exam.
The Multix Impact also has the option of automation, including a motorized bucky tray, to make it easier for technologists to use the system and prevent repetitive stress injuries.
Siemens Healthineers also introduced the Mobilett Elara Max mobile X-ray system, which comes with a focus on infection control and security.
The mobile system, which comes in a pediatric-friendly design, has fewer crevices than its predecessors, no outside cables and comes with an antimicrobial coating, making it easier to clean, Hofmann said.
The Mobilett Elara Max also comes with security features, including password protection and a Windows 10 operating system. It's also possible to securely bring up a patient's previous images, including CT images, Hofmann said.
The Multix Impact and Mobilett Elara Max are both pending FDA 510(k) clearance.