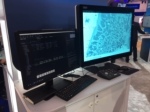 Sectra showcases work-in-progress, AI functionality at RSNA
December 11, 2018
by
John R. Fischer
, Senior Reporter
Attendees at the 2018 Radiological Society of North America in Chicago caught a glimpse at a work-in-progress functionality for Sectra's vendor-neutral platform for AI-applications.

The Swedish PACS manufacturer is working to create a more "interactive" experience that enables users to accept or reject and adjust the findings produced by AI algorithms.

"The overlay is just telling the PACS to write the text someplace or draw a line over an image. There is no way to include any meaning to that information," Daniel Forsberg, a senior research scientist for Sectra, told HCB News. "Our approach allows the radiologist to click through each finding and either accept it or say something like 'I'm going to change the diameter a bit on that one cause I don't agree with this finding. Then, if I do, I will accept it.' It puts the radiologist in the driver's seat. They feel more in control and can work better with AI."

Launched last year, the platform is designed for easy and seamless integration of AI applications developed by Sectra and third-party providers into PACS systems for workflow enhancement. It aims to tightly integrate AI functionality with workflow to enhance the value of findings for radiologists.

The company also showcased another added feature, its embedded RECIST follow-up capability for lesion tracking, enabling PACS to perform computations based on measurements submitted around a patient's treatment protocol. The radiologist then uses these results to determine if the patient is responding well to treatment or not.

"Is it showing that the disease is progressing? Is it stable? Is it actually responding to the treatment," said Forsberg.

The criteria behind the functionality define how many lesions to focus on as target lesions and separates targeted ones from non-targets.

Additional products showcased included the company's portfolio of enterprise solutions, including its Sectra VNA and Best-in-KLAS awarded PACS, as well as improved user interface.