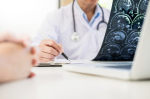 Delayed imaging diagnoses cause four deaths in Ireland
December 12, 2018
by
John R. Fischer
, Senior Reporter
A hospital in Ireland has launched a review of more than 46,000 CT, ultrasound and X-ray images following delays in accurate diagnoses for 11 patients, four of which have since died.

Cared for at University Hospital Kerry, the patients were each diagnosed as healthy after undergoing a series of scans that were reviewed by a single consultant radiologist, according to the review which assessed all radiology reports examined by the clinician between March 2016 and July 2017. It is the largest of any radiology look-back audit conducted in Ireland.

"I would like to thank the patients and their families for the courtesy and understanding shown by them to the hospital staff in the course of this review," Dr. Gerard O'Callaghan, chair of UHK's Group Safety Incident Management Team, said in a statement. "This cannot have been easy, particularly when having to deal with devastating news which would have had a profound effect on them and their families."

The first delays were discovered in July and August 2017 in three patients who returned a few weeks after being given the all clear. Upon their return, the three were found to be suffering from cancer, and that their initial healthy diagnoses were due to a diagnostic error.

Following the diagnoses of four other patients who returned to UHK in the fall, a look-back review was launched to identify and address safety issues so that patients could be informed and provided access to follow-up care, if needed.

The audit examined 46,234 CT, ultrasound and chest X-rays related to 26,754 individual patients. The scans were originally assessed by a single consultant radiologist who was not named in the report, but was suspended and as of now, no longer works for the hospital.

Classification of the images was broken down into three categories: Score 1 for findings that were determined to match the original report or possess a minor abnormality of no ongoing clinical significance. Score 2 referred to unreported findings that were unlikely to be of clinical significant but would still be reviewed by a clinical subgroup with patients subject to possible re-scanning. Score 3 was assigned to images that revealed previously unreported findings of potential or definitive significant clinical concern that should immediately be referred to a clinical subgroup for evaluation.

The look-back audit classified 44,831 images as Score 1; 1,298 as Score 2; and 105 as Score 3.

Following the audit, a clinical subgroup assessed 1,789 radiology reports and other clinical records, recalling 422 patients. Of those that underwent re-imaging, 59 were required to undergo further clinical follow-ups or investigations following their scans, while 10 were referred to other hospitals for specialist care.

The initial three cases that prompted the review were included among the 11 patients. The four who died passed away between the time in which the delays were identified and the publication of the look-back review.

The audit, however, did find that while patients were exposed to risk, the majority did not suffer any direct harm due to the thoroughness of their treating physicians.

"The distress and worry caused to the wider community by a review of this nature is regrettable," said O'Callaghan. "However, where patient safety concerns exist, the Health Service Executive (Irish health government agency) and the health services have a responsibility to act; to learn from the perspectives of patients and staff; and to make improvements to the delivery of radiology services. I would expect that the learning from this review will contribute to the improvement of radiology services, not just in UHK, but across all of our hospitals."

All cases are subject to further ongoing system analysis review investigations, which are being shared with individual patients and their families.

A series of recommendations has been made to the hospital to prevent the occurrence of similar incidents in the future, and an external review of the X-ray department and its management has been commissioned.