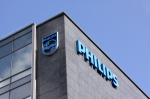 Philips kicks off new year with realigned business segments
January 14, 2019
by
John R. Fischer
, Senior Reporter
A new year, a new Royal Philips.

That seems to be the resolution that the Dutch healthcare giant is aiming for in 2019 as its kicks off a series of shifts in its reporting segments to better align its businesses with consumer needs.

The changes, which went into effect on January 1, pertain to its segments for Diagnosis and Treatment; Connected Care and Health Informatics; and Personal Health.

One significant difference is the transfer of its healthcare informatics business from the Connected Care segment to Diagnosis and Treatment. While Connected Care revolves around patient care solutions, advanced analytics and patient and workflow optimization for provider-payer-patient business models, Diagnosis and Treatment focuses on technologies for precision diagnosis and disease pathway selection, as well as businesses related to image-guided, minimally-invasive treatments.

Recognizing the importance and investments in image-guided technology, Philips has appointed Bert van Meurs, leader of its EUR 2+ Image-Guided Therapy Business, to its executive committee.

"The appointment of Bert van Meurs as a new member of the Executive Committee reflects the growth of our Image-Guided Therapy businesses," Frans van Houten, CEO of Royal Philips, said in a statement. "To strengthen our leadership in this fast-growing market, we have significantly invested in our R&D programs, which resulted in the launch of the very successful Azurion next-generation image-guided therapy platform, and the acquisitions of Volcano, Spectranetics and, most recently, EPD Solutions, which enabled the expansion into smart devices such as diagnostic and therapeutic catheters."

It has also shifted its Sleep and Respiratory Care Business to Connected Care from the personal health segment, which encompasses personal care, domestic appliances, oral healthcare, and mother and child care businesses.

With the changes, the company expects to increase the annual free cash flow to more than 1.5 billion in 2020 and has reaffirmed its overall targets of 4-6 percent comparable sales growth with an Adjusted EBITA margin improvement of 100 basis points on average per year for the 2017-2020 period. It also predicts an improvement of the organic Return on Invested Capital to mid- to high-teens in 2020.

Further details will be included in its presentation of its fourth quarter and full year 2018 results on January 29, 2019.