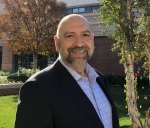 Q&A with Adventist Health White Memorial CEO John Raffoul
March 12, 2019
by
Sean Ruck
, Contributing Editor
HealthCare Business News spoke with John Raffoul, CEO of Adventist Health White Memorial in Los Angeles, about his long history with the hospital, including its particular challenges and the programs and technologies the hospital's leaders have developed to meet those challenges.

HCB News: What inspired you to pursue a career in healthcare?
John Raffoul: I went to school in Michigan and wanted to pursue a degree in chemistry and biology. My first passion was research. But I was also interested in how to effectively communicate that research. Over the years, I migrated from science into business, but I never lost that desire to apply research and education in the service of health. Healthcare was really a natural fit for me: when I finished college in 1984, the first job I had was in a hospital setting.

HCB News: Tell me a bit more about Adventist Health White Memorial itself – what are the communities and populations it serves? What are its patients' main social and health challenges?
JR: Our primary service area has over 1 million people – and they live within a five-mile radius of the hospital. Of that population, 50 percent of adults did not receive a high school diploma, 27 percent are unemployed, and nearly 40 percent of households earn less than $25,000 annually. It's definitely an economically challenged area, and so we're happy to do our part to help.

In some ways, our culture is a response to the population we serve: we know we're needed, and we know we owe them our best. That awareness is something that connects and motivates all of us.

HCB News: What attracts staff to White Memorial?
JR: Honestly, it's one thing above all – our culture. While some staff leave because they think the grass is greener somewhere else, many of them come back to Adventist Health White Memorial because they miss that culture.

The word "family" is sometimes overused, but I can tell you that it truly applies at White Memorial. My career is a kind of "Exhibit A" in this regard, but my longevity here isn't all that unique: our current COO has been with the organization for 35 years and our charitable foundation president has been here over 25 years. In fact, we have associates that have celebrated 50 years plus of services with us!

HCB News: What is Adventist Health White Memorial best known for?
JR: We were recognized with the California Awards for Performance Excellence, Eureka Gold Award; the only organization in the state to receive this distinction. In 2016 and 2017, we were recognized by Healthgrades for being one of the top 100 hospitals in the nation. And for 10 of our patient safety metrics, we're at the 10th decile, putting us in stellar company.

What's just as important as all the accolades is that we're absolutely known for our community engagement. Last year, we were the second runner-up in the nation for the Foster G. McGaw Award for the most engaged hospital in the community. We do outreach with the homeless. We operate a childcare center in collaboration with the Mexican-American Opportunity Foundation. We've established a thriving community garden to help educate the community on how to eat more healthily, and we've involved local elementary and high school students in that program – they go to the garden to learn how to plant, harvest, and prepare fruits and vegetables for meals at home. We offer scholarship support to kids in the community who plan to go into nursing, and when they finish their education, we hire them at the hospital. Having nurses from the community is actually a huge part of our success.

While I'm most proud of our work in the community, Adventist Health White Memorial also conducts medical mission trips across the globe, where we provide free healthcare in Mexico, the Philippines, Peru, and across Africa. We truly live our mission of Living God's love by inspiring health, wholeness and hope.

HCB News: You have a relatively new facility in Los Angeles, with technologies on par with those at state-of-the-art academic medical centers. Can you share a bit about how a community hospital like Adventist Health White Memorial got to this point?
JR: We know our patients deserve the best, so we've been very active in seeking and developing deep partnerships with medical device companies whose technologies deliver faster and safer patient care. One example is our relationship with FUJIFILM Sonosite, a relationship that's enabled us to use their mobile devices for point-of-care and bedside diagnostic imaging. These devices save staff time, speed time to diagnosis, and literally save lives in the ER, NICU, ICU and beyond.

We're especially interested in partners who can offer the support and training necessary to maximize the use of their technologies.

HCB News: How have those technologies and relationships impacted health outcomes in your community?
JR: In my view, those relationships have directly helped us level the playing field in terms of access and health equity. I'll give you an example. About four or five years ago, we found out that we have about 50,000 people in our service area who can't access care. So we went on a mission to expand access. We opened a "federally qualified health center" on campus. We included not only primary care for adults and children, but also mental health services on an outpatient basis, and a dental clinic, neither of which previously existed. Those efforts extended access to care to 20,000 more people.

In that same period, we also found that the amputation rate in our Hispanic community, where there's a high prevalence of diabetes, is highly elevated compared to the amputation rate in other communities. It was 10 times the average state rate, in fact. So we embarked on creating a state-of-the-art center to address this problem. Our Center for Limb Preservation and Advanced Wound Care brings seven specialties. including vascular, orthopedics, surgical, wound care, and podiatry, all under the same roof to provide the holistic, multidisciplinary care our patients need.

HCB News: Organizational progress in shifting from fee-for-service to outcome-based reimbursement varies greatly across healthcare. Has Adventist Health White Memorial started to make that move? If so, where are you with the shift?
JR: I think we're ahead of the curve. We've already created an accountable care organization where our physicians can join hand-in-hand with us to achieve quality metrics, and we're participating in the government's bundled payment initiatives. We're also focusing heavily on metrics such as readmission rates, infection rates, and other performance-based metrics intended to increase and protect patient safety. That focus has earned us incentive payments while improving the quality of the care we provide.

Another way we're tackling that shift is by taking on risk: we're one of the few hospitals that have large capitation agreements with many of our independent physician associations, as well as many of our insurance companies. We also formed a medical foundation to make sure we continue to address quality issues.

HCB News: Are you finding the current political environment challenging as far as anticipating whether reimbursement dollars will continue to be there going forward?
JR: The reality is that healthcare has been changing for over 30 years. In the United States, we have the highest cost for healthcare but we don't have the best quality outcomes compared to the rest of the world. No one disagrees that we have to address these issues. But as the statistics plainly show, high quality isn't intrinsically tied to high costs. In fact, delivering quality care saves money – and if you do an excellent job, you could be saving a lot of money in the process.

HCB News: Can you say more about that? What are some ways you've improved care while achieving savings?
JR: A few years back, we brought in a 3T MRI and a PET CT; equipment that helps us improve outcomes because we can pinpoint disease more accurately and treat it more effectively. Recently, we also invested in a linear accelerator (LINAC) to enhance our cancer treatment offerings.

In our electrophysiology lab, we have Stereotaxis training technology that can be operated remotely; we use that as a teaching platform for physicians who come to learn from all over the world. And we also have an innovative simulation lab we use to train our nurses, physicians, and residents.

Finally, I'd be remiss if I didn't mention the HeRO monitoring system in our NICU. The HeRO system will tell you 24 to 48 hours ahead of time whether the underweight babies, the littlest ones in the NICU, are developing an infection. We're just the second in the state to employ such a system.

HCB News: You're talking about very high-tech equipment. With such a large portion of your population lacking a high school degree, what have you done to address any gaps in familiarity with things like PET CT machines and a LINAC?
JR: It's all about education. A few years ago, we created a bilingual, educational TV program for the community that aired on MundoFox and KDOC that also highlighted our technologies and how we address different diseases. We also do intensive education when the patient comes to the campus, spending a lot of time on what the technology does, how the procedures will go, and what to expect.

HCB News: Are there any big developments in the works that you can talk about today?
JR: Health care is in a constant state of flux, and so we need to stay ahead of the curve in terms of our facility. We have an east tower we need to upgrade starting in 2020. And our ORs are also constrained in terms of capacity, so we'd like to see some expansion there. Those are two large projects that could cost close to 200 million dollars to accomplish well, and we hope to get those launched over the next three years.

White Memorial Medical Center



Location: Los Angeles, California
Year founded: 1913
Number of beds: 353
Number of employees: 2,038
CEO: John Raffoul

Noteworthy distinctions: California Awards for Performance Excellence's Eureka Gold Award;
"Grade A" 2018 Fall Hospital Safety Score; Gold Plus Quality Achievement Award and Target Stroke Elite Plus Honor Roll from the American Heart Association and American Stroke Association; CALNOC Performance Excellence Awards: Best Performance in Preventing Injury Falls & Best Performance in Preventing Hospital-Acquired Infections in CLABSI, CAUTI and C. diff; US News & World Report: High performing recognition in specialty care for excellence in diabetes care and endocrinology; American Heart Association Workplace Health Achievement Index: Silver Level Recognition for improvement in the health of workplace and workforce.

Specialties: Cardiac Services, orthopedics, neurosciences, gastrointestinal, pulmonary, diabetes care, perinatal care.