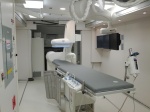 Mobile imaging market looks back on an energized year
April 29, 2019
by
John W. Mitchell
, Senior Correspondent
You don't have to dig very deep in the medical literature to find studies showing that patients frequently ignore follow-up imaging recommendations.

A 2018 study published in the Journal of the American College of Radiology, for example, concluded that "follow-up imaging adherence rates are inherently low and vary by modality," and determined the overall follow-up imaging compliance rate was 58 percent. Among specific modalities, mammography posted the highest follow-up rate at 69 percent, followed by MR at 67 percent.



Also, in deploying a mobile option, Shafe said Assured could set up at a clinic site to see patients as they arrive. Patients don't have to take additional time off work to return for a screening, a real boon to compliance. Assured can also work directly with major health plans to arrange payment, making mobile use easier for a client.

Meeting unique needs of imaging providers
Mobile imaging solutions are not just for mammography. Used MR trailers are very much in demand, reports Larry Brewer, business development manager for Holland Specialty Vehicles. Founded in 1935, the company was founded to support the railroad industry and only entered the medical imaging market three years ago, where it has already met some unique challenges.

"We had a project where we were able to take on a more than 25-year-old Calumet Coach built GE 1.0 T MR trailer and upgrade it to meet the requirements of a GE 1.5 T 11X MR system. This was a side-load design so we needed to get creative, so the 1.5 T magnet would perform to GE spec," said Brewer. "That unit has been scanning for over a year with no issues."



"This has driven the price of the 16-slice units way down, saturating the market with these older workhorse systems, and, conversely, driving the 64-slice system price up," said Link.

Aside from the equipment itself, TIC also makes a priority of mobile unit aesthetics, which Link said are designed to be more pleasing and comfortable than they were in the past. Improvements include upgrades to cabinetry and flooring – as well as the operator console.

"It gets rid of the negative impressions of mobiles having inferior equipment and a drag to work in," Link said. "We know that many of our customers prefer our roomy, nicely equipped mobiles to new in-house imaging suites."

Considerations for imaging providers seeking partnerships
Mobile demand for all major modalities – PET/CT, CT, and MR – is increasing on a national basis, according to Steve Richter, senior vice president and general manager for Insight Imaging Services' mobile division, a company that operates 160 mobile units and provides MR, PET/CT, and CT services through customized contracts. Their terms allow for service term, service hours, rates, parked coaches, routed coaches or modular buildings, imaging equipment, and staffing.

"Mobile customers are often introducing a new imaging service or addressing a patient backlog issue," he said. "When customers want to expand their service or locations to create new revenue streams, they often partner with us on a mobile unit or fixed site."

Any hospital or healthcare facility considering mobile service should decide on several factors, advised Richter. In addition to the obvious choice of equipment, other considerations include the use of OEM parts and competency in meeting Joint Commission, ACR, or other accrediting body standards, added Richter.



"A unique trend that we have not seen before is the OEM no longer offering their flagship systems in a mobile configuration," said Brinker. "While Siemens and GE offer a wide range of new MRI and CT units, they do not offer most of these systems in a mobile configuration."

This, he stressed, is why it is important to be knowledgeable of system capabilities, limitations, and similarities. Being armed with that information allows Absolute to help its customers rent a mobile system that matches their wants and needs.



"One of the factors which we often see is many hospitals aren't able to replace their aging technology as often as they would like," said Koers. "So, when an X-ray system goes down unexpectedly they're faced with either downtime or bringing in an interim mobile lab to help continue providing services and minimize the downtime."



"We're still seeing strong momentum in our core business of interim cardiac cath and peripheral vascular labs," Koers said. "The demand here is strong for newer digital flat panel X-ray imaging technology as these systems provide very high-quality digital imaging for the physicians and lower X-ray doses for patients."



"We recently built a new mobile lithotripsy unit for a good customer who, to save money, felt that having one large expandable wall would be enough in the scan area versus two smaller expandable walls," said Smith. "But after they put the coach into use, they quickly realized the opening on the single slide out was not nearly wide enough to navigate a stretcher or position the patient correctly."

Smith's company was able to quickly create an additional expandable wall, shorten the existing wall, and expanded the entryway. They had the client up and running again in no time at all, he said.

Where you need them, when you need them

"There are many reasons why clients choose mobile solutions," said Matt Hoover, senior manager, market development, DMS Health Technologies. "For some, it is a cost-effective way of starting up a new service line and establishing volumes before making a large, capital purchase. For others, the service line has been established, but their volumes do not justify the capital outlay."





"In Florida, a recent hurricane leveled a women's center, and we were able to accredit one of its mobile coaches to the site, so they were able to continue offering mammography and DEXA for four months until their new building was completed," recalled Shafe with Assured Imaging. "We also provided disaster relief for a site in Oklahoma that flooded. The site was able to utilize one of our mobiles in their parking lot for eight months."

In Washington state, the company used a smaller coach that would load onto the area island ferries. And in Arizona, on the other hand, the demand was for a larger coach to cover native American rural, remote reservations. In the end, added Shafe, mobile needs to be better than fixed sites to be valued by customers and patients.