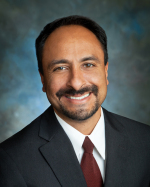 Q&A with Dr. Steve Narang, CEO, Banner-University Medicine Phoenix
April 12, 2019
Doctor Steve Narang is all about potential. While healthcare isn't where it needs to be to best serve patients, there's potential for it to hit those goals. But it's an uphill battle. Narang's approach from a micro focus on medicine to a macro system-based perspective, paired with Banner Health's mission, is helping to find that potential. HealthCare Business News spoke with Narang to learn more.



HCB News: What inspired you to follow a career in healthcare?
Dr. Steve Narang: My background is as a pediatrician by training. I've always been fascinated by the word "potential". Initially, it was the potential coded in our DNA – how we're essentially imprinted as soon as we're born by four key letters. And I was always fascinated by how that impacted the development of any human being. So that gravitated me toward truly being a scientist and using the "lens" of discovery and curiosity in every endeavor.

Ultimately, it was my fascination around the correlation between genetics and disease that attracted me to apply to medical school. I was fortunate to get accepted to Northwestern University. They had a combined undergrad/M.D. program, and it was during those early years that I also developed a keen interest in other variables beyond our DNA that significantly impact how a human being develops, with a particular interest in the environment, diet and socioeconomic factors.

It was this passion around understanding how to maximize "potential" in every individual human being that eventually attracted me to the field of pediatrics.

It was at the end of my residency in pediatrics, when I was at Johns Hopkins, where I started thinking about what would be next in my career. Would I want to be a traditional scientist and pursue a fellowship in, for example, neonatology and pursue clinical research? Or did I want my "petri dish" to be broader? That was really an inflection point in my career. I realized I wanted to focus on the macroscopic system of healthcare not just the microscopic. So I embarked on a career as a pediatric hospitalist with a "lens" to find potential in a much broader sense – of people, process, systems, and structures. My passion shifted from the science of medicine to improving the science of healthcare delivery.



It was this experience that help accelerate my personal transformation to being more effective in leading at the intersection of clinical quality, finance and operations, focused on maximizing potential of individuals and teams to improve outcomes.

HCB News: How long have you been with Banner Health?
SN: I became CMO in 2011 at Banner Health's Cardon Children's Medical Center, and in 2013 I had the unique opportunity to lead Arizona's largest medical center as CEO of Banner Good Samaritan, which is now named Banner-University Medical Center, Phoenix.

HCB News: What attracts people – both patients and employees – to Banner Health?
SN: Banner has a now 20-year history focused on improving clinical quality. I remember when I was looking at health systems around 2010, to find which systems fit with my personal vision, and I was struck reading about Peter Fine and his vision of creating a "clinical quality" company It was a powerful statement that empowered many and set Banner Health on the continual journey of defining, measuring, analyzing and improving processes to ultimately improve patient-centered outcomes. If there's a better way to deliver care, Banner Health is committed to finding it.

HCB News: There's been a lot of concern about staffing shortages in healthcare. Are you seeing that, is it a big concern for you?
SN: That's one of the few topics I think that keeps health system leaders up at night, particularly in the area of nursing and physician staffing. We are going through a time where there is a high demand and not enough supply, nationally, of nurses and certain physician specialties. In Phoenix, we're seeing continual population growth and expecting, actually, an increase in inpatient admissions, which is not a trend hospital systems in different markets seem to be experiencing. We also recently opened up a new 16-story patient tower and have already a significant uptick in both patient volume and acuity. Thus, it goes without saying that one of our highest priorities is to not only recruit the country's best nurses and providers to join us, but also to retain our team members. Our partnership with the University of Arizona Health Sciences has been instrumental in our ability to train future healthcare professionals. And our most important strategy is simple – fostering and sustaining a culture of high engagement and leadership effectiveness. A great culture with a focus on people is by far your best recruiting and retention tool.

HCB News: Other than staffing, what are the biggest challenges facing healthcare today?
SN: I think almost every system is going through the challenge of matching the new realities of declining reimbursements with rising costs, particularly in labor and supplies. There's no doubt that we're going through significant transformations in healthcare and our payors cannot, and will not, subsidize healthcare systems for what they believe is increasing waste in our systems. At Banner-University Medicine, we have created multidisciplinary teams led by clinical experts to help improve the delivery of value-based outcomes by reducing the misuse and overuse of resources. These "care transformation" teams partner with our physician leaders to extract and analyze data to ensure it is meaningful to our providers so care delivery can be redesigned to organize around our patients' unique needs.

This approach has led to the development of a culture where our clinicians are now partners with the medical center in thoughtfully evaluating how we deliver care, leading to consistent improvements in key outcome measures such as length of stay, readmissions, supply utilization, and healthcare-acquired infections. It is this cultural transformation around assessing value in care delivery that will be our "secret sauce" to reduce waste and controllable expenses at every level.

As evidence of the effectiveness of this value based journey, Banner-University Medical Center, Phoenix was recently identified by IBM Watson as a top 100 Medical Center in the Major Teaching hospital category in 2018 and 2019.

HCB News: The public's increased involvement in being responsible for its care seems to be evolving quickly today, especially with access through personal devices. How has that impacted Banner?
SN: The buzzword is consumerism. We see it every day, it's impacting our business. Frankly, it's economics. The average insurance premium for a family of four is almost $20k a year. So there's no longer this opaqueness about who's paying for healthcare.

Certainly the impact of the ACA and the healthcare exchanges have confirmed the impact of price on patients' healthcare choices. Consumers are now searching on their mobile devices for the best value in terms of how best to spend their hard-earned dollar on healthcare. The average consumer assumes a certain quality standard, and are more focused on ease of access and price.

This consumerism trend has of course had a significant impact on our system strategy regarding resource allocations. Like most systems, Banner Health's early investment was in more traditional areas that included brick and mortar investments. However, in recent years, our senior leadership has decided to strategically shift more investments around improving the consumer experience platform, such as improving how consumers access and interact with Banner Health, acquiring new urgent-cares, building ambulatory surgery centers, implementation of a new mobile app, enhancing the patient portal, improved patient scheduling and communication tools, to name a few.



HCB News: While the ACA wasn't repealed, there are ongoing efforts to essentially make it fail. Would that impact your hospitals?
SN: At Banner- University Medical Center, Phoenix, we are a Level I trauma center, the largest teaching hospital in the state, and we have a disproportionate share of patients who have social/economic challenges and often can't access critical resources needed to support their health. We also know that having access to health insurance is a critical driver toward improved health outcomes. The data has clearly shown that access to timely healthcare saves lives. As a hospital that cares for a higher proportion of vulnerable patients, it's critical for us to have appropriate funding in order to meet our mission. So we would of course be very concerned about any threat to critical funding sources such as, for example, our expanded Medicaid coverage we have in Arizona that has had such a positive impact in our (and other hospitals') ability to meet the needs of the complex populations we serve.

HCB News: Can you offer a prediction as to where you think our healthcare system will be in 10 years?
SN: I wish I could say it would be exponentially easier to access healthcare. That price transparency would be the norm, that everybody competes for value, and that we would see a bending in the cost curve at a significant proportion. I said "I wish," but what I think instead we'll continue to see is incremental improvements driven by the private market and large employers. I'm not convinced we'll see the absolute transformation some people have predicted. To get that kind of transformation, we need a public overall mandate that says healthcare is not just a privilege, but it is a right and that has to show up in the ballot box.

University Medical Center Phoenix

Location: Phoenix, Arizona

Year founded: 1911

Number of beds: 757

Number of employees: 3,812 full-time employees

CEO: Dr. Steve Narang

Noteworthy distinctions:
Banner – University Medical Center Phoenix is a nationally recognized academic medical center. The hospital is focused on coordinated clinical care, expanded research activities and nurturing future generations of highly trained medical professionals who serve the community.

The Banner – University Medicine Institutes are aimed at providing convenient access to highly coordinated teams of world-class experts, all under one roof. These institutes bring together signature clinical programs that deliver high-value, coordinated and specialized clinical care. The variety of centers within each institute, along with the high level of expertise of our physicians and providers, mean that patients and their families can find all the subspecialty care they need in one location.

Banner – University Medical Center Phoenix was recently ranked by U.S. News & World Report in the top 50 hospitals nationally for specialty care areas including Geriatrics, Nephrology and Urology. They also tied as the No. 2 hospital in Arizona along with Banner – University Medical Center Tucson.

The Phoenix campus, long known for excellent patient care, is the new home for medical discoveries, thanks to our collaboration with the University of Arizona College of Medicine – Phoenix.

Specialties:
Heart care, cancer care, high-risk obstetrics, neurosciences and stroke care, organ transplants and emergency care, including a Level 1 trauma center.

Recent developments:
Banner – University Medical Center Phoenix is the first hospital in Arizona to earn the Advanced Certification in Inpatient Diabetes from The Joint Commission.

In November 2018 the hospital opened its new 16-story patient tower, increasing the hospital's bed count and allowing all patients to have private rooms.

In collaboration with the University of Arizona College of Medicine, Banner – University Medical Center Phoenix is to offer a newly-created Addiction Medicine Fellowship Program to help address the thousands of opioid-related deaths each year.