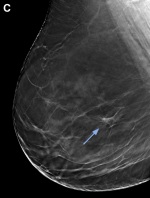 3D mammography helps avoid unnecessary breast biopsies, says study
March 22, 2019
by
John R. Fischer
, Senior Reporter
A switch from standard to 3D mammography could mean a difference in the number of women with non-malignant lesions who are ordered to undergo breast biopsies following an abnormal mammogram.

That's according to a single-institution prospective study which found a 33 percent decrease in the biopsy rate for patients assessed with digital breast tomosynthesis scans (DBT), compared to full-field digital mammography screenings (FFDM).

"Avoidance of performing a benign biopsy means the women will get the normal results at the clinic and do not have to wait a further week for the biopsy results," lead researcher Nisha Sharma, director of breast screening and clinical lead for breast imaging at Leeds Teaching Hospital NHS Trust, Seacroft Hospital, in Leeds, England, told HCB News. "This helps reduce anxiety levels and closes the clinical episode, thereby improving the patient pathway. It also reduces the workload for pathology and the number of hospital visits for the women."

Whereas FFDM captures two X-rays of the breast from top-to-bottom and side-to-side, DBT captures multiple images from different angles which are synthesized by a computer into 3D images.

The study examined 30,933 women who underwent FFDM or screening breast MR through the U.K.'s National Health Service Breast Screening Programme (NHSBSP) between 2015 and 2016 at Seacroft Hospital, and then followed up six weeks after with a DBT scan.

Of the participants, 1,470 (4.8 percent) were recalled for further imaging due to abnormalities found. Following this, a final recall group was established, and consisted of 827 who required 571 biopsies, the rate of which was 69 percent.

The use of biopsies uncovered 142 cancers, compared to 429 cases where the lesions detected were found to be non-cancerous, yielding a benign biopsy rate of 75 percent.

Reading the DBT images while blinded to the original FFDM results, the study's authors found that DBT imaging would have reduced biopsy numbers on recalled women from 571 to 298, and would still be able to detect all 142 cancers. The result would have been a biopsy rate of 36 percent and a benign biopsy rate of 52 percent.

"The findings here validate that tomosynthesis should be available in all breast clinics as it is an important diagnostic imaging tool," said Sharma.

The mean age of the final recall group was 56.7.

The findings were published in the journal, Radiology.