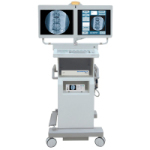 AAMI Product Showcase
May 25, 2019
by
Mai Hiraoka
, Media Relations Manager
The following are just some of the products and services on display at AAMI 2019:

OEC 9800 Display Upgrade Kit
Ampronix – Booth 546
This year Ampronix will be highlighting an LCD monitor Upgrade for the OEC 9800 mobile C-arm. The monitors come mounted on an articulating arm for increased versatility and the do-it-yourself installation can be performed in approximately one hour. Features: Dual 20.1" grayscale LEDs, 2MP per display including a touch screen on the right screen, 900 cd/, 1500:1 contrast ratio, 170° viewing angle (H/V), articulating arm, and optimized 1-hour installation and comes with a 3-year warranty.

InfoView Asset Management
Philips – Booth 1130
With Philips InfoView, you can manage the lifecycle of all your clinical assets through standardized data, guided service work-orders, and automated reporting. New features and service solutions include inventory auditing, parts procurement, equipment distribution and built-in IT data to help you assess cybersecurity risks. Our scalable, cloud-based solution helps you manage your data driven insights with ease, efficiency and savings.

IntelliVue X3
Philips – Booth 1130
Are you looking to simplify the process of moving your critical patients from one area of the hospital to another? The Philips IntelliVue X3 is a compact, highly portable, dual-purpose patient monitor that instantly transforms from a multi-measurement bedside module into a rugged, fully functional transport monitor. There is no need to change patient cables before the move, or when you return to the bedside, so you spend less time dealing with equipment and more time to focus on what matters – your patients.

ALTA750™ CT Tube
Richardson Healthcare - Booth 1526
The ALTA750™ is a form, fit and function replacement for the Toshiba/Canon Medical Systems CXB-750D/4A CT tube. It is certified on OEM platforms, including the Aquilion 4- through 64-slice and the PRIME (Gen. 1). To optimize and increase the life of your new ALTA750 tube, Richardson Healthcare includes a Heat Exchanger and new HV Cable Kit as a complete tube assembly. For a limited time, all first-time customers of our ALTA750 will receive a complete satisfaction, money-back guarantee for 90 days after installation.

CLEO
Infinium Medical
The CLEO touchscreen vital signs monitor measures: Non-invasive Blood Pressure, Pulse Oximetry, and optional Covidien FILAC Rapid Temperature. Nellcor OxiMax SpO2 and SunTech NIBP are also available as options for specialty applications.

The CLEO can also be configured as a Capnograph with sidestream EtCO2 and the additional options of SpO2 and Non-invasive Blood Pressure. The CLEO offers HL7 networking and is compliant with most EMR systems.

Please contact sales@infiniummedical.com for demo and distributor pricing.

Asset Tracking + Management
Midmark RTLS - Booth 1238
Typical mobile hospital equipment sits idle for 60-70% of the day, yet staff struggle to find it for preventive maintenance and patient care. Midmark RTLS provides a solution: a real-time locating system that enables hospital staff to quickly find equipment. With Midmark RTLS, you can collect data automatically for inventory optimization and integrate with CMMS (computerized maintenance management systems) or EAM (enterprise asset management) systems. Optimizing equipment workflow is an important aspect of designing better care. Ensure your equipment is in the right place at the right time with Midmark RTLS.

Babyleo® TN500 IncuWarmer
Dräger – Booth 1013
The Draeger Babyleo TN500 is the first IncuWarmer to continually stabilize temperature while still providing easier workflow, noise and light monitoring, family centered care and excellent infection prevention. No other IncuWarmer on the market can provide this advanced technology. The convective heater, dual radiant warmer and heated mattress are synchronized to keep the temperature stable so heat loss and overheating are minimized. Switching heat modes is immediate - giving quick access with minimal to no heat loss. New advanced therapy modes standardize care procedures and optimizes the cost of care.

Advanced Electron Density Phantom
Gammex
Generating accurate IVDT calibrations for radiation therapy is easier than ever with the Advanced Electron Density Phantom from Gammex, a proven leader in Tissue-Mimicking Materials (TMM). With self-aligning rods designed to reduce human error, a rolling case that protects the phantom's integrity, and high equivalency materials that thoroughly test your modern wide-beam CT scanner, this phantom meets your clinical workflow needs. Processing an IVDT is easier, too. Patent-pending rod markers uniquely identify each material during the CT scan. This enables automated IVDT analysis, saving valuable time and reducing risk of error. Learn more at sunnuclear.com/ct Safe-T Sim™ Automated Electrical Safety

Analyzer
Pronk Technologies - Booth 519
The world's smallest electrical safety analyzer performs with the touch of one button. User-defined tests with programmable Pass and Fail limits make this the most flexible portable analyzer available on the market today. Combine with Bluetooth and the Safe-T Sim App for Real-Time Electronic Data Capture and Remote Control. Easily generate test records to upload to your database, copy, print or email directly from an Apple device or PC. Store up to 1000 Test Records. Learn more at www.pronktech.com.

Perseus® A500 Anesthesia Workstation
Dräger – Booth 1013
A highly configurable anesthesia workstation, the Perseus A500 can be easily tailored to meet your needs. Its generous, well-lit workspace can be used to keep supplies organized and within reach. Its compact, heated breathing system is designed to reduce condensation build-up and facilitate fast gas exchange rates. And to support continuity of care between the ICU and OR, the Perseus A500 offers Airway Pressure Release Ventilation (APRV).

Biomedical Document Database
oneSOURCE Document Management Services - Booth 613
PATIENT SAFETY IS EVERYTHING. The medical staff relies on you and your team for one crucial aspect of it - biomedical equipment care. With one- SOURCE you're covered. We're 100% dedicated to patient safety and have been for 10 years. Our comprehensive oneSOURCE database gives you instant access to thousands of service manuals. It makes adhering to CMS, The Joint Commission, JCI and AAMI guidelines quick and easy. Join oneSOURCE at AAMI for two product showcases, 2:00 pm Saturday and 2:00 pm Sunday. Stop by booth 613 to register for an Apple Watch giveaway.

Life Scope® G9 series bedside monitor
Nihon Kohden - Booth 843
The Nihon Kohden Life Scope® G9 series bedside monitor was designed to help caregivers focus on the patient instead of managing equipment. Ideal for high-acuity settings, the G9 offers up to three independent touch screen displays with user-definable quick-access screen layouts. It provides comprehensive parameter monitoring, including multi-waveform/ multi-parameter full disclosure, arrhythmia and ST analysis, drug, hemodynamic and pulmonary calculations, and 12-lead ECGs. Using the Life Scope Transport monitor as the patient input for the G9 allows for seamless data exchange between the G9 and another bedside monitor, including data collected during transport; with or without a central nursing station.

NK-HiQ™ Wireless Patient Monitoring System
Nihon Kohden - Booth 843
Wireless patient monitoring is changing forever with the NK-HiQ Wireless Patient Monitoring System, a breakthrough data acquisition and management platform that works anywhere WiFi is enabled in the hospital. NK-HiQ Wireless Patient Monitoring System allows patient data to flow safely, seamlessly and securely from admission to discharge, enabling the right care, at the right time, in the right setting.

NK-HiQ Wireless Patient Monitoring supports HiQ-View, which allows caregivers to use both the Life Scope® G9 bedside monitor and a telemetry device to monitor one patient. Using HiQ-View, patients can ambulate while and caregivers monitor them leverage bedside monitor parameters.

VIZZIA Technologies – Booth 412
VIZZIA RTLS & RFID solutions track the location and distribution of valuable, movable medical equipment (MME). VIZZIA uses proprietary process analytics to model, measure and optimize the equipment distribution process. A rapidly growing regional health system standardized on VIZZIA Asset Management to track MME (IV pumps, SCDs, PCA, feeding pumps, beds, IABP, ventilators and defibrillators) across 5 hospitals and saved $2M in costs. The Biomedical operations department recorded a 90% increase in work orders; more than doubled its clinical equipment count (to nearly 52,400); and booked a 40% increase in inventory value (to nearly $150M).