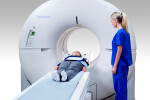 In nuclear medicine, scanners get more sensitive, software more specific
June 17, 2019
by
Lisa Chamoff
, Contributing Reporter
Innovations in the PET and SPECT market continue to focus on increased sensitivity in scanners to better diagnose smaller lesions, while shortening exam times and decreasing radiation dose.

At the same time, software companies are assisting clinicians by quantifying information to make more patient-specific interpretations. On the preclinical side, manufacturers are working with researchers to develop the even more sensitive scanners of the future.

Here's a guide to what's new in the space, and what to look out for in the next several years.

Canon Medical Systems
Canon recently announced upgrades to its Celesteion PET/CT system, which has an 88-centimeter PET bore and 90-centimeter CT bore that are designed to improve image quality and workflow, and lower radiation dose.

The improvements include a feature called Variable Bed Time (vBT), which allows clinicians to control the timing of each acquisition per bed position.

"It allows you to do faster acquisition when you need to," said Tim Nicholson, the leader of strategic development for the CT business unit at Canon Medical Systems. "Before Variable Bed Time, every single acquisition was the same time. If the bed time was four minutes, every single scan was four minutes. Some [scans] only need two minutes."

The upgrade also provides the ability to do PET ECG gated scanning, offering clinicians the ability to perform PET ECG phase image reconstruction scans.

"This opens up the possibility to do cardiac PET," Nicholson said.

The upgrade also includes PET respiratory gating, which incorporates respiratory gating into whole-body PET scans in an effort to avoid extra scans and reduce dose.

New reconstruction techniques include Clear Adaptive Low-noise Method (CaLM) +PSF, which improves PET image quality by filtering out noise while maintaining contrast, and Single Energy Metal Artifact Reduction (SEMAR), which uses reconstruction to reduce metallic artifacts.

Digirad
Digirad released the Cardius X-ACT+, a SPECT myocardial perfusion imaging (MPI) system, over a year ago.

Along with a rapid imaging detector geometry and a 3D-OSEM reconstruction algorithm, the system includes a feature called TruACQ Count Based Imaging that tells the technologist how long to image a patient based on the counts per second coming from the patient's heart, maximizing image quality and reducing radiation dose.

"It measures the activity in the patient's heart at the time of imaging to ensure proper count density and to ensure the highest quality diagnostic image possible," said Martin Shirley, president of diagnostic service at Digirad.

The X-ACT+ also includes fluorescence X-ray attenuation correction, which removes soft tissue artifacts from SPECT images. This tool further lowers radiation dose and improves diagnostic accuracy, providing less false positives than SPECT MPI without attenuation correction, reducing the need for repeat cardiac imaging and reducing needless cardiac catheterizations, Shirley said, citing a 2016 study that looked at the impact of attenuation correction on MPI studies.

"We're going to get the best possible patient image by combining those two things," Shirley said of TruACQ Count Based Imaging and fluorescence X-ray attenuation correction.

The scanner also has an open and upright design that is more ergonomic for patients, particularly larger patients, according to the company.

GE Healthcare
At last year's RSNA, GE Healthcare introduced its 800 Series for nuclear medicine, with five systems ranging from the value-based, SPECT-only NM 830 to the NM/CT 870 CZT, with a CZT digital detector that the company says delivers 58 percent increased sensitivity compared to first-generation, general purpose, digital SPECT/CT.

In the scalable series, the NM/CT 850, NM/CT 860, NM/CT 870 DR and the NM/CT 870 CZT all feature SmartConsole, a workflow that automatically reconstructs data, which can be sent to any workstation and any PACS, enabling easier collaboration between technologists and physicians, said Nathan Hermony, vice president and general manager of the molecular imaging division for GE Healthcare.

Instead of the patient having to return for further imaging, or asking the physician to come into the reading room, the physician can provide input while on the go.

"When the bone scan is done and the question is should the tech release the patient or do they need SPECT verses planar imaging in certain areas, or CT in a certain area, a physician can view the images on their browser, can see planar, and can select if and where to do SPECT or CT," Hermony said. "He can hit return and it gets directly to the camera console."

Another feature of the 800 series is SwiftScan Planar and SwiftScan SPECT technologies, with increased sensitivity that Hermony said allows for 25 percent faster imaging.

The 870 CZT also comes with new feature that allows the scanner to continuously acquire data in SPECT mode, improving sensitivity by 40 percent, Hermony said.

On the PET side, GE Healthcare has also developed a technology to eliminate blurring created by respiration. Called MotionFree, the technology will negate the use of specific devices to correct motion by using an advanced algorithm, said Sergio Calvo, general manager for PET at GE Healthcare.

Eliminating motion is critical for detecting smaller lesions and metastases, Calvio said.

"It makes a huge difference to enable motion elimination in critical areas of the body," Calvo said.

MotionFree has received FDA clearance and is now available for GE Healthcare's Discovery MI and MI DR series of PET scanners.

Philips
Philips is continuing to build on the foundation of its Vereos, the digital PET/CT system it began shipping at the end of 2017.

In February, the company announced the launch of IntelliSpace Portal 11, the latest release of its comprehensive, advanced visualization and quantification software.

Mark Olszewski, global marketing leader for CT and advanced molecular imaging at Philips, said the company plans to share more results from its work with clinical partners in the oncology, neurology, and cardiac spaces; next steps in advanced image reconstruction; and pairing the Vereos with the company's PerformanceBridge data analytics platform at the SNMMI annual meeting this month in Anaheim, California.

"We're using adaptive intelligence to help our customers increase the speed and precision of their diagnoses," Olszewski said.

RefleXion Medical
RefleXion Medical bridges PET imaging and stereotactic radiotherapy with its biology-guided radiotherapy (BgRT), which uses emissions from PET signals to guide therapy in real time.

"MR and CT visualize structures and soft tissue and require someone to interpret those images and try to assess where the cancer is," said Todd Powell, president and chief executive officer of RefleXion. "This sees the cancer itself.

"Our breakthrough was to be able to open up the fundamental technology of PET and not use the images that come out of PET, but use the emissions that come out of PET," Powell continued.

The company has submitted a 510(k) application to the FDA for the technology and hopes to deliver systems by the end of 2019.

There are 11 consortium sites — academic centers and community cancer centers, with a mix of radiation oncologists, medical oncologists and nuclear medicine experts — that are providing feedback on the clinical and departmental workflow, and on clinical trial design. Some of those sites also have preclinical access to research tools that RefleXion has developed to work with the machine and the radiotherapy workflow, Powell said.

The technology will give clinicians information that could allow them to decide to change a patient's treatment plan or treat multiple tumors in the same session.

"No one has been able to use PET images in real time or a PET-based workflow in real time during treatment," Powell said.

Siemens Healthineers
In June of 2018, Siemens Healthineers received FDA clearance for its Biograph Vision PET/CT system.

The scanner features what the company calls Optiso Ultra Dynamic Range (UDR) detector technology – a completely new detector design that uses silicon photomultipliers (SiPMs) in combination with 3.2mm crystals, allowing for higher spatial resolution to detect smaller lesions, said Karin Karl, senior director of global product marketing PET/CT for the molecular imaging division of Siemens Healthineers

The ability to see smaller lesions can enable clinicians to change patient management, supporting the practice of precision medicine, Karl said.

"With that new detector design, you now may be able to see structures that you could never see before with PET/CT," Karl said. "There is the high potential to be much more precise and to make a much sounder decision. That is the ultimate goal of a PET/CT exam. You want to make sure at the beginning you're giving them the right therapy."

The system also delivers what the company says is the industry's fastest time-of-flight, with 214 picosecond temporal resolution, and an effective sensitivity of 100 cps/kBq, which cuts scan time to as few as three minutes per patient, reducing radiation exposure, cutting tracer costs and increasing throughput.

The system's motion management tools, OncoFreeze and CardioFreeze, help ensure that the smaller lesions can be visualized clearly, Karl said.

"The smaller the lesions, the more important it is to have reliable motion control," Karl said.

The system's FlowMotion Multiparametric Suite, in addition to the commonly used SUV, supplies metabolic glucose rates and distribution volume that is more specific to the patient, Karl said.

The scanner also features a 78-centimeter bore, larger than the standard 70 centimeters, which can increase patient comfort and make positioning easier, especially when used for radiation therapy planning, according to the company.

At last June's SNMMI annual meeting, Siemens announced FDA clearance of its syngo.via VB30 molecular imaging software. The software features advanced clinical capabilities for PET/CT imaging in oncology and neurology, including automatic calculation of a patient's Deauville score, used for staging and evaluation of therapeutic response in patients with Hodgkin's lymphoma and most types of non-Hodgkin's lymphoma. Normally, the Deauville score is calculated manually, Karl said.

The software also provides a workflow that enables clinicians to read parametric PET images more easily, Karl said,

And for neurological imaging, the software allows for quantitative analysis via databases when evaluating diseases such as Parkinson's, epilepsy and dementia.

United Imaging Healthcare
This Shanghai-based imaging company received FDA clearance at the beginning of the year for its uEXPLORER total-body PET/CT scanner. Whereas other scanners have been able to perform whole body imaging, this is the first scanner that can do a 3D full-body scan in one image capture.

The first two systems are being installed in China and the U.S., where the company is establishing a 100,000-square-foot manufacturing facility in Houston.

The scanner cuts down on imaging time — scanning 2 meters in 15 to 30 seconds, compared to 10 to 20 minutes for conventional PET scanners — improving image quality with reduced need for multiple breath holds.

Jeffrey M. Bundy, Ph.D., chief executive officer of UIH Solutions North America, said that first customers of the scanner are looking to enable shorter scan times and eliminate the need for sedation in pediatric patients.

Studies published in the March issue of The Journal of Nuclear Medicine showed that the scanner can detect earlier-stage cancers, and Bundy said there is interest in promising applications for theranostics for cancer and neurodegenerative diseases.

"The uEXPLORER allows you to ask questions you weren't able to ask before," said Bundy. "There is lot of interest around new tracers that have shorter half-lives, and bringing PET to new fields of discovery. We're very excited to get these systems into the hands of physicians who can begin asking those questions."

The uEXPLORER is the product of work between UIH and the EXPLORER Consortium, run by Drs. Simon Cherry and Ramsey Badawi from the University of California, Davis, and is part of the company's full digital portfolio of four PET systems, including two additional PET/CT scanners and an MR/PET.

Software

MIM Software
In June 2018, the company received FDA clearance for SPECTRA Quant, a SPECT reconstruction tool.

It is part of the MIM Encore product, which has two parts. SPECTRA Recon provides SPECT and CT reconstruction, while SPECTRA Quant takes the image and converts that into activity concentration. The software is vendor-neutral in terms of the scanner.

"Really, the main way that a customer could get quantitative SPECT [is that they] would have to purchase a new camera," said Aaron Nelson, chief medical officer for MIM Software. "This would do it for all cameras and there is the consistency standpoint of doing it on all images."

The MIM Encore package lets clinicians add the numbers of the tracer uptake to the image.

"Before, lesions looked brighter than before," Nelson said. "Now, you can put a number to the tracer uptake. It's more useful for tracking response to therapy. You can directly compare two images where before [it] was a relative measure."

Segami Corporation, U.S.A.
The molecular imaging software company is in the process of developing a new neurology processing application. Called CERQUANT, it is based on quantification that is registered to the Montreal Neurological Institute template for region analysis, geometric normalization and absolute quantification.



In addition, the company has a new product that can fuse a SPECT study with CT or MR and quantify hyperperfusion or hypoperfusion.

"We increase the specificity and sensitivity, and are better able to analyze the area for hyper or hypoperfusion," Zurita said.

The company also recently released SISCOM, or Subtraction Ictal SPECT Co-registered to MRI, a neuroimaging application to evaluate epilepsy. It performs a comparison of Ictal and Inter-ictal SPECT images, performs automatic co-registration of SPECT images with MRI, displays delta results of registered Images and displays precise anatomic location of seizure focus prior to surgery.

"By co-registering with MRI, we increase the specificity ," Zurita said.

Preclinical horizons

Cubresa
In 2016, Cubresa introduced its NuPET, a preclinical PET insert that fits inside an MR scanner for imaging mice and other small animals.

The company is planning to come out with a larger version of the NuPET for larger animals. It also recently entered into a joint venture with the Gaoxin Group, a Chinese investment group, to develop the same technology for clinical brain imaging, said James Schellenberg, founder and chief executive officer of Cubresa.

"The closer you get to the head, the better the images are," Schellenberg said. "The BrainPET insert is the combination of a head coil with a PET ring wrapped around it. The big advantage of this product for clinical imaging is that the spatial resolution is improved. BrainPET will provide the best resolution for brain imaging, and will be of interest to research institutions and clinical centers. In addition, the sensitivity will be superior, so less dose will be required."

The company has a target resolution of 2 millimeters for brain imaging. Currently, the resolution for the preclinical PET/MR is .8 millimeters, which Schellenberg said is similar to others on the market.

The BrainPET insert is also less of an investment than a combination clinical PET/MR scanner, Schellenberg said.

MILabs
At last year's SNMMI annual meeting, MILabs unveiled its VECTor6 Broadband Photon Tomography preclinical imaging platform, which increases the PET spatial resolution down to 0.5 millimeters, SPECT down to 0.12 millimeters, and fully integrates these modalities with ultra-high resolution optical and X-ray tomography.

"In a clinic, some business from SPECT has moved toward PET imaging because of the higher resolution of PET," said Frederik Beekman, chief executive officer of MILabs. "When G-SPECT enters the market, then this advantage of PET will be dramatically smaller."

From a preclinical standpoint, the VECTor6 platform can be used to test new radiotracers on mice and other small animals.

"Some applications are unique for SPECT because of the unique tracers and therapeutic isotopes for SPECT," Beekman said. "Before VECTor it was impossible to image those isotopes (at) such a high resolution."

The preclinical device was awarded the Commercial Innovation Award at the World Molecular Imaging Congress in Seattle in September 2018.

The company is preparing to seek FDA and CE clearance for its clinical G-SPECT, and is currently finishing the redesign of the product, Beekman said.

MOLECUBES
MOLECUBES has a preclinical SPECT called the Gamma-CUBE, a preclinical CT called the X-CUBE and Beta-CUBE PET scanner that can be combined for multimodality imaging.

For its small animal PET scanner, the company uses special monolithic detectors that enable much higher resolution than traditional pixelated detectors.

"Previously these systems were very big and bulky," said Roel Van Holen, chief executive officer of MOLECUBES. "You can lift (our scanners) with two people. Installation takes two to three hours and it's plug and play."

With a high sensitivity, low doses of radiation can be injected in animals, with shorter imaging times for all three modalities. The scanners also come with a wireless user interface.

The SPECT scanner uses special laser-sintered collimators that Van Holen likens to 3D printing.

"That's really key to having good image quality in a small box," Van Holen said.

The PET system launched in 2016, and the company is using a couple of European grants to investigate translation into clinical use. Van Holen estimates that the first clinical prototypes from the company may come in two to five years.