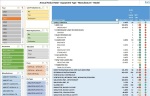 EQ2 showcases advancements and new products at AAMI Exchange
June 11, 2019
by
John R. Fischer
, Senior Reporter
EQ2 showcased new products and a range of added features to its existing solutions this weekend at the 2019 AAMI Exchange in Cleveland.

The provider of computer management maintenance systems unveiled new offerings for its HEMS Remote mobile app and Performance and Benchmarking Analyzer and, as well, gave spectators glimpses at products under beta testing, such as Total Asset Management and FASTKEY.

Equipped with interactive dashboards and smart phone features such as speech to text, bar code scanning and photo taking, the HEMS Remote mobile app enables users to access and track data both online and offline, with any changes made offline automatically synced when users connect once again online.

When released last year, the dashboard of the HEMS Remote was designed to tell users how many work orders are in place, which have been assigned, and which are pending. It now includes documentation of hours per week.

"A lot of these guys are held accountable for how many hours they document a day," Rich Sable, product manager at EQ2, told HCB News. "This lets them know where they stand for the week. It's only going to account between zero and 40, and then it's going to reset. If they see at the end of the day they don't have their eight hours accounted for, that may indicate that they forgot to close a work order. It's keeping them on top of their job."

Advancements have also been made to its Performance and Benchmarking Analyzer, with the addition of new analytics for studying labor productivity, PM completion rates, failure rates and hospital service ratios by equipment type. While it looks at all infinite years, users can adjust to look at progress over a select period of time and for specific institutions.

"It's basically giving you the KPIs to do benchmarking," said Sable. "So if you're going to benchmark against yourself for performance improvement, or if you were going to subscribe and benchmark against competitor hospitals, you would have that data."

Among its new products is Total Asset Management which provides supply chains with a record of the PO, the price paid for it and the pieces of equipment within each. This enables the supply chain to track maintenance costs, parts costs and failure rates to make smart monetary decisions in terms of the products they select and the vendors they use. This expanded functionality also is helpful for biomeds, facilities, procurement, receiving, materials handling, service contracts and vendor management, with assets and contracts tracked and monitored from purchase requisition to end of life.

The other solution shown was FASTKEY, a software for tracking and controlling key and access card management in hospitals. Users can view key assignments on maps of floors, specific areas, rooms and spaces within a room, and search high-risk areas for a history of who had access to it.

"The program allows you to rate the rooms on security risk. So a key to a drug room, OR or cath lab would have a higher priority if it were lost," said Sable, adding that the product also has a core inventory so that only the lock with the missing key can be replaced. "Losing one key may cause facilities to have to key 200 different locks. That may be $300 a lock to be replaced. It's a big financial impact."

Advancements to the HEMS Remote and Performance and Benchmarking Analyzer are currently available. FASTKEY is currently in Beta testing at a number of hospitals, with the first installation set to take place in July.

EQ2 aims to produce different versions of Total Asset Management, such as capital versus non-capital, and integrate them with buying systems to provide greater automation for supply chain staff. It is currently in beta testing, with a release expected in the fall.