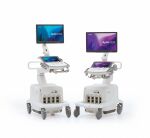 Breast imaging advances with new AI, MR and ultrasound solutions
July 01, 2019
by
Lisa Chamoff
, Contributing Reporter
While digital breast tomosynthesis continues to become the standard of care in breast cancer screening and diagnosis, AI technology is emerging to assist with organizing the radiology worklist and with reading the images.

Manufacturers are also investing in more advanced breast MR and breast ultrasound systems.

Here's a look at what's new from more than a dozen companies.

Canon Medical
Canon Medical debuted two new breast ultrasound products at RSNA last year.

The a450 and a550, part of the Aplio a-series of products, both come fully configured with a range of breast transducers. They also feature advanced breast technology such as MicroPure, which enhances the visualization of microcalcifications.

The systems also have ergonomic features, including lighter transducers and thinner cables, that allow the sonographers to scan with less discomfort, said Tina Hodgson, senior manager of solutions marketing for ultrasound at Canon Medical.

"When you sit and scan, you're twisting your body to see the system and put the transducer on the patient," Hodgson said. "You want to engage with your patient. The a-series, in particular, has so much flexibility, having the ability of being able to position the monitor and control panel so you're not in that 'either/or' position."

For interventional procedures, the company introduced a second console, so the sonographer and the doctor performing the biopsy can work together more easily.

In the breast MR space, Canon Medical last year released a 1.5T MR system called the Vantage Orian.

The scanner has the ability to scan the whole body, though for breast MR there is a Sentinelle Breast Coil that can be purchased with the system. The scanner is also available with MSOFT Fat Suppression technology, which helps improve image quality.

Olea Medical, a Canon partner company for image processing and visualization, will introduce a new product for post processing of breast images.

It is pending FDA clearance.

"It is going to be a cutting-edge tool for post processing of breast images and will replace existing post processing technology," said Suresh Narayan, senior manager for strategic development in MR at Canon Medical. "It will make Canon Medical's breast imaging portfolio very strong."

CureMetrix
In March, CureMetrix received FDA Clearance for its cmTriage AI software, which preprocesses and triages radiologists' mammography worklists.

The software provides a code on the worklist that tells the radiologist whether a reading is suspicious or not suspicious within three to four minutes.

"We don't dictate how the code is used," said Kevin Harris, chief executive officer of CureMetrix. "They can send suspicious cases to specialists, read them in the morning with fresh eyes, or before a woman leaves the office."

The software can be set to a sensitivity of 99 percent and internal studies have shown that doctors may be able to read through their worklist up to 40 percent faster.

The company developed the AI technology by collecting more than two million images from around the world.

"We've taken a much more scientific approach to doing this, which is playing out in the results," Harris said.

Densitas
At last year's RSNA, Densitas debuted its densitasquality solution, which is a fully automated, AI-based evaluation of mammographic image quality with a focus on positioning errors, aimed at supporting imaging centers that are required to meet the recently enforced Enhancing Quality Using the Inspection Program (EQUIP) guidelines as part of annual MQSA inspections.

The solution gives assessments of various different criteria relating to proper positioning.

"Every mammogram that is acquired is processed by our algorithms," said Mohamed Abdolell, chief executive officer of Densitas. "It's the only solution out there that's AI based."

The solution presents results related to positioning errors at the point of care to technologists, so they can avoid recalling a patient for repeats of their mammography exams due to positioning errors.

"That's a major opportunity to really move the needle in delivering improved quality of care," Abdolell said.

In April 2018, the company received FDA clearance for densitasdensity, an AI-powered software for breast density assessment.

Abdolell said the software is unique in that it processes the "for presentation" images that are routinely archived in the PACS.

Integrating seamlessly with the clinical workflow, the zero-click multi-vendor-compatible software evaluates breast density in current and prior images of the same patient, generating automated density reports to be included and viewed in studies when mammograms are displayed on the radiologist's workstation.

"Unlike other commercially available technologies, densitasdensity enables the customer to perform retrospective analysis from all the routinely archived images on their PACS," Abdolell said. "Other solutions typically require the raw images to be routed from the scanner, and those images are routinely discarded and so cannot be evaluated retrospectively. As a result, if a customer switches from one algorithm or scanner vendor/model to another, they can apply densitasdensity to those prior images. If the customer uses different algorithms for current and past images, the results would be inconsistent."

Galen MRI
In February 2019, Galen MRI received FDA clearance for a 1.5-tesla breast MR system, called Emma.

The company is in the process of installing 10 systems, said David Tse, the board chairman for Galen MRI.

The scanner has abbreviated protocols that reduce the scan time from 45 minutes to 15 minutes for preliminary screening, while more detailed screening takes about 20 minutes.

The scanner also employs machine learning and two AI systems to further reduce the time.

Scan Assistant scans the images to enhance radiologists' diagnosis, while Report Assistant generates the initial scan report, to facilitate further reporting.

"In many cases, the patient can only afford to have a breast scan once in a while," Tse said. "Therefore, they need a much more comprehensive report than the typical report."

The scanner is currently awaiting approval from the China Food and Drug Administration.

GE Healthcare
Last year, GE Healthcare launched the second generation of its SenoBright HD contrast-enhanced mammography system, which was FDA cleared in 2017.

The new system has improved image quality and a reduced acquisition time, according to Annemijn Eschauzier, chief marketing officer for women's health at GE Healthcare.

"There were some artifacts in the previous solution that have been removed," Eschauzier said. "With SenoBright HD, the image has become even more clear."

Technologists are able to perform the exam, which highlights areas of unusual blood flow on an inconclusive mammogram, on the same machine that performed the regular four-view mammogram.

"I think the customers who are adopting it are extremely enthusiastic," Eschauzier said.

The company has also introduced the 3D version of its Pristina Serena stereotactic biopsy system after showcasing the 2D version at last year's RSNA.

With this dedicated add-on, the customer can transform their screening room into an interventional room quickly, Eschauzier said. "It gives a lot of flexibility," Eschauzier said.

While typically a biopsy is done in the vertical position, the arm of the system can be moved from vertical to a side position, which reduces needle visibility to the patient and targets lesions close to the chest wall or breast support.

Clinicians "had no idea that a side approach was actually so useful," Eschauzier said.

The technologist can change the position of the biopsy arm with the woman under compression on the system.

"It really helps makes this interventional procedure as easy as possible for the patient and the radiologist," Eschauzier said.

GE is also partnering with iCad and adding the company's ProFound AI for digital breast tomosynthesis to its Senographe Pristina Mammography System, which Eschauzier called a "sophisticated algorithm trained on thousands of images."

"We're just starting the rollout and the feedback from customers has been excellent," Eschauzier said.

Hitachi
The company continues to promote its 3D ABUS system called Sofia.

Sofia is unique in that it allows patients to lie prone on the memory foam mattress while being radially, instead of axially, scanned, said David Wilson, director of corporate communications for Hitachi. In 30 seconds, each breast can be scanned, generating 900 DICOM images that are then reconstructed into a 3D image of the breast. Radiologists can then review these images on a workstation, either over the web, in a standalone workstation or integrated with their existing PACS system.

As patients are covered up, the scan is less invasive, Wilson said.

It requires only 30 seconds per view to scan a breast and an AP/lateral of each breast means appointments can be 15 minutes in duration, Wilson said.

"Other companies require 15 minutes per breast and three views per breast compared to 30 seconds per scan and two views per breast," Wilson said. "Appointment times for Sofia are 15 minutes whereas competitive products require much more like 45 minutes. ... With the recent announcement of dense breast notification being required nationally, the need for patients to seek adjunct imaging to traditional full field digital mammography will increase demand for either tomosynthesis or ultrasound. Large volumes of patients can be seen with Sofia to help reduce the burden of those patients that require additional imaging."

The company received FDA 510(k) clearance in 2008 for the bed portion and the ultrasound has been continuously updated since 2014.

Hologic
Earlier this year, Hologic released a platform called Unifi Analytics, which tracks a facility's mammography systems and performs statistical analysis of the systems' efficiency and technologist accuracy to prevent downtime due to challenges, such as unexpected tube failure.

The platform also tracks technologist performance and allows facilities to benchmark its performance against similar facilities.

"Downtime is costly and unproductive in a breast imaging center," said Dr. Susan Harvey, vice president of global medical affairs in the breast and skeletal health division of Hologic.

The offering, while common for other areas, such as MR imaging, is unique for mammography, Harvey said.

Hologic also has a new AI-powered solution for tomosynthesis currently pending FDA approval. The product is designed to decrease both read times and file size, while retaining high image quality, according to the company.

iCad
In December 2018, iCad announced FDA clearance of ProFound AI, a deep learning-based cancer detection software for digital breast tomosynthesis.

The software reads the tomosynthesis slices and provides a probability (certainty of finding) score based on deep learning hundreds of thousands of images, said Michael Klein, chairman and chief executive officer of iCad.

"It's like having 100,000 pairs of eyes looking over your shoulder," Klein said.

Based on an FDA reader study of 24 radiologists, the ProFound AI solution picked up an additional 8 percent of cancers than physicians alone, Klein said. There was also a 7 percent improvement in specificity, reducing the number of false positives and potentially unnecessary patient callbacks, and a 53 percent reduction in reading time. The most complex dense breast cases were read in 59 percent less time.

The company is currently increasing the number of images used for the deep learning process, with an eye toward greater sensitivity and fewer false positives.

iCad is also planning to release two updates to the software. One would update the patient's probability and certainty of finding a score based on a comparison of their prior mammograms.

For example, if "a lesion or region of interest has a 60 percent score of algorithmically being cancerous," Klein said, the patient may or may not receive additional screening or a biopsy. "If, however, a physician looked at [the] prior year's images of the same slide and last year's image looked [like it] had a score of ... 28 percent certainty, and the year before that has only an 8 percent certainty score, the physician would have far more [information] and perhaps be able to make a more informed decision on further diagnostic procedures."

The company is also partnering with researchers at The Karolinska Institutet in Stockholm, Sweden, to develop an AI-based solution that will identify a patient's individual risk of developing breast cancer based on correlating personalized information."

"When you add a woman's actual images and personal history and genetic profile, the ability to predict their breast cancer risk increases from 56 percent to a certainty of an interval cancer, for the next 12 to 24 months, of just shy of 80 percent," Klein said. "What this introduces is the movement to risk-adaptive screening, perhaps more frequent screening for high-risk and probability cases, and perhaps less frequent screening for women at more normal and lower risk. If we can find these cancers one stage earlier, it's obviously a win for the patients, it's a win for the hospitals and it's a huge win for managed care."

Ikonopedia
Ikonopedia, which offers a cloud-based structured breast reporting system known as the Ikonopedia Breast Reporting and Tracking software, recently released an automated combined reporting feature that automatically combines the diagnostic mammogram and other breast imaging modalities, including ultrasound, MRI and biopsies, into a single report.

The feature is designed to simplify the reporting process, save time and prevent errors, according to Emily Crane, Ikonopedia's chief executive officer.

Part of that same goal is a new feature that is part of the pathology module of the Ikonopedia Breast Reporting and Tracking software, which allows the pathology results from a biopsy to be automatically added to the biopsy or imaging report.

Pathology results are also connected to the radiologist's areas of concern in the breast.

"Anytime a doctor says, 'Here's a place I'm worried about on an image,' we tie it directly to the finding," said Crane, who noted that other reporting and tracking software doesn't go down to a specific area of concern. "Everything we do is at a very specific concern level, instead of a breast level."

Ikonopedia has also updated its tablet-based patient questionnaire, which employs a web-based version of the Tyrer-Cuzick Breast Cancer risk assessment tool, to include breast density.

"We provide an assessment of a patient's risk without density," Crane said. "Once the doctor reports that density, we update the score using that density."

IntraMedical Imaging
The company has a probe under development to be used during a lumpectomy. Called the MARGINator, it has a hand-held camera that is sensitive to positrons emitted by the cancer-specific radiotracer injected into the patient.

The breast surgeon will use the camera to scan the resected tumor margin, to locate any possible cancerous tissue that remains.

"When they take the tumor out, one of the biggest issues in breast surgery [is that] you don't know if you left any of the prongs of the tumor inside the patient," said Farhad Daghighian, Ph.D., the chief executive officer of IntraMedical Imaging, who noted that in nearly 20 percent of cases, breast cancer reoccurs because the surgeon did not completely remove all the cancer cells. "The clean margin is the holy grail of breast surgery. We think that nuclear medicine is the answer."

Koning Corporation
After receiving FDA clearance in November 2017 for the improvements and redesign of its Koning Breast CT (KBCT) system, the company has continued on the pathway of commercialization, adding several installations globally.

The current FDA clearance allows the Koning KBCT to be used in place of a diagnostic mammographic workup, said David Georges, president of the company's USA division. The device can also be used to perform a 3D-guided biopsy in place of conventional stereotactic biopsy. The FDA cleared the biopsy application at the same time as the main system.

The company is currently working on development of a breast CT system, dedicated to screening the breast with a complete 360-degree acquisition, delivering true 3D, isotropic image data, Georges said. The prototype is due to be ready for testing at the end of 2019.

Additionally, as contrast-enhanced CT imaging has long been used to detect cancer in the head, chest and abdomen, Koning is sponsoring clinical studies examining the use of contrast-enhanced CT imaging for detecting small cancers that may not be detectable with conventional mammography or tomosynthesis breast imaging.

"We've gained much information in relation to contrast-enhanced breast CT, which is leading us to believe we will make new strides in separating the various patient populations that will be based on a combination of risk factors, including breast density and family history," Georges said. "A breast CT on a patient that has low to average glandular density could be achieved quite successfully with one low-dose CT acquisition without contrast. For those patients with greater breast densities, the potential of including contrast-enhanced breast imaging should serve to detect cancers at very early stages."

Institutional review board studies are underway for contrast-enhanced CT and the company expects results to be published in late 2019 or early 2020.

The FDA indicated that the diagnostic dose for breast CT from Koning is in the same range as the dose for digital breast mammography which was one of the factors that lead to the FDA PMA clearance, according to Georges.

"One of the most noteworthy features of Breast CT is the removal of painful compression, a frequent complaint from many patients today receiving mammograms," Georges said. "Moreover, the inclusion of isotropic 3D imaging will provide image data sets currently unavailable from any other X-ray emitting breast imaging device."

Kubtec
Kubtec recently introduced an extension of its MOZART System, an intraoperative tomosynthesis scanner designed to provide 3D images of specimens during lumpectomies. Called the MOZART Supra, it is designed with a larger detector to image larger specimens, so it can be used for mastectomies as well as lumpectomies.

The MOZART Supra also offers the ability to do 3D imaging of magnified specimens. Usually, specimens are placed on a special magnification tray, but this negates its use.

"It automatically gives you the highest resolution image and highest magnification image, and you don't have to use a magnification tray," said John Leach, vice president of marketing at Kubtec. "If you highlight an area of the specimen you're interested in it will automatically elevate the specimen to give you the highest resolution image of that area of interest. This is designed as a workflow management tool. It means the operator spends less time manipulating the specimen and more time viewing the image."

Another new feature is called Image Blender, which combines an HD optical image with the 3D tomosynthesis image. By using a slider on the screen, the surgeon can look at all of the X-ray image, all of the optical image, or somewhere in between. This enables the surgeon to view the internal anatomy of the specimen directly on the optical image.

The MOZART System is designed to reduce the need for additional surgeries. In fact, according to a recent study at University of Texas Southwestern Medical Center, specimen tomosynthesis on the MOZART reduced the re-excision rate by 50 percent.

"This is a major source of extra cost for the healthcare system and extra trauma for the patient," Leach said. "If you can reduce that, that's good for the patient and good for the surgeon."

Philips
In October of last year, Philips debuted its first integrated breast ultrasound solution that combines advanced imaging, full-solution elastography, screening and precision biopsy.

The solution, designed for follow-up screening in the cast of suspected lesions, is available with the Philips EPIQ and Affiniti ultrasound systems and is designed to make exams easier and faster for patients and clinicians, according to the company.

"It's the combination of the system, the tailored software and the specifically-designed transducer that makes our integrated breast ultrasound solution special," said Jeff Cohen, ultrasound general imaging business leader, for Philips. "This combination includes anatomical intelligence for breast, which enhances reproducibility whilst streamlining workflow; the PureWave eL18-4 ultra-broadband linear array transducer, which delivers high-quality imaging, including for more technically challenging patients; and our full-solution elastography ElastQ Imaging shear wave and strain elastography, which reveals more definitive information on tissue stiffness in the breast."

The solution for is CE marked and has received FDA 510(k) clearance.

Planmed
Over the past year, the company has made improvements to its Planmed Clarity 3D digital breast tomosynthesis system, adding the ability to send prior images directly to the system's touchscreen monitor, instead of at the workstation.

"Now, it is at your side when doing positioning," said Jukka Erkkilä, clinical director of Planmed Oy. "It will help you position the magnify view or the spot view. It will really help the technologists work. If you know the location of the lesion it's easier to position and you have to do less retakes."

It can also be useful when doing a stereotactic biopsy, Erkkilä said.

"This will speed up the process," said Erkkilä, who noted that technologists often print out prior images for reference during follow-up studies and stereotactic procedures.

The company also recently released the Planmed Clarity S, a 2D mammography system targeted to the value segment and facilities looking to switch from analog to digital. It's also suitable for follow-up studies, such as spot and MAG imaging, Erkkilä said.

On the image quality side, the company has also been working on a new reconstruction algorithm for tomosynthesis that Erkkilä said will provide better slice separation. Synthetic 2D image quality has also been improved.

"The algorithm is roughly 60 percent faster than the previous one," Erkkilä said.

QView Medical
After GE announced an upgrade to its GE Invenia ABUS automated breast ultrasound system, releasing Invenia 2.0 last year, with better image quality and higher resolution, the company did a validation and upgraded its QVCAD solution accordingly.

"The CAD process continually improves," said Bob Foley, vice president of regulatory affairs and marketing strategy for QView Medical

The company also has enabled its CAD solution to display on any selected monitor in the reading area. It also allows multiple simultaneous users to access CAD results.

"Typically, you have a workstation with a monitor," Foley said. "Now, you can take the images and display them on any given monitor in a rad room."

Siemens Healthineers
At least year's RSNA, Siemens Healthineers showcased syngo.Breast Care, an AI-based mammography reading and reporting solution that the company plans to release in the future.

"Reading mammograms can be challenging," said Pam Cumming, director of women's health for Siemens Healthineers. "With the integration of digital breast tomosynthesis into clinical practice, radiologists are now looking at hundreds of images with every study. So, we have to ask ourselves, what can we do to make it easier for radiologists to be able to read a growing number of images and without compromising diagnostic accuracy?"

The software uses AI-based algorithms to help evaluate 2D mammograms and tomosynthesis images, highlighting and scoring areas of suspicion to reduce oversight errors. It then assigns a score between 1 and 10. Most mammograms with cancer will fall into the highest category, while very few with a low score will have cancer. This allows the radiologists to have more time to spend on the cases that are more likely to have a clinical finding, Cumming said.

"Unlike traditional CAD, which has a high false positive rate, this score allows the radiologist to query any suspicious regions while reading a mammogram and provides decision support to help reduce interpretation errors and improve reading performance," Cumming said.

Based on a collaboration with ScreenPoint Medical, which offers a mammography reading software called Transpara that is based on deep learning, interactive decision support will be integrated into the syngo.Breast Care software.

The syngo.Breast Care solution will be a "turnkey" offering as part of the Siemens workstation and is integrated into the radiologist's workflow.

The software is approved for 2D mammography and 3D is pending FDA clearance.

SonoCiné
SonoCiné enables an ultrasound probe to be attached to its robotic arm and facilitates a scan over the entire breast.

In November 2017, the company released a software update for its automated whole breast ultrasound system. The most significant change is modifying the output file into a standard DICOM format.

Additionally, the most recent software can scan at a frame rate of every 400 microns, whereas before it was scanned every 800 microns. This results in a crisper, more fluid picture, with the ability to find smaller, Stage 1 cancers.

"We present radiologists with an image they are used to seeing," said Rafael Carballido, medical liaison for SonoCiné. "We can show smaller cancers in a reliable and easier-to-read way."

Supersonic Imagine
Last year, Supersonic Imagine launched the newest version of its breast UltraFast ultrasound system, called the Aixplorer MACH 30.

The system has a new processor that allows the Sheerwave PLUS elastography signal to go deeper into the body and also reduces the power consumption of the scanner significantly, from 1,500 watts down to 350 watts, said Jacques Souquet, director of innovation at Supersonic Imagine.

"The product is amazingly silent," Souquet said. "Usually, these systems are in small scanning rooms. The ambient noise is very annoying for ultrasound tech who is in the room all day long."

The fast engine allows the scanner to acquire data at up to 20,000 frames per second, which Souquet said can provide a base for using emerging AI technology in ultrasound.

The company also improved the user interface of the system. Instead of the trackball, it added a SonicPad touchpad, which Souquet said enables the technologist to stay focused on the image they are creating.

"Everything is done on the pad itself," Souquet said.

The new user interface can speed up the exam by 30 percent and reduce the technologist's hand movement by 70 percent, reducing musculoskeletal injuries to the sonographer.

Volpara
At last year's RSNA, the company announced a product called VolparaLive! that guides the radiologic technologist on proper positioning during a mammography exam.

"It's basically a virtual coach," said Belimar Velazquez, director of marketing at Volpara.

Another product, called VolparaEnterprise, tracks the quality of the mammogram based on technologists' positioning and compression over a period of time. VolparaLive! keeps track of the positioning and compression, providing feedback to the technologist before the patient leaves the exam room.

"It reduces patient anxiety because you're not calling them back for a technical recall if there are any quality issues," Velazquez said.

The instruction is not seen by the patient and "the patients don't even know this is taking place," Velazquez said.

VolparaLive! has been in alpha and beta testing, with the first customer expected to go live in the beginning of June of this year.

Additionally, with the FDA requirement that all women are notified of breast density to determine if they require supplemental screening, the company has seen a resurgence of interest in its VolparaDensity product, which uses machine learning to analyze mammograms and provide breast density assessments. The product received FDA clearance in 2010, with the first installation taking place in 2011.

The company continues to improve the product's algorithm, with more updates coming soon, Velazquez said.