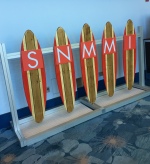 Rethinking training and education for the future of medicine at SNMMI
June 24, 2019
by
John R. Fischer
, Senior Reporter
The Society of Nuclear Medicine and Molecular Imaging kicked off its annual meeting Saturday at the Anaheim Convention Center in Southern California with speeches from the organization's leadership.

Norman Bolus, 2018-2019 president of the SNMMI Technologist Section, discussed a number of plans and innovations made by SNMMI-TS to strengthen membership and advance the profession, including the creation of the "imaging scientists concept task force."

"Imaging is changing," said Bolus. "Extensive knowledge to operate advanced imaging equipment to include hybrid equipment is needed, and will continue to be needed in the future. A differently educated individual is needed to incorporate knowledge of anatomy, pharmacology, physiology, biochemistry, radiation, and CT and MR physics at a minimum, and possibly more."

Professional certification and accreditation organizations, along with the molecular imaging industry as a whole, are seeking to change current education and training for imaging professionals to allow them to adapt more seamlessly to future advancements.

To address this, the SNMMI-TS collaborated with a number of other groups to launch a leadership task force in April, and promote collaborative strategies for addressing them. The group has constructed a list of key questions to achieve this task and answer the main question, "How do we create a new personnel position that is equipped to handle the advances in the field?" Each member will consult with their respective board for feedback and meet once more in October to iron out the details of what this new position entails.

Also new is a practice-based outreach task force, which has developed a series of information sheets, titled the "Value and Quality in Nuclear Medicine," that are intended to provide information for patients, healthcare providers, and referring physicians, specifically. It is meant to be a resource on the foundational level. The first series is geared toward nuclear cardiology, with ten more on other procedures in the works and expected to be released this year.