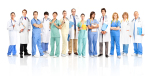 Providers in need of more specialists, fewer primary care physicians, says report
July 12, 2019
by
John R. Fischer
, Staff Reporter
Providers are pursuing increasing searches for medical specialists and less for primary care physicians, according an annual report conducted by Merritt Hawkins, a physician search firm and company of AMN Healthcare.

The 2019 Review of Physician and Advanced Practitioner Recruiting Incentives found that Merritt Hawkins accepted, in the past year, a greater number of search assignment requests for medical specialists and fewer for primary care physicians. Among those sought were specialties expected to experience shortages over the next few years that will pose challenges to public health.

"We are coming to a 'retirement cliff' that will see many specialists leaving the workforce at a time when 10,000 baby boomers are turning 65 every day," Phillip Miller, vice president of communications at Merritt Hawkins, told HCB News. "Unfortunately, due to a 1997 cap placed on how much the federal government spends to train physicians, the number of specialists entering practice is not sufficient to meet the needs of a growing and aging population."

The Association of American Medical Colleges projects a shortage of up to 67,000 specialists by 2032. Such areas include psychiatry, cardiology, gastroenterology, infectious disease, neurology, rheumatology, pulmonology, and hematology/oncology, with the most severe taking place among those that treat older patients and areas in which physicians themselves are aging. One critical shortage was found among geriatricians, of which there are 7,300 certified in the U.S. today, a long way off from the 30,000 that the American Geriatrics Society predicts will be needed by 2030. Another is psychiatrists, which was the firm's second most requested search for the fourth year in a row.

Tracking physician starting salaries and other recruiting engagements of 3,131 physicians and advanced practitioners, the report found an increase from 67 to 78 percent in recruiting assignments carried out in the past four years by Merritt Hawkins for specialists. While still strong in demand, searches for primary care physicians such as family doctors and pediatricians decreased by 8 percent annually and by 38 percent over four years.

Those in invasive cardiology took home the highest average starting salary at $640,000, followed by orthopedic surgeons at $536,000, gastroenterologists at $495,000, and urologists at $464,000. Family physicians, in contrast, were found to start with an average salary of $239,000. An average signing bonus offered to physicians at the time the report was conducted was valued at $32,692.

Miller says starting salary and a number of other variables impact the popularity of a specialty or lack thereof. He notes that concern around shortages in specialties is amplified by the 40 percent increase in the waiting and scheduling of appointments in 15 major cities between 2014 and 2017.

"In some cases, healthcare delayed is healthcare denied," he said. "When you can get in to see a physician, they have less time to spend with you, and that affects quality of care. There are things that can be done, including directing some patient care to non-physician healthcare professionals such as nurse practitioners and physician assistants. Innovations such as telemedicine also can increase efficiency. The optimum course of action would be to train more specialists, but that takes time. The result for patients is less access to the care they need."

The report also indicated a rise in the use of value-based physician payments, with 56 percent of production bonuses offered by clients of Merritt Hawkins to physicians based in whole, or in part, on value-based metrics such as patient satisfaction and outcome measures. This marked an increase from 43 percent the year before and 39 percent two years prior.

The report was carried out between April 2018 and March 2019.