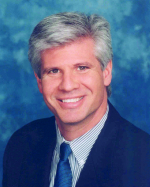 Q & A with Dale Surowitz, CEO of Providence Tarzana Medical Center
August 27, 2019
by
Sean Ruck
, Contributing Editor
You may have noticed with some of the images for this month's spotlight the story is a little different than usual. This isn't the first hospital in our nearly 100 spotlights to be in the planning process, but there are a lot of unique aspects to this story. HCB News spoke with Dale Surowitz, CEO of Providence Tarzana Medical Center, to learn more of his background, the upcoming Providence Cedars-Sinai Tarzana Medical Center and what this development might mean for healthcare delivery in the future.

HCB News: What inspired you to pursue a career in healthcare?
Dale Surowitz: I've always enjoyed healthcare. When I was between my junior and senior years in college, I was wondering whether I wanted to go to medical school or what else I wanted to do. I worked in two hospitals at that time and found that I really liked the business aspect of health and that inspired me to go into healthcare administration. Coincidently, those two hospitals — one in Encino and the other in Tarzana, 17 years later — I was the CEO of both of them. But my road was based on the fact of enjoying the mixing, being able to make a difference in the community from a healthcare perspective as well as a business perspective and being able to put that together in a challenging environment.

HCB News: How long have you been with Providence Tarzana Medical Center?
DS: I became the CEO of what was formerly Encino-Tarzana Medical Center, in 1997. In 2008, Providence purchased the Tarzana Campus and we became Providence Tarzana Medical Center. In March 2019, we announced that Cedars-Sinai acquired a 49 percent ownership position in the hospital and later this year we will change the name to Providence Cedars-Sinai Tarzana Medical Center.

HBC News: The press release about the partnership between Cedars-Sinai and Providence St. Joseph Health to build Providence Cedars-Sinai Tarzana Medical Center was announced in March, but when did discussions first start?
DS: Rather than simply retrofitting our existing facility, we felt we needed to do something more significant in order to meet the future health needs of the communities we serve. In 2016, we developed a campus redevelopment plan titled Tarzana Reimagined, a $540 million project that involves replacing many of the buildings as well as replacing all of our adult and pediatric beds, creating all private rooms, and building an advanced medical center. In order to meet the needs of a changing healthcare environment, we felt we needed to find the right partner to join us as we looked to move more of our inpatient volume from traditional medical volume to more tertiary-focused surgical activity. Specifically, our focus was to increase our surgical activity from 22 percent of our total admission activity to 35 percent. Additionally, we wanted to focus on increasing our outpatient and ambulatory footprint outside of the hospital

To do that effectively, we needed to work with a partner who could join us in that effort, one that shared a like vision and goals. Beginning in 2017, we began a dialogue with Cedars-Sinai that consummated in a definitive agreement being finalized in March of this year.

HCB News: When you say seismic issues, are you literally talking about earthquake issues or is that terminology for something else?
DS: The state of California has laws in place that mandate that hospitals must meet specific seismic standards by required timelines. We elected not to go down the path of retrofitting the entire facility because we felt we needed to update our buildings and services to meet the needs of the changing community a as well as how healthcare should be delivered in the future. Therefore we had to replace the vast majority of our beds in the facility and create a new tower with all private rooms with more space. We anticipate that we will be taking care of higher-acuity patients as more traditionally inpatient hospital work moves to an out-patient home setting for care.

HCB News: Did Providence St. Joseph have a working relationship with Cedars-Sinai prior to this project?
DS: Prior to initiating the dialogue with Cedars-Sinai, we did not have a prior working or business relationship. In fact, neither Providence nor Cedars previously had created a relationship like this, and there was little to compare to across the nation. Therefore, with no past history and little precedent across the county for this type of transaction, we spent nearly two years working through the details.

HCB News: How will the new services and departments be staffed? Will it be mostly new hires? Will there be people shifted from the two organizations?
DS: Providence is the entity that retains control and all employees will remain Providence employees. However, as we assess and implement new programs and services, we will work with Cedars to address opportunities or gaps in care for our community. We look to elevate services, allowing patients to stay closer to home for their care.

I can tell you I grew up in this community, I live in this community, raised my children in this community. From my perspective, the community deserves to have a facility that will allow people to not feel like they have to leave the San Fernando Valley for healthcare.

HCB News: What's the makeup of the community as far as payor sources?
DS: While our hospital demographic mix is 65-75% Medicare or HMO/PPO, it is changing. Much of our secondary service areas see 30-40% Medi-cal HMO services area.

HCB News: What has been staff reaction to the new developments?
DS: The hospital and medical staff have been extremely positive about our new relationship with Cedars. The staff members were extremely happy when Providence made the significant commitment to invest the money in the community. They've been very pleased with the presence of Cedars-Sinai. Cedars has tremendous reputation and cachet that resonates within our medical staff, hospital staff and community. We've provided outstanding care since the inception of the hospital in 1973. Since Providence took over the ownership of the hospital in 2008, we've seen continual growth and qualitative improvements within the facility, and have been recognized with national awards, including Healthgrades' America's Top 50 Hospitals award. However, with Cedars' presence coupled with a new campus, we feel we can create something very special and truly exceptional for those we serve.

HCB News: Something else unique to note, I don't think there are many CEOs who could have worked for three different hospitals while still basically having their same parking spot…
DS: I do hear jokes about that! Certainly, it's unique that I grew up in this community, raised my children in this community and now many grandchildren are being raised in this community. This happens a lot in rural areas, but not so much in urban areas like Los Angeles. It's very personal to me and I think it gives me an important perspective about my role and the key need the hospital fulfills in the Region.

HCB News: You've touched upon this already, but are there more details you can offer on how this new hospital will benefit patients?
DS: First, we'll be expanding our emergency department from our current 55,000 visits a year to an anticipated 100,000 visits per year. We will be expanding our pediatric and pediatric intensive care capabilities and capacity to address the growing needs of children in our area, while continuing our joint relationship with Children's Hospital Los Angeles. We'll also be working with Cedars in developing and looking at the niches, opportunities and gaps in clinical care in our community. A major target area of need is the expansion of our oncology services we offer and bolstering our oncological surgical subspecialties. We'll be looking at how we expand our cardiac capabilities and how we develop structural heart and TAVR programs.

HCB News: What do you believe are the strengths each group brings?
DS: Within our structure, Providence has a lot of experience in really knowing community hospitals. Our facility is an excellent facility today, but this new relationship with Cedars-Sinai allows us to up our game. Cedars brings a tremendous, world renown that will increase our ability to have subspecialists to serve the needs of our community and keep care closer to home. It will allow us to build new programs that we haven't seen in our region before. It will also allow us to have a very comprehensive and coordinated effort with Cedars when patients need care at a higher, tertiary level.

HCB News: How does Cedars benefit?
DS: Currently, Cedars has a presence in the community and this will allow them to provide more integrated services, and the transition of care will be better coordinated. Both in terms of their ambulatory growth and network development the venture will provide a location to better serve the needs of the individuals who are part of the Cedars Sinai network.

HCB News: Will there be a seamless ability to have a Cedars' patient go into this new facility and have their records on-hand in the system?
DS:Providence and Cedars both have an Epic EHR platform, however, we still need to work through details on how to best integrate and coordinate data. I think the bigger issue, though, can be understood by looking at geography. Even though Cedars is within 15 miles of the of Tarzana, it can take over an hour to travel the relatively short distance to and from Cedars and Tarzana.

HCB News: You touched upon how you're both using Epic and you'll be looking at how to streamline that use. Are there any other challenges or details you're still working out that you can discuss?
DS: We're defining what kind of opportunities and gaps to address programmatically. The facility itself won't be completed until the beginning of 2023, so we have time to work through EHR challenges.

HCB News: Do you anticipate more partnerships like this for Providence St. Joseph Health going forward?
DS: You're going to see more of these types of ventures happening across the country, where organizations come together with common purpose, vision and values to work collaboratively to create ventures to meet their needs. These ventures will step outside the boundaries of what people have traditionally been used to.