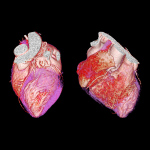 AI comes to the CT market
September 30, 2019
by
Lisa Chamoff
, Contributing Reporter
Artificial intelligence (AI) has been a buzzword in imaging for the last few years. Recently, in the CT market, AI has gone from dream to reality, with several companies offering image quality enhancements using machine learning.

This comes along with the release of compact systems for outpatient orthopedic imaging and wide-bore systems for larger patients.

Here's a look at what's new in CT scanners and software.

Canon Medical Systems
In June of this year, Canon Medical Systems received FDA clearance for its Advanced Intelligent Clear-IQ Engine (AiCE), which uses a deep learning algorithm to differentiate signal from noise in CT images, so noise is suppressed while signal is enhanced.

"It makes it easier for the physician to read and have a natural texture for the image," said Tim Nicholson, senior marketing manager for Canon Medical Systems. "With the (previous) dose reduction, you gave up texture. With this type of reconstruction using deep learning, it really brings that image quality up another step and it can go a step further in lowering the dose because there's less noise in the image."

AiCE is available on new purchases of Canon's Aquilion ONE / GENESIS Edition, released three years ago, and the Aquilion Precision platforms, released in April 2018. The company plans to eventually make AiCE available on new mid-tier scanners.

"We believe our deep learning reconstruction will be superb because it's fast enough to use on every single exam," Nicholson said. "We have quantifiable claims we used in our FDA submission on noise reduction and low-contrast detectability."

Carestream
Carestream released its OnSight 3D Extremity System in February 2017. Since the release, it has added workflow improvements and enhanced metal artifact reduction.

"We are able to handle much smaller pieces of metal and bigger pieces of metal such as knee implants," said David Chan, regional business director for the U.S. and Canada for Carestream. "They can see micro fractures or signs of infection."

The scanner allows imaging from the distal femur to the toes with and without weight bearing, and the distal humerus to the fingertips, allowing surgeons to have a better image of the problem before a procedure. The systems are designed for sports medicine facilities.

Carestream is next tackling deep learning to improve image quality as well as the validation of 3D measurements.

"Now, weight-bearing measurements are done on 2D projection radiography," Chan said. "We're leveraging some of these developments into 3D measurements and validating their accuracy and validity in a working group."

CurveBeam
Since receiving FDA clearance for its LineUP bilateral weight-bearing CT imaging system for the knees and lower extremities, in May 2018, CurveBeam is developing an upgrade that will extend imaging capabilities up to the hips.

"The body would be slightly modified so that the gantry could raise higher," said Vinti Singh, marketing manager for CurveBeam. "The capability to scan up to the hip is essential for pre-operative planning for knee replacement surgery because the hip is a required anatomical reference point."

The key features of the device, including a compact footprint and the ability to plug into a standard wall outlet, will remain.

"Research demonstrates weight-bearing CT may be instrumental in detecting early signs of knee osteoarthritic degeneration," Singh said. "In addition, studies show you can view the knee meniscus better via weight-bearing CT arthrogram than on MRI."

The company is aiming for a 2020 release for the hip scanner.

FUJIFILM Medical Systems U.S.A., Inc.
FUJIFILM Medical Systems U.S.A., Inc. announced its entry into the CT market at last year's ASTRO with its FDA-cleared FUJIFILM FCT Embrace, which the company says is the world's first 64- to 128-slice scanner with an 85-centimeter bore.

"We're new in this space but we're not new to digital imaging, with continued advancements from X-ray film in 1936 to digital radiography and AI today," said Rick Banner, senior director of marketing for CT, DR and women's health at FUJIFILM Medical Systems U.S.A., Inc.

The system provides a seamless transition from oncology to radiology with rapid acquisitions of chest and gating studies and a wide 49-centimeter table, Banner said.

The scanner comes with FUJIFILM's Low-dose Iterative Solution Approach (LISA) with PixelShine, which uses advanced data-driven algorithms to reduce image noise and minimize artifacts, while maintaining or improving spatial resolution for more optimal dose and image quality.

"I see this being a good fit for a large academic, medium-sized hospitals and outpatient facilities as their bread-and-butter scanner," Banner said.

The scanner was also built with a modular design, resulting in fewer parts, leading to easier maintenance, Banner said. For example, the brushes, which create carbon dust, have been removed, and so don't need to be cleaned or replaced. It also has a touchscreen monitor with a keyboard and mouse as well.

GE Healthcare
GE Healthcare has had many new releases in the CT space over the last year, starting with three new additions to its Revolution family of CT scanners.

The Revolution Apex comes with GE's new Deep Learning Image Reconstruction, which uses algorithms based on images that were previously reconstructed. FDA cleared in April, the technology produces what GE calls "TrueFidelity" images that improve noise texture while maintaining dose.

"We are very excited about the image quality GE's Deep Learning Image Reconstruction engine has created," said Scott Schubert, general manager for premium CT at GE Healthcare

The Revolution Apex also comes with a new Quantix 160 X-ray tube, designed to deliver both power and coverage together, with two times more power than the previous X-ray tube in a 16-centimeter-wide coverage system.

"For the first time in the CT industry we can provide power and wide coverage," Schubert said.

The company also launched new capabilities on its Revolution EVO Gen 2 and Revolution Frontier Gen 2 systems. Revolution EVO Gen 2 uses Snapshot Freeze 2 and Fast Stroke to enhance workflow by providing access to images anywhere. For Revolution Frontier Gen 2, there is a new interventional package called SmartView 3D to provide 3D visualization of the anatomy during interventional radiology and oncology procedures, with automatic needle tracking and trajectory.

"This is very advantageous for getting a good 3D visualization of the anatomy to place the needle and avoid sensitive structures," Schubert said. "You can combine it with gemstone spectral imaging, which uses dual energy technology to enhance visualization, so you can see the margins of a tumor better. You can also use it to assess whether you've ablated the entire extent of the tumor and assess accuracy. … Interventional CT is not new and dual energy isn't new, but it's the first time those technologies have been brought together."

At RSNA, GE Healthcare unveiled a new portfolio of devices and applications that utilize AI and are built on a new machine learning platform called Edison.

Three software applications — Bone VCAR, SnapShot Freeze 2 and Thoracic VCAR with GSI Pulmonary Perfusion — received FDA 510(k) clearance ahead of RSNA 2018.

Bone VCAR uses a deep-learning algorithm to automatically identify and label the vertebrae in a spine image, while SnapShot Freeze 2 is a whole heart motion correction algorithm for cardiac imaging during all types of cardiac acquisitions, including structural heart procedures like TAVR.

Thoracic VCAR with GSI Pulmonary Perfusion automates segmentation and measurements in assessing and following up on thoracic diseases, according to the company. It also targets pulmonary perfusion by identifying areas that have relative deficits of perfusion in the lungs, for use in diagnosing issues such as pulmonary embolism or chronic obstructive pulmonary disease (COPD).

"Before the application, the physician would just have to do it quantitatively, bring together the CT image with perfusion image and figure out the boundaries of the lobes of the lung," Schubert said.

"That was a manual and less quantitative approach than in the past."

Through GE's Smart Subscription, customers can stay up to date on the latest technologies through an annual subscription model.

Hitachi
After the debut of its Supria True64 in 2017, Hitachi is working on a new 64-128 slice CT in the premium market segment for general hospitals and their EDs, which fits between the economy 64-128 market for imaging centers and small hospitals and an ultra-premium, 64-128-slice high-end segment.

The scanner will do cardiac, neurological shuttle, interventional and DECT exams and is designed with innovative features to accommodate larger bariatric patients and with high workflow, said Mark Silverman, Director of CT Marketing for Hitachi.

"This new scanner is targeted to general hospitals for inpatient and outpatient needs, which we feel is the largest segment of the U.S. market," Silverman said. "For CT at Hitachi we don't target the academic buyer. We target to provide the most versatile and best value proposition for the general hospital buyer. We're really talking about a machine that is better in terms of capabilities, quality and value for general hospitals."

The product is FDA 510(k) pending and Hitachi plans to showcase it at this year's RSNA.

iCRco inc.
iCRco inc.'s latest product, the ClarisXT, is a multi-modality device that provides high-resolution 3D imaging, as well as full-field diagnostic X-ray. ClarisXT replaces a traditional X-ray system in an orthopedic, sports medicine or medical clinic. The system is designed for general X-ray applications, orthopedic imaging, bones and joints, as well as head and neck studies.

ClarisXT provides four times better resolution than traditional CT, at a third of the dose, said Stephen Neushul, president, chief executive officer and head engineer of iCRco.

"Regular CT sensors are small-tiled arrays, with 600-pixel micron spacing," Neushul said. "Our system has a single large area detector with pixel spacing of 140 microns."

In 2012, the company obtained an FDA 510(k) clearance for an earlier device, the ClarisCBCT, and iCRco is now in the process of obtaining FDA 510(K) allowance for the new device, which it says has a larger diagnostic reconstructive volume.

The ClarisXT is a lightweight, portable CT solution that includes a workstation with review capability, a movable gantry and movable table, and is capable of full-field diagnostic X-ray imaging as well as CT. It comes with ClarityPACS and ClarityPractice for scheduling patients, reviewing, reporting, storage and billing.

"The ClarisXT is the result of eight years of development, and almost 30 years of involvement in the medical imaging field," Neushul said. "We will introduce this device into portable applications, orthopedic practices and small clinics, and eventually we hope to use it for Spine surgeons and for lung nodule screening. We are bringing CT technology to a level that will allow traditional X-ray users to expand their imaging capability to include 3D imaging. ClarisXT is a low-dose, high resolution system, with a guided workflow interface, simplifying the acquisition process. This new device will provide an exciting opportunity to improve patient care at all levels."

NeuroLogica
NeuroLogica, a healthcare subsidiary of Samsung Electronics Co. Ltd., has partnered with Winnebago Specialty Vehicles to increase access to mobile CT clinics across the U.S.

The vehicles come equipped with NeuroLogica's BodyTom Elite, a 32-slice full-body CT scanner, which has an imaging algorithm for low-dose lung screening that was approved by the FDA in 2018.

"Winnebago Specialty Vehicles has a long history of mobile medical care," said David Webster, chief executive officer of NeuroLogica.



At RSNA 2018, NeuroLogica launched and its 16-slice, small-bore CT scanner, OmniTom. The mobile system can be used at the point-of-care in the neuro-ICU and in the operating room for neurosurgery cases and full-body pediatrics.

"You can drive it around the hospital," Webster said. "If someone is in the hospital for a traumatic brain injury, you can monitor them instead of transporting them. With this, now the patient stays in the ICU in the bed and they don't have to move them.

Philips
At ECR in March, Philips launched its Incisive CT, a general purpose 64-slice and 128-slice scanner.

The 72-centimeter bore "workhorse" scanner comes with a "Tube for Life" guarantee — Philips will replace the new vMRC tube X-ray tube, which the company says is already more reliable, throughout the entire lifespan of the system at no additional cost.

This guarantee has the potential to reduce operational expenses by an estimated $400,000.

"One of the most expensive components in CT is changing the tube," said Karim Boussebaa, business leader for computed tomography and advanced molecular imaging at Philips. "The model has been to drive revenue through services. Philips has engaged in a different approach with our customers, one where we want to be partners. Incisive CT reflects that approach."

The company expects the scanner to be available in the U.S. later in the year.

Siemens Healthineers
At the American College of Cardiology annual meeting this past March, Siemens Healthineers debuted the SOMATOM go.Top Cardiovascular Edition, a new version of the 128-slice CT scanner designed with the necessary hardware and software, as well as a workflow geared specifically toward cardiac imaging.

The scanner is capable of providing the high-quality coronary CTA (CCTA) images required for the HeartFlow FFRCT Analysis, a cardiac test developed by HeartFlow Inc., that enables clinicians to better evaluate the impact a blockage has on blood flow and determine the best treatment for patients, according to the company.

Research has shown that CT for front line coronary CT imaging has value, said Matthew Dedman, director of marketing for CT at Siemens Healthineers North America.

"With all of the scientific and clinical research proving the value of CCTA, it's now the question of, 'Where can these services be delivered?'" Dedman said. "Historically, a CT scanner capable of high-quality cardiac imaging is installed within a hospital. We're seeing a trend, though, to shift services to the outpatient environment. That's really where the SOMATOM go.Top Cardiovascular Edition is going to be implemented."

Aside from a tablet-based workflow that allows the technologist to stay with the patient for a majority of the exam, the scanner also comes at a price point that's suitable for an outpatient environment, Dedman said.

At last year's RSNA, Siemens unveiled an artificial intelligence platform called AI-RAD Companion, and the first application available on the new platform is for chest CT. The AI-RAD Companion Chest CT application is designed to mark and measure potential abnormalities in the lungs, heart, and aorta to assist the radiologist in their interpretation of chest CT scans.

"The idea is to provide the radiologist with more data-enriched images and allow them to be more efficient and accurate in their interpretation," Dedman said. "The radiology workforce is not growing at the same pace as the exam volume. We feel a tool like the AI-Rad Companion allows us to offload work. We clearly see this as a complement to the radiologist."