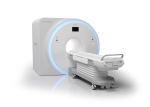 The latest MR innovations entering the market
October 11, 2019
by
Lisa Chamoff
, Contributing Reporter
The latest releases in the MR space focus on speed, ease of use and the patient experience.

For their new MR scanners, OEMs promise smoother patient positioning and workflow, and with software that allows for faster exams without worrying about breath holds or interference from metal artifacts.

In the meantime, coils continue to become lighter and more flexible.

Here's a look at what's new.

Canon Medical Systems USA
Last year at RSNA, Canon Medical Systems USA launched a new wide-bore scanner called the Vantage Orian. The 1.5T system comes with workflow tools to help image patients faster.

KneeLine+ performs a quick scan that then helps the technologist with setup, said Jonathan Furuyama, managing director for the MR business unit at Canon Medical Systems USA.

"It is meant to be a tool on the technologist's side to make scanning a little more robust and repeatable," Furuyama said.

There are new image acquisition techniques, such as FSE Dixon, which applies a fat saturation technique that allows the technologist to acquire images with or without fat at the same time, while k-t SPEEDER allows up to eight times faster scanning in applications where time is a factor, such as in cardiac imaging.

"Using a tool like k-t SPEEDER can allow the technologist to perform fewer and shorter breath holds," Furuyama said.

The scanner comes with technologies from previous generation scanners, such as Pianissimo Zen acoustic noise reduction technology and MR Theater, a screen that fits inside the MR bore and uses a mirror to let patients watch during the exam.

The Orian also comes with Canon Medical's QuickStar free breathing and motion reduction technology.

"It's a redesign of how MR is done that allows the patient to breathe and also acquires high-resolution scans," Furuyama said. "If you have to keep holding your breath for 20 seconds every 30 seconds it becomes burdensome on the patient."

The Orian comes with an optional high-amplitude XGO gradient and added dockable table.

Recently, Canon Medical also debuted its Encore Orian program, which allows the company's installed base of legacy systems to upgrade the system, building it around the old magnet, which stays in place.

"This gives our customers the option to upgrade to the latest and greatest technology without having to undergo a massive construction project," Furuyama said.

GE Healthcare
At last year's RSNA, GE Healthcare announced AIRx, an AI-based automated workflow tool for brain scans. The technologists select the type of scan and the scanner selects the slice positioning and number of slices to cover the anatomy, providing more image quality consistency between technologists.

"The best technologist and the night shift technologist will produce the same image quality," said Michael Brandt, chief marketing officer for the MR business unit at GE Healthcare.

The company's AIR Touch allows for improved scan setup, landmarking the anatomy to be scanned with a single touch on the patient table and allowing automatic selection of the appropriate coils, while AIR Touch uses coil infrastructure to find the best signal.

"It reduces a lot of errors," Brandt said.

GE also has begun offering a 1.5T upgrade program that allows its customers to replace some strategic hardware and software. There are also bigger upgrades that replace everything inclusive of a gradient coil, up to a Signa Premier system.

"A customer can very economically get an up-to-date imaging platform," Brandt said. "We provide a range of upgrades that can suit every budget."

Hitachi
Over the last year, Hitachi has released its new Evolution 6 software, which offers an advanced metal artifact imaging technique that reduces metal artifacts from MR conditional implants.

"Before, we had the basic corrections," said Scott Lytle, the senior MR product manager for Hitachi Healthcare Americas. "This is the latest and greatest for imaging close to metal. It acquires data over various frequencies, all added together to make one composite image, available in multiple weightings."

Evolution 6 also offers quantitative susceptibility mapping, which calculates the susceptibility between tissues, allowing qualitative and quantitative analysis.

"It allows us to differentiate between calcifications and bleeding in things like brain tumors," Lytle said. "Everything would be dark before. With this, the bleeding could be hyperintense and calcifications would be hypointense."

The software is available for Hitachi's Echelon Smart and Echelon Oval 1.5T scanners, and is coming soon to the Oasis 1.2T open MRI.

The scanners also offer SoftSound acoustic noise reduction that reduces scanner acoustic noise as much as 24 decibels for a whole exam, Lytle said. Additionally, SoftSound can be combined with motion reduction and parallel imaging techniques, as well as used for all the workhorse sequences.

For the global market, Hitachi has released the Echelon Smart Plus, a 60-centimeter 1.5T scanner that has a small footprint and low energy consumption. It also offers an auto slice positioning tool and automatic examination and post processing, as well as IP-RAPID, which Lytle said is a hybrid compressed sensing technique that allows scans to be acquired in half the time with similar image quality.

The scanner comes with integrated coils that work together, including spine coils that are inset into the scanner table.

NeoCoil
NeoCoil recently released a 16-channel breast coil available for 1.5T GE Healthcare MR scanners. The number of channels results in a higher signal-to-noise ratio with greater coverage, said Dr. Steven Wolff, owner of NeoCoil.

The coil is also made up of three separate pieces, so it's more flexible and comfortable for patients of varying sizes, and the open design makes biopsies easier.

"Many of the coils that have been used previously are one big heavy coil," Wolff said. "Coils have to fit patients of significantly different sizes. Because our new coil comes in three pieces, they can be spread further apart for optimizing comfort of taller patients. It has a very open design, so the physician who does biopsies has access to the breast. Some of the coils have a high signal-to-noise ratio, but you don't have access to the breast, which is important if you can't see the abnormality on the mammogram."

NeoCoil also recently released the Sentinel Wireless Audio System, a wireless communication system that integrates with scanners from GE Healthcare, Hitachi, Philips and Siemens Healthineers.

The system has two over-the-ear headset options — one thicker and one slim-line option with earplugs for brain scans — both having the same 29 decibel noise reduction rating as earplugs. Because many patients do not place the earplug completely in the ear canal, the over the ear headset is actually much quieter and produces a more pleasant patient experience.

"Many of the problems that people have with patient communication go away with NeoCoil's wireless technology and push-to-talk integration," Wolff said. "The sound quality is phenomenal. It's what you'd expect from a regular headset."

Philips
Philips released two new systems in the last year. The Ingenia Ambition 1.5T, which debuted at last year's annual RSNA meeting, uses the company's BlueSeal fully-sealed magnet, which requires less than half a percent of the amount of liquid helium used in conventional systems.

"We consider this the next generation of magnets that brings the industry to a new era of helium-free MR operations," said Simon Krijnen, director of product management for MRI Systems at Philips.

The company also released Ingenia Elition 3.0T, which Krijnen said "answers the need for high diagnostic confidence ."

The scanner has a newly-designed gradient architecture, with thicker coils, and a better cooling capacity, to provide higher power and high fidelity at the same time. This results in increased resolution, high signal-to-noise ratio and faster scans.

On the software side, Philips introduced Compressed SENSE, an application that reduces scan times by up to 50 percent by compressing data while retaining information.

MR is still perceived as a slow modality," said Gwen Herigault, the director of global clinical programs for MRI at Philips. "We see that the pressure to lower cost and increase patient volume is increasing. With Compressed SENSE, 88 percent of the routine scans done in the hospital can be accelerated. … Some customers have used it to increase the number of patients per day, or spend more time with patients to improve their experience. Some have used it to reduce overtime for staff."

Compressed SENSE has been FDA approved since the beginning of 2018 and the company has brought it to market on the Ambition and Elition in the last 12 months.

ScanMed
Through its subsidiary BotImage, the company has released a software called ProstatID that uses AI to assist radiologists in prostate cancer detection through MR.

The software can work on any platform, with or without ScanMed's PROCURE prostate coil, said Randy Jones, the chief executive officer of ScanMed and BotImage.

The software's deep learning algorithm has been trained on MR images of patients that have been clinically validated as suspicious or cancer free, with a Gleason score.

"It's either going to validate what the radiologist expected or not," Jones said. "It is not a perfect science, so that's why the AI program was so important."

ProstatID accepts the common DICOM image set from the MR scanner, then runs the program, analyzes the data set and creates a colorized overlay that indicates the probability of cancer based on color scheme.

"You can see the measurable disparity between the radiologist's report and ProstatID," Jones said.

The company has trained software on more than 1,000 patient data sets and is now testing it on real patient data and comparing the results. It is close to applying for clearance to the FDA.

Siemens Healthineers
At last year's RSNA, Siemens Healthineers introduced the MAGNETOM Altea, a wide-bore 1.5T scanner that features both the company's BioMatrix Technology, which adapts to patients' anatomical differences, Tim 4G coil architecture and Dot (Day Optimizing Throughput) designed to reduce variability resulting from unique patient challenges, exam complexity and varying staff experience.

The 70-centimeter system, also utilizes the company's Turbo Suite applications, which speed up routine exams by up to 50 percent without compromising image quality.

The BioMatrix Technology, already available on the MAGNETOM Vida and Sola, gives the scanner the ability to adapt to the patient and correct for motion, allowing for free breathing exams for patients who can't hold their breath for long periods of time, for example, said Chris Farischon, senior magnetic resonance product manager at Siemens Healthineers North America.

The scanner also comes with the Select&GO Interface, which uses AI based on human body models to remove the need for anatomical landmarking, enabling the patient to be positioned faster and speeding up exams.

"When performing a knee scan, the technologist simply presses 'Knee,' on the Select&GO console and the patient's anatomy (knee) will advance into the correct position in the bore," Farischon said. "The system knows, based on that patient's demographics and the coil connected, what kind of exam is being performed and where the patient should be positioned. This saves valuable setup time. Before, the technologist, had to position the patient in the coil and manually position the patient for isocenter using the laser light."

In January, the FDA cleared Siemens' MAGNETOM Lumina 3T scanner. The Lumina has a 55-centimeter-by-55-centimeter-by-50-centimeter field of view, and provides the same technology benefits as Altea.

New UltraFlex 18 coils are also available for the Altea, Lumina, Sola and Vida. They come in both a small and large size for imaging the extremities and abdomen and come with positioning aids for the foot and ankle. These provide a great alternative to costly dedicated coils, Farischon said.

The company also has new blanket coils called the Contour 24 and Contour 48. The high-density coils adapt flexibly to the patient's anatomy and body contour.

"The coils also come with SlideConnect technology, which guides the coil into the table connections, simplifying workflow and reducing wear and tear on the pins of the coil," Farischon said.