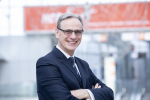 Are you ready for MEDICA 2019?
October 14, 2019
by
Gus Iversen
, Editor in Chief
MEDICA is the largest medical trade show in the world, and every year it offers something a little bit different to attendees from around the world.

HealthCare Business News sat down with Wolfram Diener, managing director of Messe Dusseldorf, to discuss what visitors could expect this year, and the unique role of Messe Dusseldorf in global industry events.

HCB News: You took over the position of managing director of Messe Düsseldorf from Joachim Schaefer a little over a year ago. What are the biggest insights you have gained in your first year?

Wolfram Diener: I was impressed by how thematically diverse Messe Düsseldorf is positioned and how well networked it is internationally. The project teams for the organization and marketing of our trade fairs are all also highly experienced and technically competent. This provides a good basis for responding quickly to market changes when necessary. It was helpful, for example, when taking over the dentistry trade fair 'FAMDENT Shows' in India and, more recently, when founding MEDICAL FAIR BRASIL as a new leading event for the Brazilian market. We are cooperating in this area with the manufacturer association ABIMO.

HCB News: Our readers are familiar with Messe Düsseldorf due to the MEDICA, but the venue is used by a wide range of industries throughout the entire year. Is it a challenge to stay informed about so many different sectors?

WD: You can look at it as more than just a challenge. Cross-industry activity like this offers a great deal of variety, and the work can also be a valuable source of inspiration. For example, if certain event formats and concepts are well received by one particular industry, they can be adapted successfully for trade fairs of other industries. The MEDICA START-UP PARK is an example of this. For the past three years, it has provided the young, digitally-driven startup scene with an optimal platform for establishing contact with potential investors and business partners all over the world, and for presenting itself to the international trade public at MEDICA, the world's largest medical trade fair. The format has been so well received that we are now implementing it at other events in Germany and abroad. In order to stay up-to-date on the latest trends, we are of course talking to our customers and reading various trade media. A daily media report in our company ensures that our project teams are always well informed about significant industry developments, important people and media reports on our trade fairs and on those of our competitors.

HCB News: How does MEDICA and the medical industry it represents stand out from other trade fairs?

WD: The medical technology industry is extremely innovative. At the European Patent Office last year, no other technology sector managed to exceed the almost 14,000 patent applications from the field of medical technology. "Digital communication" and "computer technologies" take the next two places in the ranking, and the pharmaceutical industry has barely more than half as many patent applications. This says a lot about the medical industry, especially since the figures include patent applications from all over the world, many of them from the USA. The innovation cycle is short by industry standards, and this is one of the main reasons why medical fairs such as the world's leading trade fair, MEDICA, are held annually. Although the healthcare market is growing globally due to demographic developments and increasing prosperity in many countries, it is precisely for these reasons that it is so highly competitive. In addition to that, the structures of healthcare systems vary widely across countries, even within the EU, both in terms of ensuring care and financing health services. No country's market is like any other, which presents companies with challenges in terms of market cultivation. This makes it all the more necessary to stay up-to-date by participating in trade fairs and maintaining contacts with relevant decision-makers. The best place for this is the number-one international meeting place, MEDICA.

HCB News: Are you involved in changes to MEDICA? And what will be changing about MEDICA in 2019?

WD: MEDICA has existed for almost half a century now, but all event formats are continuously reviewed and further developed in line with the latest trends.

At MEDICA 2019, we will be offering something new again — namely a restructured configuration with regard to the allocation of themes in the halls.

We have regrouped the MEDICA segment of information and communication technology from Hall 15 to Hall 13, directly connecting this topic to the halls for medical technology and electromedicine (Halls 9 to 14).

This is a logical consequence of trends in the market. Digitalization in medicine continues to progress at full speed and is fundamentally changing product development and business processes.

Today we speak less and less about health IT as an isolated discipline. We currently talk about digital health in the overall consideration of the digital transformation, which encompasses all product and service areas but in particular the convergence of software and hardware in the fields of medical technology and electromedicine.

Take devices for medical imaging or app-controlled wearables when they are used for monitoring vital signs, for example. Innovations for these products and devices have since trended toward being primarily software based. They are no longer the result of developments in new technical components as they were in the past.

It therefore makes sense to group together what belongs together in terms of content at MEDICA. That's why the digital health area is now in close proximity to the medical technology halls.

The entire MEDICA project team is involved in these kinds of important changes, and I look at it as my job to initiate processes like these and to play a proactive role in them.

HCB News: MEDICA is a very international event. Which countries typically have the highest representation among the exhibitors?

WD: Apart from Germany, the greatest demand for space traditionally comes from Italy, the USA, China, France, Great Britain, South Korea and now also countries like Turkey, for example.

HCB News: Do you have any tips for exhibitors on how to make the most of their time?

WD: Preparing well beforehand and following up after their trade fair participation are crucial. Every exhibitor should therefore "beat the promotional drum" to promote their MEDICA participation. To support exhibitor promotions, we offer a variety of services and inform all companies involved well in advance of MEDICA's opening.