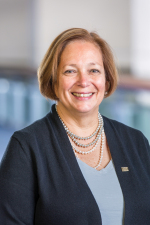 Q & A with RSNA president, Dr. Valerie Jackson
November 12, 2019
by
Sean Ruck
, Contributing Editor
RSNA 2019 takes place this year, December 1 – 6 at McCormick Place in Chicago. Any regular reader of HealthCare Business News magazine or our online news over the years knows that RSNA is a big focus that helps to wrap up the year nicely. We have had nearly 20 reporters travel to the show over the years to learn what OEMs have in store for the following year, what innovations were finally being revealed and just to get the opportunity for more face-to-face interviews in a few days than we might expect to get over the course of months.

We often have stories published within hours of an event or interview and we even had a foray into video from the show nearly a decade ago. One piece of coverage that has remained constant throughout that time has been our annual interview with the RSNA president. The tradition continues with this year's interview of RSNA president, Dr. Valerie Jackson.

HCB News: What inspired you to pursue a career in healthcare?
Valerie Jackson: I have always loved science and helping people. Medicine provides the perfect combination of these.

HCB News: How long have you been a member of RSNA?
VJ: I have been a member of RSNA since 1982. I highly recommend it. As an RSNA member, you're surrounded by support throughout your career. RSNA provides the perspective and tools you need to navigate this ever-changing specialty.

HCB News: What inspired you to join?
VJ: I have always been passionate about education, and RSNA is the world leader in radiology research and education. Add to that the annual meeting, the opportunity to meet and learn from radiology leaders from around the world, and, of course, the Society's commitment to its members — I leapt at the chance to be a part of this wonderful organization.

HCB News: Can you talk about your path to becoming president? What inspired you to rise to this level and what were the steps to get there?
VJ: I attended my first RSNA meeting in 1980, when I was still a resident. I was hooked. RSNA provides the highest quality of education and has fostered the research and innovation that shapes our practices. And that doesn't happen in a vacuum. I was inspired by the many volunteers working together to keep radiology at the forefront of patient care; so I became a volunteer. And I never stopped. Being part of this network of tremendously dedicated people from around the world in service of a common goal has been infinitely rewarding, and it is equally gratifying to see more women moving up through the ranks to take on leadership roles in medical societies.

HCB News: What goals are on your list as president?
VJ: My focus has been on continuing RSNA's success as the preeminent source of education, research and innovation in medical imaging. We have expanded the Virtual Meeting to offer more options for attendees during and after the annual meeting. We've grown and diversified our education offerings, and we launched three new online journals in 2019, most recently Radiology: Imaging Cancer. As artificial intelligence applications evolve to play an increasingly important role in clinical care, RSNA has become a critical convener for AI and deep learning, so that we can ensure that our members are ready to adapt and utilize these new tools to best advantage.

HCB News: Was there anything surprising you learned about the RSNA as president?
VJ: While I wouldn't say I was surprised, I am impressed by RSNA's commitment to innovation. RSNA has been around for over a century, and is a trusted, esteemed organization. While the Society could easily rest on its laurels, that's not the case. RSNA is driven to seek out new opportunities, to innovate, and to support other innovators. The organization continually adapts and grows to address the changing needs of its membership and radiology as a whole.

HCB News: What is the biggest challenge facing radiologists today?
VJ: Radiologists continue to be challenged by the pressures of large caseloads and quick turnaround times. This makes it difficult to fully commit to patient-centered practice. The caseloads aren't going to disappear, so we need to widen our perspective to focus on the benefits of communicating with patients and forging stronger alliances with referring physicians.

HCB News: Are there any challenges unique to RSNA members?
VJ: Our members are committed to maintaining excellence in their field, so they demand top-quality education, outstanding annual meeting programming, access to the latest research, and opportunities for knowledge sharing with their colleagues. Fortunately, RSNA delivers on all these fronts.

HCB News: Are enough radiologists being trained today or are we looking at a shortage either now or in the near future?
VJ: It is always nearly impossible to predict the future job market. However, I am optimistic for the future. Medical imaging is a critical component in modern health care. Diagnostic radiology applications are up. It is an exciting and constantly evolving specialty, which makes it an attractive option for young medical students.

HCB News: Has the concern over AI taking away jobs died down or increased in last couple of years?
VJ: While the conversation about AI has increased, I think the initial concerns have been allayed. We are still exploring the ways we can use AI applications to enhance our daily practice. AI is an extraordinary tool that can help radiologists bridge the gap to value-based care. If we successfully integrate AI into our workflow, we'll have more time to dedicate to patient-centeredness, which is an important goal. This is among the reasons why RSNA has developed so many initiatives centering on AI research and education.

HCB News: Have there been any developments in the field of radiology in the last 12 months that particularly grabbed your attention?
VJ: The RSNA annual meeting program has an abundance of AI research. Research using AI to improve early detection of cancer, particularly breast cancer, has been noteworthy.

HCB News: What are you most excited about seeing or experiencing at this year's conference?
VJ: We've got a great line up of stellar plenary speakers, including Dr. Abraham Verghese at the opening session. He'll talk about "Finding the Caring in Care." I'm also excited about the Egypt and India Presents sessions.

The AI Showcase is truly a focal point this year, covering over 40,000 square feet in a new location with more than 100 vendors and dynamic presentations in the AI Showcase Theater. The showcase will also house the RSNA Deep Learning Classroom and a hands-on classroom.

The Fast Five session in the Arie Crown Theater and the Diagnosis Live Residents' Competition at the Discovery Theater are always crowd pleasers. And, as I mentioned, the Virtual Meeting will be better than ever.

HCB News: The RSNA has been in Chicago for many years. Is there any serious conversation about changing venues ever, or is Chicago set in stone?
VJ: Nothing is set in stone, but having held most of its annual meetings in Chicago, RSNA has a strong relationship with the city. Chicago is an international hub with a large hotel market, which makes it a convenient destination for our growing number of international attendees. We also need to consider that our meeting requires more than 2 million square feet of exhibit and meeting space. We'll continue to monitor potential alternative sites for the RSNA annual meeting, but Chicago currently offers the location that works best for our needs.

HCB News: What do you hope to leave as your legacy being the president of the RSNA?
VJ: As an educator, I am proud of the work the RSNA Research & Education Foundation has done investing in the future of radiology. This year, the Foundation Board of Trustees approved over $5 million in research and education grants, supporting over 100 recipients from 48 different institutions.

I am also proud to have contributed to RSNA's commitment to patient-centered care. Our patients are becoming increasingly involved in decisions about their health care, and we need to engage with them and foster a culture of patient-interaction within radiology.

Lastly, during my time on the Board, RSNA has emerged a leader in artificial intelligence research and education with a host of initiatives that enable our members and meeting attendees to understand how data and deep learning applications can be used to improve patient care.

HCB News: We often see elected leaders serve in a society and move to others when their terms are up. Do you think you'll continue to pursue leadership roles?
VJ: I have already had leadership roles in several radiology organizations. As I approach retirement in 2020, I strongly believe that it is time for me to step aside and give others the wonderful opportunities that I have had.

HCB News: Can you offer a prediction of how you think radiology will change or evolve over the next five to 10 years?
VJ: With the astounding rate of technological advances in the field, it's impossible to predict where we'll be 10 years from now. However, my hope is that we'll continue to transition to a value-based practice model, incorporating AI and other new technologies in ways that improve efficiency, so that we can devote ourselves to providing visible, meaningful care to our patients.