A teenager with irreparably damaged lungs from vaping has undergone a double lung transplant at Henry Ford Health System in Detroit.
The 17-year-old faces a long, intense recovery process following his procedure. He is the first patient in the U.S. to undergo a double transplant for lung damage incurred through the popular practice, which medical experts say has ushered in a new epidemic known as EVALI (e-cigarette, or vaping, product use associated lung injury) that has cost a reported 42 people their lives.
"Within a very short period of time, our lives have been forever changed. He has gone from the typical life of a perfectly healthy 16-year old athlete — attending high school, hanging out with friends, sailing and playing video games — to waking up intubated and with two new lungs, facing a long and painful recovery process as he struggles to regain his strength and mobility, which has been severely impacted," said the man's family in a statement.
Declared an epidemic as of last spring, more than 2,000 cases of EVALI have been reported, according to the Centers for Disease Control and Prevention (CDC). The activity is especially popular among youth in the U.S. In a recent survey of more than 10,000 students, for instance, 28 percent and 11 percent of high school and middle school students, respectively, self-reported an ongoing use of e-cigarettes, particularly flavored varieties.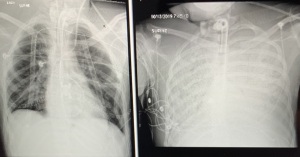 Signs of the condition were first noticed in the unidentified man in early September when he was admitted to St. John Hospital for what initially was perceived as a case of pneumonia. He was intubated a few days later due to a deterioration in his ability to breathe normally before being transferred to Children's Hospital of Michigan. There, he was hooked up to an Extracorporeal membrane oxygenation (ECMO) device to provide partial support to his lung and keep him alive.
Following further deterioration, the patient was recommended as a candidate for Henry Ford's Lung Transplant Program. Transferred to Henry Ford at the beginning of October, the damage the patient incurred was deemed so severe that he was placed at the top of the transplant waiting list and underwent a successful procedure on October 15.
EVALI has been
linked to vitamin E acetate
, an oily chemical added to some THC vaping liquids to thicken or dilute them. Symptoms can include shortness of breath, fever, nausea and vomiting, abdominal pain, and weight loss. Researchers are currently working on a number of solutions for quick diagnosis and treatment, such as the
development of an algorithm
that assists in making diagnoses and treatment of the condition, based upon early guidance of the CDC.
The patient is reported to be well and recovering. As of late October, he is off his ventilator and learning to walk again. But Dr. Hassan Nemeh, surgical director of thoracic organ transplant at Henry Ford Health System and the surgeon who performed the double transplant, fears this is just the beginning of a number of similar operations, with the Michigan Department of Health and Human Services having identified 46 (26 confirmed and 20 probable) cases of severe lung disease associated with vaping, including one death. The actual number is believed to be greater.
"This patient and his family asked us to share the medical aspects of the case to warn others about the dangers of vaping in an effort to avoid additional injuries," Nemeh told HCB News. "Unfortunately, we believe we are seeing the tip of the iceberg involving EVALI. I can safely predict we will be seeing more of this until the cause of the epidemic is identified and eliminated."