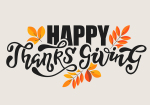 Happy Thanksgiving
November 26, 2019
It's that time of year again, Thanksgiving starts the holiday season. The mad rush for shopping, holiday music played over and over again, traffic jams, holiday parties, and let's not forget the RSNA.

Here in the United States it's a great time for families to get together. There is always the crazy uncle and the cute babies and the food that never seems to end.

It reminds us how much we have to be thankful for. We all have a lot of challenges that we are facing right now, the stresses of work, politics, even fewer hours of daylight. Still, those of us in healthcare know that we're making tremendous strides in many different areas and that as a result people are living longer.

I wish our politicians could work together the way the scientific community does.

This Saturday I leave for my 41st RSNA. I'll give you a report next week on how it went.

In the meantime, Happy Thanksgiving!