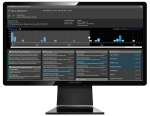 IBM Watson Health highlights several AI products and partnerships at RSNA
December 02, 2019
by
Lauren Dubinsky
, Senior Reporter
IBM Watson Health is highlighting new AI inroads at this year's Radiological Society of North America annual conference.

Among the company's new offerings is its Imaging AI Marketplace, a central location for providers to access FDA-cleared AI imaging applications from multiple vendors.

"It's a current market need, which is why we are announcing it at RSNA this year, because it opens up the opportunity for so many vendors to benefit from the scale of IBM," Mark O'Herlihy, managing director of IBM Watson Health, EMEA, told HCB News. It allows companies to leverage the latest AI-powered clinical tools from a single point of contact and deploy applications that have been "evaluated to integrate seamlessly into an existing IT infrastructure."

The company also started offering AI solutions to make radiologists' jobs easier. One being the IBM Watson Imaging Patient Synopsis, which was first adopted by Hardin Memorial Health in Kentucky in June.

In order to create a summary of a patient, providers have to pull information from multiple sources including the EMR and imaging systems. Patient Synopsis generates that summary for them.

"It provides a fast summary view of all of that data, but the key is that it provides this in context of the patient and referral, and surfaces the relevant data," said O'Herlihy. "It all comes down to more data available to a clinician, and I don't know many clinicians that don't want more data to help diagnose a patient."

The company launched its Clinical Review 3.0 at the end of October in the U.K. The solution analyzes medical imaging studies and related reports to uncover missed findings.

"There is a global shortage of radiologists, which leads to the very real problem of clinician burnout due to excessive workload," said O'Herlihy. "Clinical Review 3.0 can help reduce physician workload by expanding the physician's view so they have a more accurate picture of the patient, which ultimately leads to a more accurate diagnosis."

O'Herlihy added that there are plans to introduce this product to the U.S. market.