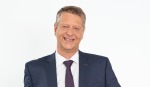 Four questions with Andre Hartung, head of imaging diagnostics at Siemens Healthineers
December 10, 2019
by
John R. Fischer
, Senior Reporter
An 18-year veteran at Siemens Healthineers, Andrew Hartung has held a number of his roles that have exposed him to advancements around a number of imaging modalities. Most recently, he was appointed president of imaging diagnostics, overseeing projects and innovations carried out around every type of imaging.

Hartung sat down this week at the annual Siemens breakfast at RSNA to discuss his new role with Healthcare Business News.

HCB News: You've been in the imaging industry for a long time now. Looking back at 15 years ago, what were the big topics that everyone was excited about?

Andrew Hartung: 2004 and 2005 were pretty much about advancements on the hardware side of things. When you look at CT, it was about the number of slices, rotation speed, generator power or X-ray power, and for good reason. At that point in time, there were technical limitations for some of the examinations that are today clinically routine. For instance, cardiac CT started off in 1999 and then developed pretty fast with the advancement of technologies such as temporal resolution for how fast you spin and the number of slices for how fast you scan. That was the technical enabler.

When you look today, what's driving innovation is basically the means of digitalization. When you are looking at recent launches here at RSNA from Siemens Healthineers, such as the SOMATOM X.cite for instance, it does come with high performing hardware, but the most important thing is the built-in navigation system which provides a simple way to receive very high quality results. That was driven by AI and machine learning, and that was certainly different 15 years ago.

HCB News: You recently became head of imaging diagnostics for Siemens Healthineers. What specific areas of imaging, or modalities, have you been focusing on since taking on the new role?

AH:The scope of responsibility right now is computed tomography, magnetic resonance, molecular imaging, conventional X-ray technologies and the interior syngo software that actually drives our modalities, plus the digital health business line that we just founded.

When you begin a new position, you start focusing very strongly on those areas you have not covered much in your own career. I have a lot of experience in CT of course, as well as X-ray. From that point of view, I put a lot of focus on all the digitalization part, as well as MR just for the sake of learning myself what is really driving this modality. It's fascinating because there is this high level research in the MR field, with the most luminary customers in the world. If we co-develop with these guys to take all the advantages our technology brings and then translate this into a routine, that's very fascinating.

HCB News: Is there a cohesive, singular message Siemens is trying to convey at RSNA this year?

AH: Shaping the future of healthcare by means of digitalization in order to improve patient care. That's basically what it is. Making sure things become easier to operate. Making sure we can support our customers in order to facilitate and help them do their job with greater performance. This is driven in particular by the companions that we bring to the market, as well as by assessing operational efficiency.

When you think about managing fleets of systems, you want to make sure you have the similar standout across your enterprise imaging fleet. There, we have a lot of solutions. One is our syngo Virtual Cockpit. Another is Teamplay. We have a new Teamplay analytics platform called Teamplay Insights that gives you a good view of how well you modalities are used and if they are used in a similar fashion. You can then optimize how your modalities are being used. There are other topics too like dose monitoring and dose control.

HCB News: A couple years ago AI took over as the most awe inspiring concept in imaging. Do you see the emphasis shifting in any way at RSNA 2019?

AH: It still plays a major role but the important question is, 'What is AI?' AI is a key enabler to learn out of data and to make machines learn. That's what AI is doing. To me, it's an enabler to develop solutions that actually are products that really support our customers. In the future it will continue to be a key enabler. I think it's more on the higher level of digitalization that not only includes AI but involves connecting the various data pools and making sure you derive new insights out of this data. AI is a tool that helps but it's not the only thing that is driving the industry.