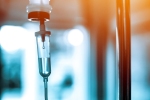 Infusion pumps are getting smarter and safer
February 12, 2020
by
John W. Mitchell
, Senior Correspondent
What do 90 percent of hospital patients have in common? They all receive intravenous medications (IV) in precisely controlled amounts as part of their care, according to the journal Nursing Management. This includes treatment requiring a wide range of medications, from insulin and antibiotics to chemotherapy drugs and pain relievers. Most of these fluids are delivered using an infusion pump.

Since coming under FDA scrutiny nearly a decade ago for "persistent safety problems," the common bedside infusion pump has evolved to be safer and smarter. A long-time goal has been reducing medication dosing errors, but an emerging driver is cutting down costs and improving outcomes.



The importance of system design
Infusion pump operation, especially dosing errors, remains a concern. The ECRI Institute listed infusion pumps in its 2019 list of Top 10 Health Technology Hazards, citing "confusing" dose and flow rates as the core of the challenge.

Manufacturers are taking these concerns seriously. The Plum 360 Infusion System from ICU Medical, for example, uses a unique cassette technology to enhance confidence, safety, and efficiency in the delivery of IV medications. With direct primary and secondary connections to the infusion system's cassette, the pump ensures that every infusion is delivered as prescribed.

"Common errors that have been shown to occur in 48 percent of secondary deliveries are eliminated by the direct connection to the Plum 360 cassette," Matthew Hutchings, vice president of global marketing and innovation at ICU Medical told HCB News. "Clinicians and patients can feel confident that the entire secondary medication is being delivered, accurately and on time."

Infusions on the system are not dependent on complex manual workflows, such as head height dependency (differences in pressures within an IV fluid chamber), ensuring accurate delivery that aligns with recommendations from the Institute for Safe Medication Practices (ISMP).

The unique cassette technology allows for simplified, automated air removal, helping to keep the system closed, which is important for reducing the likelihood of infection. Plum 360 also includes an air trap chamber that captures up to 1 mL of air before setting off the alarm, reducing unnecessary alarms.

Baxter recently launched the Spectrum IQ Infusion System with Dose IQ safety software, which is intended to make the creation and maintenance of drug libraries easier. The pump automatically defaults to the drug library at power-on. It requires fewer steps to start an infusion, displays the drug name along with soft and hard delivery safety limits at the bedside, and enables easy, wireless drug library updates to ensure up-to-date programming.

"The Spectrum IQ system was designed to simplify bi-directional EMR integration with auto-programming, auto-documentation, and on-screen bar codes to simplify workflow," Sato said. "And ours are the only infusion pumps with a built-in dose/rate change alert to help clinicians protect high-risk infusions during titrations by intercepting dose changes that could be inaccurate or even harmful."

Infusion pumps beyond the inpatient setting
New solutions are bringing sophisticated pump technology to different environments, meaning they are no longer strictly for hospital use. B. Braun recently rolled out the Perfusor Space Syringe Pump, which it said is the first mobile syringe pump for use in a transport situation.



The company developed the new pump based on customer feedback. For example, B. Braun discovered that none of the major pump makers offered a solution for an infusion pump that can be used in diagnostic CT or MRI. The Perfusor Space Syringe Pump, he said, can remain hooked up to a patient during a CT or MR exam without long trailing tubes, so that medication administration is not interrupted during imaging. The same applications are also designed for use in adult, pediatric and neonates in air and road medical transport.



Avoset is part of a group of companies that specializes in the electronic delivery of drugs and medications and has more than 100,000 infusion pumps in use in 26 countries. The company's workhorse infusion pump system, Sapphire, is for in-hospital use and for long-term ambulatory applications.

"[Sapphire] is the perfect design for ambulatory care. It can be connected via Bluetooth through a phone. Caregivers can better help the patient at home, especially chronically ill patients," said Eitan. "It can also be used both for subcutaneous or IV applications using a syringe, a bag, and in some cases, a vial."

The home infusion pump market is growing nine to twelve percent globally per year, according to Eitan, who noted that the AvosetGo has an entry price point of about 70 percent less than other options. Preventive maintenance is also simplified, as diagnostic and correcting software for the AvosetGo is downloaded from the internet.

"The online app has a lot of information on what the pump is doing," Eitan explained. "We can look at patient compliance — are they getting their drug? If we see a trend in the pressure for chronic TPN patients, we believe we will be able to see the beginning of an occlusion."

Integrated, smart and secure
As hackers continue to ramp up their interest in healthcare organizations, cybersecurity has become a top of mind concern among pump manufacturers.



The manufacturers also report they are looking more to integration and connectivity. Not just for efficiency on the patient care side, but also for system maintenance and PM protocols.

According to Sato, some hospitals (particularly in the U.S.) are demanding that new infusion pump systems include bi-directional EMR integration capabilities.

"Such a level of automation can help also reduce the chance of manual programming keystroke errors, help improve documentation, and streamline pharmacy and nursing efficiency so they can focus on direct patient care," he said.