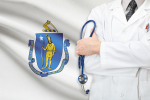 Advanced stage colorectal cancer rates decreased in Massachusetts, say researchers
January 23, 2020
by
John R. Fischer
, Senior Reporter
A reported decline in advanced stage cancer diagnoses has been observed in at least one state, say health economists at the University of Pittsburgh Graduate School of Public Health.

The team is touting the impact of a health insurance reform law in Massachusetts, asserting that it has decreased rates of colorectal cancer for adults under the age of 65, since its implementation in 2006. The drop, they say, is likely due to increased access to screening and diagnostic services, courtesy of the law, which aims to provide healthcare access to nearly all residents.

"Our finding that advanced stage diagnoses of colorectal cancer declined after the implementation of state health reform suggests that some people for whom colorectal cancer screening is recommended fail to get screened because they are uninsured or underinsured, and expansions of insurance coverage improve timely diagnosis," lead author Dr. Lindsay Sabik, associate professor in Pitt Public Health's department of health policy and management, told HCB News. "The Affordable Care Act was similar to the Massachusetts law in many important ways, though implementation differed across states -- particularly with respect to Medicaid expansion, which was not taken up by all states. Given differences in the impact of the ACA across states, access to preventive care has improved more in some areas of the country than in others."

Despite having a 90 percent survival rate if caught early, colorectal cancer is the second leading cause of cancer-related deaths in the U.S. and costs the country $16.3 billion in care annually. Survival drops substantially when the cancer is diagnosed as advanced. It also occurs frequently in adults under 65 who are not yet eligible to collect Medicaid, prompting the U.S. Preventive Service Task Force to recommend routine screenings for patients, beginning at age 50.

Using data from the Massachusetts Cancer Registry, researchers examined colorectal and breast cancer cases of patients between 50 and 64 years of age, from 2001 to 2013. They selected the two forms of cancer due to them being commonly diagnosed; both having routine screening guidelines; and the high survival rates associated with each when caught early. Patients within this age range were covered by recommended screening guidelines but were not old enough to quality for Medicare.

No comparable decrease was found in advanced stage breast cancer, which was chalked up to state and federal safety net programs for encouraging breast cancer screenings, that were already in place when the health insurance reform law took effect.

The team, however, did find a seven percent decline in the likelihood of advanced stage colorectal cancer after the reform law went into effect in Massachusetts, compared to diagnoses recorded in data from other states. When extrapolating their findings to the entire U.S., the group estimated 2,100 fewer late-stage colorectal cancer diagnoses among non-elderly patients annually. Sabik asserts that because the Affordable Care Act shared many of the same key elements as the Massachusetts health reform law, it should be examined in a similar fashion.

"The Affordable Care Act affected patients in all states and shared many of the key elements of the Massachusetts health reform. Available data show that early stage cancer diagnoses increased following the Affordable Care Act, though most research to date only examined the period immediately following reform," she said. "It will be important to continue to track the longer term impacts of the Affordable Care Act on timely cancer diagnosis, as well as access to high-quality care."

Research was funded by grants from the American Cancer Society and National Cancer Institute. The Magee-Womens Research Institute and Foundation also contributed to funding.

The study was published in the journal, Medical Care.