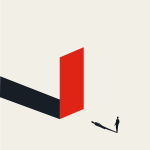 Coronavirus, unexpected impact
February 12, 2020
Yesterday I spoke on the phone to a company that handles the disposal of surplus assets for us; computer monitors, computer parts and electronics. DOTmed has to take these kinds of assets from hospitals sometimes as part of our Clean Sweep program.

This company has six regional warehouses around the United States. Each warehouse is greater than 300,000 square feet. I have visited several of these warehouses and I'm always amazed at how many different kinds of electronics are there and the extent to which everything is disassembled to its smallest component.

As it turns out, these small components are shipped to China and the Chinese break things down even further and recycle everything.

This is the spot market and people from China frequently travel to the United States and buy products, and negotiate on pricing the spot. However, air traffic between the United States and China is severely cut back and people are nervous and afraid and not traveling. We know why, of course.

As a result there is a huge build-up of product in the warehouses. I imagine that the company we deal with has competitors and those competitors probably also have a build-up.

Don't get me wrong, in the grand scheme of things the medical implications of the coronavirus are much more important than any business consideration. But it is noteworthy how something the World Healthcare Organization has identified as a crisis has business implications.