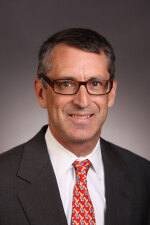 Discussing the role of proton therapy and the importance of the National Association for Proton Therapy (NAPT)
April 17, 2020
by
Sean Ruck
, Contributing Editor
The National Association for Proton Therapy's annual event was to be held April 26 – 29 in Nashville this year. As with many other healthcare conferences, concerns over the risk of COVID-19 infections forced the organization to review other options to provide information and resources to the proton community. HealthCare Business News spoke with Abram Gordon, executive director of the Cincinnati Children's Proton Therapy Center, and NAPT board and executive committee member.

HCB News: What encouraged your interest in proton therapy and NAPT?
Abram Gordon: I was with the largest independent oncology group in Cincinnati, Oncology Hematology Care (OHC), and in 2010, the same day I became the interim CEO, leaders from Children's came to talk to me about their interest in proton therapy and looking at a community model. I continued to advise and provide input to Children's as they went down the path of developing their proton therapy center. They asked me to lead it right after they broke ground.

Children's had been to the NAPT conferences during their development process. As soon as I joined Children's I became involved with NAPT. This was a valuable resource as we developed our center, and continues to be a valuable resource for us. I co-led the programming committee NAPT conference, then was accepted to the Board of Directors that same year.

HCB News: With proton therapy being a fairly rare technology to see in healthcare at the moment; with the latest numbers from NAPT showing 34 centers in operation at the time of this writing, where do clinicians get training?
AG: I think there are three areas where you can get training. There are a number of proton therapy centers that offer courses for physics as well as for the radiation oncologists. There are also a lot of centers that do have proton therapy that also have various residency programs, so that both physicists and radiation oncologists get training if they go through those residency programs. Then there's obviously on the job training as well.

HCB News: For the servicing of the equipment, is that something done by outside service organizations or in-house technicians?
AG: The vendor provides that service. Generally, part of the operations and maintenance agreement you have with your vendor includes onsite service. The vendors, with very few exceptions, actually operate the system. So they have personnel on site — usually engineers — to operate it and to fix what's broken.

HCB News: What's the make-up of the group operating it? A couple of people on rotating shifts? An individual that gets called in as needed?
AG: It's a little bit of both. For our system, they're rotating shifts. They're at our site 24-7, but also bring in specialists, if necessary, for scheduled maintenance and repairs.

HCB News: As far as that 24-7 goes, does that mean your utilization is at full capacity? Are you on a totally booked schedule?
AG: The way it generally works is that centers have clinical access to the system to be able to treat patients about 16 hours a day. Our vendor has access to the machine the other eight hours to do preventative maintenance and fix anything that needs to be repaired. Since the machine is always on, they always need someone there to monitor it. You can't just turn a cyclotron off. We operate to ensure that we meet the needs of those requiring this technology.

HCB News: Can you provide an update on how the reimbursement battle is going for proton therapy?
AG: For the Cincinnati Children's Proton Therapy Center, we treat children and young adults. The insurance companies, almost without exception, see the value of proton therapy for children. The adult reimbursement landscape is more scattershot, but with more and better research results developing, reimbursement is improving, although still not where it should be. NAPT works diligently to advocate to ensure access to proton therapy.

HCB News: Has there been any expansion in the approved types of use for PT over the past 12 months?
AG: There are some exciting studies coming out. There's something called the abscopal effect for instance, where when you combine proton therapy with immunotherapy, you not only get the benefit of the cancer killing where you're actually treating it with radiation, you get it in other areas of the body.

Recently released research from the Perelman School of Medicine at the University of Pennsylvania and Washington University School of Medicine in St. Louis showed that patients receiving concurrent chemotherapy and radiation had fewer unplanned hospitalizations when they received proton therapy compared to conventional radiation therapy. This is a critical study and will lead to other research demonstrating the value of proton therapy.

HCB News: Compared to other methods, how effective is proton therapy in eradicating cancer?
AG: Some studies show it may be better in certain circumstances. Essentially, the radiation is the radiation, so it's not that proton therapy is better at killing tumors, but rather it is better at avoiding near term and long term complication as a result of avoiding radiating healthy tissue on your way to treating the cancer.