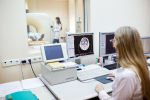 Imaging utilization to drop more than 50% over three or four months: report
April 17, 2020
by
John R. Fischer
, Senior Reporter
Radiology groups should expect a dip of 50% – 70% that will last a minimum of three to four months, according to a new study out of Yale University.

Authors Dr. Howard Forman and Dr. Joseph Cavallo from the Yale School of Management say emergency policies put in place to keep people safe and expand hospital crisis capacity have led to deferrals in scanning and deterred people from seeking non-emergency medical services.

The two assert that for radiologists, this recession will be like no other due to the combination of economic instability and the need to restrict the amount of imaging available, resulting in short-term and permanent changes to the profession in the long-run.

Here are three key takeaways of their assessment:

Outpatient imaging will be hit hardest
Outpatient imaging has declined by more than 70%, compared to 50% among emergent and inpatient scanning, and is expected to incur the greatest losses in revenue.

Restrictions in imaging, though necessary to conserve resources and reduce disease transmission, will vary in impact among practices depending on their location and the severity of the pandemic in each region. Many will face pent-up demand after the crisis from patients whose exams were deferred, and concerns for delayed diagnoses.

"Demand will be variable from region to region and may build over time, as consumer fears could initially outweigh the desire for expedient imaging," Cavallo told HCB News. "It is our hope that urgent cases are still getting appropriate care through the remaining operational facilities within health care systems.

The recovery process
Radiology groups not yet deeply impacted by the pandemic should consider reducing working hours, temporary salary cuts, bonus suspensions, furloughs, and if necessary, layoffs to offset temporary cuts in revenue.

The impact of the pandemic on state budgets is likely to further reduce revisions in Medicaid reimbursement rates, and delays in preauthorization processing times can be expected, due to backlogs of deferred exams. Radiologists should also expect a decrease in the percentage of commercially insured patients.

"Practices should ensure they have made appropriate modifications to their workflows and established additional hygienic precautions that will allow them to operate under semi-restrictive conditions that could follow the lifting of total lockdowns," said Cavello. "This may require longer hours and reduced staff at any given time."

While the federal government has passed three stimulus packages to help providers, these sources of funding will not be enough for many. Qualifying practices can apply for loans, loan guarantees and other investments through the $500B of the Treasury Exchange Stabilization Fund. They may also request free loans through the Medicare COVID-19 advance payment program and can defer paying the employer portion of social security taxes through the end of 2020.

Cavallo says that any first step in recovery should be to empower staff. "Furloughs, cut hours and reduced wages have affected many. The first priority for any practice should be to make sure that their workers feel valued and reassured."

Post-pandemic trends
While mainly negative, the pandemic has produced growth in a few areas, including the greater use of telemedicine. The practice could, on a micro level, change how radiology groups work, encouraging radiologists to work longer hours and weeks, especially in outpatient imaging, which does not require fast turnaround like emergent and inpatient imaging.

"In the intermediate and long term, practices may be looking to capture more revenue to make up for losses incurred during the height of the pandemic," said Cavallo. "Responsibilities that were previously outsourced to teleradiology services could ultimately be brought back 'in-house.'"

He adds that merger and acquisition activity with large healthcare systems may also increase, due to historically low interest rates and the need to access capital. "Even prior to the current crisis, the prevailing trends were toward consolidation. Larger groups are more likely to have balance sheets that can better weather the uncertainty ahead. Smaller practices may have more difficulty competing, and this could speed up the pace of mergers and acquisitions."

Recovery for any practice will take time, and at the very least require temporary changes in their operations. Newcomers to the field should expect a tougher job market, while senior radiologists may be required to potentially delay retirement and staff may incur pay cuts, furloughs and potentially, layoffs.