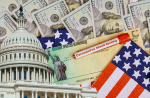 Senators propose transparent management system for COVID-19 equipment and supplies
May 01, 2020
by
John R. Fischer
, Senior Reporter
A group of senate Democrats have introduced legislation that, if enacted, would lay out a framework that federalizes and establishes a transparent system for managing the supply chain of personal protective equipment and other critical medical supplies during the COVID-19 pandemic.

Senate Democratic leader Chuck Schumer (NY), along with Senators Tammy Baldwin (D-WI) and Chris Murphy (D-CT) introduced this week to the Senate floor the Medical Supply Transparency and Delivery Act, which would require President Donald J. Trump to utilize all available authorities under the Defense Production Act to create an equitable and transparent process for overseeing production and distribution of supplies.

"There's zero transparency from the White House about how they're allocating critical medical supplies, what is being produced, and how much is sent to the private market for purchase," said Senator Murphy in a statement. "And above all, we still don't know who's in charge. This is not acceptable and our states deserve better."

Under the proposed legislation, an executive officer would be appointed by the Secretary of Defense to oversee the acquisition and logistics for production and delivery of essential medical supplies during the crisis.

The officer would carry all authorities guaranteed under the Defense Production Act of 1950, and provide suggestions to Trump on orders necessary for increasing national production of PPE and other supplies. He or she would also turn over all unused supplies in excess of need to the Strategic National Stockpile.

National assessments would be conducted weekly to determine supply requirements, with reports identifying industry sectors and manufacturers that could expand production and stockpiles that can be refurbished or repaired.

It would also ensure increased transparency in the distribution of the supplies and equipment, with the executive officer required to publicly post all requests from each state for assistance, metrics and criteria for amount and destination of distribution as well as metrics for determining hot spots and areas of future concern and production and procurement benchmarks.

In addition, a plan for COVID–19 testing, including viral and antibody testing, would be established, as would one for addressing necessary supply chain issues to rapidly scale up production of a COVID-19 vaccine.

"Our country has failed to protect health care workers on the front lines of this pandemic so far, and we need the federal government to immediately and fully invoke the Defense Production Act in order to increase production of PPE, and to create an efficient and transparent process of distribution," said Bonnie Castillo, RN, executive director of trade union National Nurses United, in a statement. "National Nurses United strongly endorses this legislation, and we demand that Congress include this legislation in its next coronavirus response package."

The legislation calls for the executive officer position to end once all state and territorial medical supply needs are met and national stockpiles are replenished. An inspector general would be established to oversee implementation of the Act.

The legislation is set to be introduced in the House of Representatives by Katie Porter (D-CA.); Jason Crow (D-CO.); Elissa Slotkin (D.-MI); and Tim Ryan (D-MI.).